The card you need to pick to win Hearthstone's All-Star Squad Tavern Brawl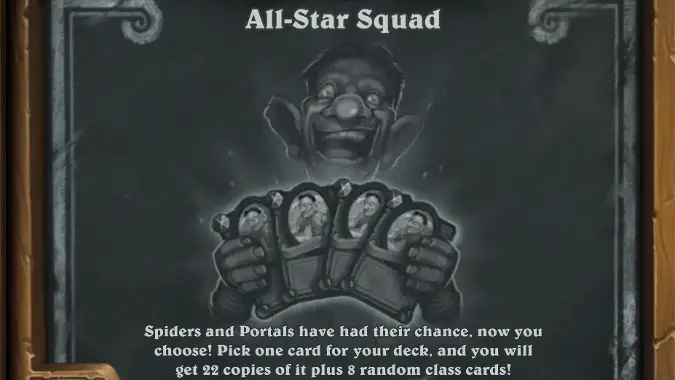 Hey now, you're an all-star, get your game on, go play. We've had Hearthstone Tavern Brawls that ask us to choose three cards to build our decks and Brawls that ask us to choose 2 cards to build our decks —but this week's All-Star Squad Tavern Brawl in Hearthstone is all about picking one perfect card to bring you victory over your foes.
Tavern Brawl basics
Name: All-Star Squad Tavern Brawl
Description: Spiders and Portals have had their chance, now you choose! Pick one card for your deck, and you will get 22 copies of it plus 8 random class cards.
Fun level: 0/10
Difficulty: 9/10
Replayability: 2/10
Format: Wild
Type: PVP
Deck: Constructed
Rewards: [7/6/2022 update] 1 Standard card pack. This can contain cards from any set in the current Standard rotation.
The directions are straightforward. You pick a card, and you deck is nothing but copies of that card. There are eight class cards sprinkled in, but for the most part you'll be playing your single card over and over again.
Inexplicably, there are no banned cards. Some cards benefit in a massive way from having so many copies. Blizzard must have data previous Brawls following this format, and they must have seen how utterly dominate Pogo-Hopper was. Identifying outliers like Pogo-Hopper, and banning over-performing cards would have opened more creative space for players to try other cards and strategies.
But here we are again, with no banned cards. That means you're likely to find the same decks on repeat during this Brawl, which doesn't make for particularly thrilling gameplay.
7-6-2022 update: Same as the 2-23-2022 update, still no banned cards. Yo dawg, I heard you like Pogos. So we put some Pogos in your Pogos and now you can jump, jump, jump around.
2-23-2022 update: This iteration of the Brawl still has no banned cards. I guess someone at Blizzard HQ love Pogo mirrors.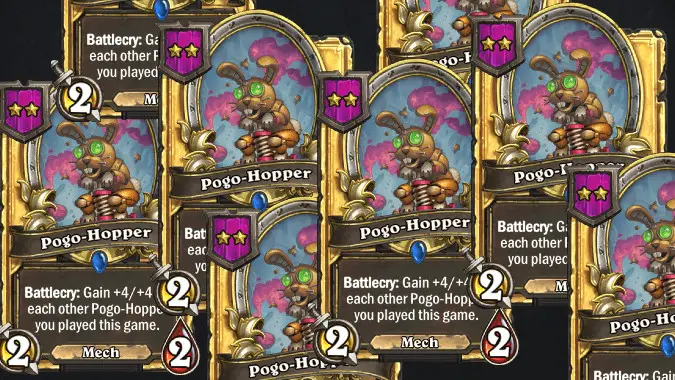 How to win the All-Star Squad Tavern Brawl
Play Pogo-Hopper. Wow, that was a short post.
Pogo-Hopper is the strongest card you can play in this Brawl.  Whether you choose it or not, expect to face off against many Rogues. One possible counter is to play Shaman and choose Earth Shock. Your Earth Shocks will destroy the Pogos and then it'll depend on your eight class cards to carry you. You just have to hope that your opponent doesn't get any of Rogue's many "bounce" cards.
Leper Gnome is another choice. Paired with Demon Hunter, you can try to kill the Rogue before their rabbit army overwhelms you. Some players tried Mind Blast with Priest, but it's too slow against Pogo-Hopper. If you can somehow find a way to survive to to turn 6, Flik Skyshiv would counter the Pogos, but I'm not sure you'd live that long.
Even the Holy Hand Grenade of Antioch might not be enough to stop these rabbits. So hop to it and get your wins!
Only shooting stars break the mold
If you'll allow me another moment to bring out Honor's Soapbox.
This Brawl had some fantastic potential, but its completely lost by how dominating the Pogo-Hopper minion is: every turn you play a Pogo-Hopper and every turn it gets stronger until it's completely impossible to counter. Playing Pogo-Hopper in this Brawl is also very straightforward: there are no decisions to make, you just dump your hand and win. It's just not very interesting.
Contrast that with a card like Palm Reading, which discovers new spells. This — and similar cards with Discover or other card generation effects — could have been extremely powerful in this Brawl and add a lot of variety to gameplay. You would never know what card would show up next, and every game would be different. Each turn, you'd be making decisions about which spell to Discover, which spell to cast, and trying to build a strategy to win the game with virtually no minions. Even something like Trick Totem [Ed's note: one of my favorite cards] would at least give a bit of randomness so every game isn't just about who can drop all their Pogos first.
If this Brawl comes around again, please ban Pogo-Hopper. We would finally get to see new decks in this format, and play with newer cards. As it stands, whenever these "pick a card" Brawls come around, we just get more Pogo-Hoppers.
So pull out your own Pogo-Hopper (or craft one for the occasion), score your win, and enjoy your pack for the week.
Originally published February 4, 2021, updated September 8, 2021, February 23, 2022, July 6, 2022