Adorable amphibian alert: Axolotls are arrived!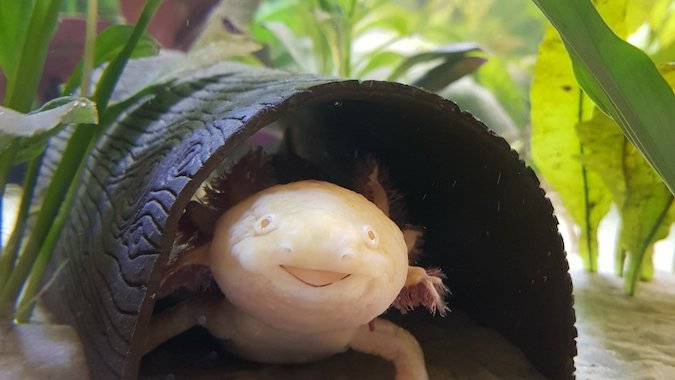 Writing these weekly roundups of adorable animals has been a) delightfully fun, but also b) filled with some unexpected challenges. For instance, Cuteness HQ has long wanted to curate a set of axolotls for your viewing enjoyment. However, the existence of axolotls in Minecraft makes it well-nigh impossible to find quality videos of the actual animal buried amid piles and piles of gameplay clips.
But I have found the workaround, which is to turn to a most unlikely source of joy. Thanks to Twitter of all places, I am pleased to at long last present a Friday collection of axolotls. Enjoy!
Branching out
Day 362
Ziggy 💕

Owner : 📸 ziggytheaxolotl pic.twitter.com/tVx5CkXjSp

— Axolotl of the day (@axolotl_off) June 17, 2022
Big smiles!
"How cute do you want to be?"
Axolotl: "YES." 😃🥰

Fluffy greetings from my #axolotl Penny… Have a nice weekend! 🥰 pic.twitter.com/UojTruTRzn

— AxolotlZ (@Fluffy_AxolotlZ) October 16, 2021
Ayyyyyy!
my favorite part of working at a fish hatchery🤍 #axolotl #nationalfishhatchery #usfws pic.twitter.com/yHBs1b7tZv

— alexandria (@alexandriapdodd) July 7, 2022
This cutie's gonna need a bigger boat
Day 344
Shark 🦈

Owner : 📸 astrid._.theaxolotl pic.twitter.com/uds8PNnGOi

— Axolotl of the day (@axolotl_off) May 26, 2022
Smooch
Look at our Love-ly Axolotls! 💕🥰 #Axolotl #kiss #sealife #mexicanwalkingfish #cute pic.twitter.com/1sHFJ5qxMw

— Sealife Adventure & WILD (@SealifeAdv) June 16, 2020
It's the ciiiiircle of amphibians
More of what I do. Axolotl's. My partner breeds these and I help.
Amazing creatures. Wonderful to be able to show kids who have only seen them in @minecraft them IRL.
This year's babies #axolotl #Minecraft #education #pets #colours pic.twitter.com/1lSJWpjhz9

— Watercress queen (@WatercressQueen) June 30, 2022
Aren't axolotls awesome?