WoW
Jul 14, 2022 11:00 am CT
Blizzard says gender is a construct with new Body Type options in WoW: Dragonflight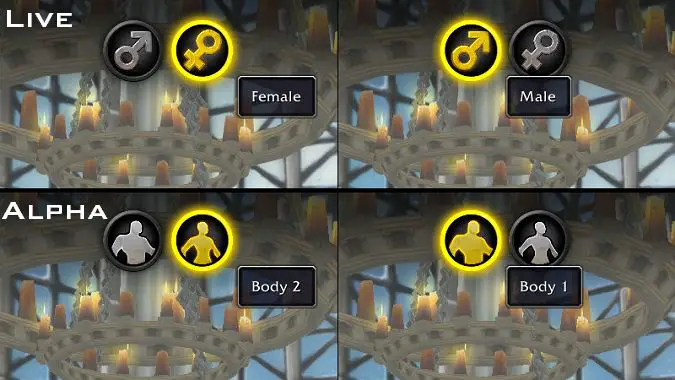 One of the changes coming in Dragonflight is a small one, and yet it not only has the potential to lead to larger things in the future, it also allows for more player flexibility and is a step towards accessibility and representation. In the upcoming expansion, when you create a character, instead of Male and Female options and symbols atop the character creation select screen, there will instead be two options labeled Body 1 and Body 2. The graphic for these options is also changed from the current live game, with silhouettes replacing the gendered icons.
Now, I won't pretend this is a big change towards transgender, nonbinary, or intersex representation — it isn't. It's simply a very small move towards a less binary approach. But in video games, even the smallest move has to be noted because it's so rare to see them happen. Furthermore, the very fact that we're going to have Body 1 and Body 2 instead of Male and Female means that we could actually see other options.
Again, don't mistake this as the be-all-end-all. Though there are a slew of new options for Dracthyr, there are no Body 3 or Body 4 for the existing races as yet, and no one has said anything about more being introduced in the future. But the fact remains, with this change Blizzard has at least made the possibility of variable body types — something long wanted by players — feel more plausible than it has ever been. The Shadowlands customization options were an excellent step forward, and I'd love to see them expanded in all sorts of ways — for instance, the ability to play a Mage who doesn't look like he's stopping by the Mage Tower before heading to the gym or a Warrior who focuses more on flexibility than brute force would be very welcome.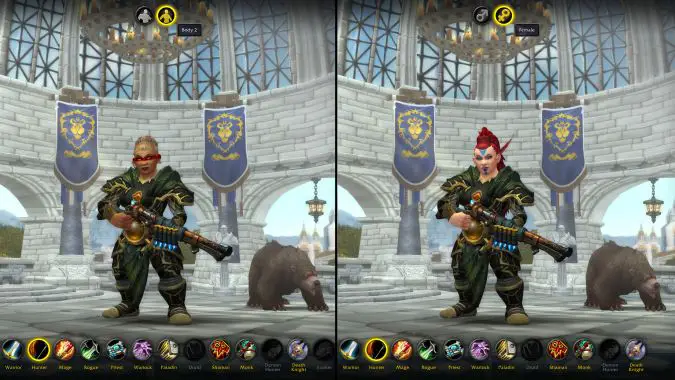 See for yourself! The change really is a minor one. It's a different symbol — a silhouette instead of one of the two classical symbols for male and female derived from ancient Greek names adapted by the taxonomist Carl Linneas to identify the sex of flowers. By making this change, Blizzard has decoupled the body type from an assigned gender — but that's all they've done. If you chose female before this change you're free to continue to consider your character female now, it just means that players are no longer put into that box by their choice of character model.
Blizzard seems to be aware of this, however, as this tweet from Angela, the feature producer on this initiative makes clear.
I'm proud to be the feature producer of this initiative. It's my passion to help make WoW as inclusive as we can be either through a sense of identity or accessibility. We have a long way to go still, so I will ask for patience as we move towards these initiatives. https://t.co/69pKJw8NR7

— Angela 💙 #ABetterABK (@bagelberry) July 14, 2022
How far is it going to go? No idea yet, as they themself say there's a long way to go. But every journey begins with a single step, right?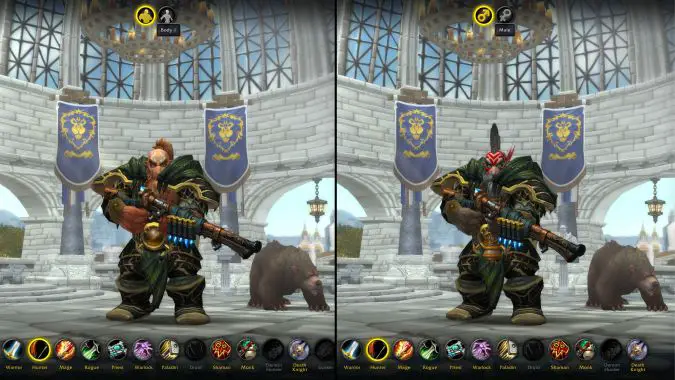 I mean, it doesn't even have to be about gender if you don't want it to be. Before, if you wanted to play a Dwarf woman with a beard, you were out of luck. Now, even though the body types remain and Body Type 2 doesn't have beard options, you could play Body Type 1 and still decide that your character is a woman. That's your backstory and no one can take it away from you or tell you it doesn't fit with the character creator — because, guess what, now it does!
Of course, I would prefer that Body Type 2 get beard and facial hair options as well. Just like I would prefer that we get other body options — taller and bulkier and/or more slender options for each playable race would be amazing. But I don't know if we'll get that, and these changes just nudge that idea into being more plausible, they certainly don't promise anything.
Still, I have hope. For now, at least, we can enjoy this small first step towards a more inclusive and diverse array of character creation options.