Everything you need to know about Marvel SNAP launching October 18, 2022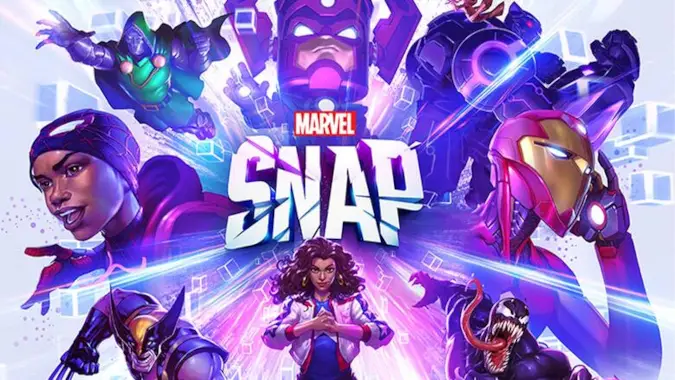 After a long beta test Marvel SNAP is launching October 18, 2022. SNAP is the new digital card game from former Hearthstone developer Ben Brode and the Second Dinner studio. We received the exciting announcement at D23 in a trailer narrated by Katy Chen (Aquafina) herself! Check it out below.
At first plush, it's easy to dismiss SNAP as "so it's Hearthstone, but Marvel? Ok." But the game plays differently from Brode's first project. We take a deep dive here to examine the differences.
What is Marvel SNAP in a nutshell?
Marvel SNAP is a fast-paced digital card game where you use Marvel heroes and villains to vie for control of three iconic locations drawn from Marvel lore. Whoever controls two out of three at the end of the game wins.
You'll be fighting over Wakanda, Attilan, Asgard, the Triskelion and even Banner's Gamma Lab (recently featured in She-Hulk). There just a quick sample. There are many, many more, and the game has added new ones each season (about once a month).
More than just scene dressing, the locations tweak the rules for that game making each game of SNAP play a little different. Some locations prevent certain cards from working, others discount your cards, or don't let you play certain cards there at all. While there are certainly powerful decks, the varying locations makes it hard to have a single deck that rules that meta. SNAP also has a system that encourages players to break away from the meta and use every card in their collection.
The winner gets some currency, but the big prize is Cosmic Cubes. The Cubes are like Hearthstone's Stars and determine your rank. Over the course of the game, you can raise the stakes on how many Cubes are in play. It's winner take all so choose carefully.
Marvel SNAP is free-to-play, but also has a Premium pass. The developers experimented with different monetization models over the course of beta. One was so disliked, they rolled it back and refunded everyone's money. The current model feels fair and decently balanced, but like many mobile games, SNAP has a dizzying array of currencies, and reward tracks.

Preorder bonuses
You can go to this site and pre-register for the game on either Android or iOS. Pre-registering will earn you special Variant card in your collection. Variants are copies of Cards in your collection. Android users will receive a Variant for their Hulk card, while iOS users earn a Variant for Iron Man. Both Iron Man and Hulk are cards in the base collection that comes with the game so you'll be able to use these Variant cards right away!
Getting started
Be sure to check back on Blizzard Watch on October 18, 2022. We'll have posts to help you get started and build your first decks. Until then, be sure you get pre-registered and get ready to enter the Multiverse and hoard those Cosmic Cubes. Avengers, assemble. Fantastic Four, X-Men, Inhumans, Thunderbolts, Masters of the Mystic Arts, S.H.I.E.L.D, and so many more, get in here!