WoW
Dec 9, 2022 10:00 am CT
How to obtain a free 34-slot bag, the Misty Satchel, from a chest in Waking Shores
There's a free 34-slot bag available for all of your World of Warcraft characters, and it's very easy to get. It's located in Waking Shores, the first zone of the Dragonflight expansion, and it's possible to reach it right after starting the questing content and getting to the Dragon Isles — so if you have an army of level 60+ alts, you may easily grab it on each one of them.
The bag in question, the Misty Satchel, is found by looting a treasure that is hidden behind a waterfall — a classic gaming trope, we must say. The exact coordinates to find the treasure are 58, 53, so if you use the popular TomTom addon, you may type this in order to get the helpful arrow pointing to it:
/way 58, 53 Misty Satchel
Even if you don't use a coordinates addon, it's still a very easy treasure to find. Starting from the Wingrest Embassy, fly southwest towards the spot located on the map below: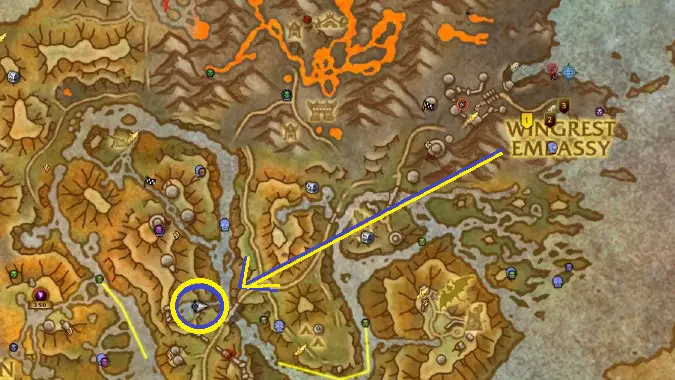 Once you get there, you want to go on top of the waterfall, get near the edge, and look down. You'll notice a rock sticking out; if you mouse over that rock, you'll see that it lights up, and it has a "Handhold" tooltip. You want to jump down and land on that rock: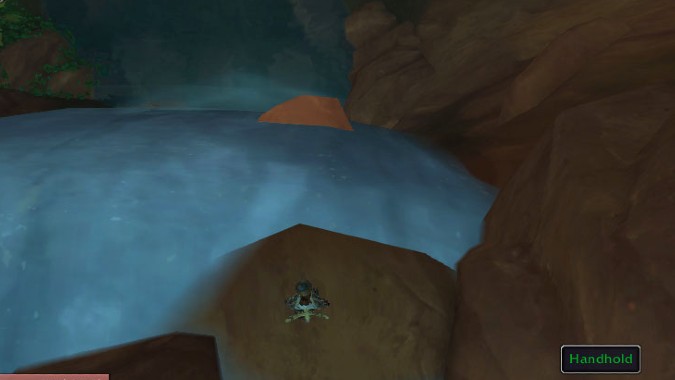 After you reach the rock, just face the waterfall and walk through it: behind it, you'll find the cave with the chest that contains the 34-slot bag.
What if I don't have Dragon Riding yet?
Although it doesn't take too much questing to unlock Dragon Riding, and it's an account-wide feature that is automatically learned by all your characters as soon as you finish the main campaign on one of them, it's possible that you haven't finished it yet — meaning that your alts are still bound to ground mounts.
If that's the case, don't fret: it's also possible to reach this treasure on a regular mount. It'll take considerably longer, and you'll need to go around the waterfall — and do a little bit of climbing — to reach the correct location. Just ride to this spot instead (also starting from the Wingrest Embassy):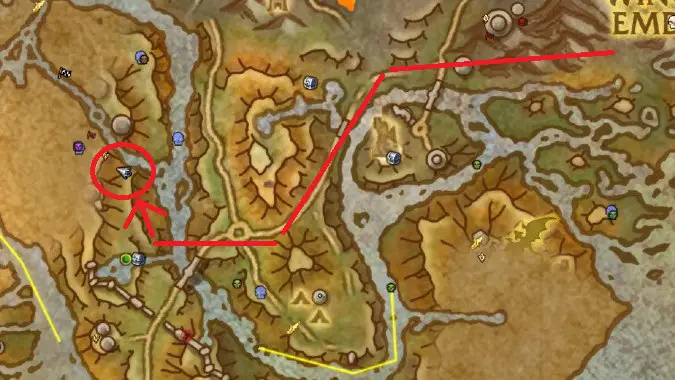 Then climb here (it looks steep, but your mount can actually do it if you find the right spot):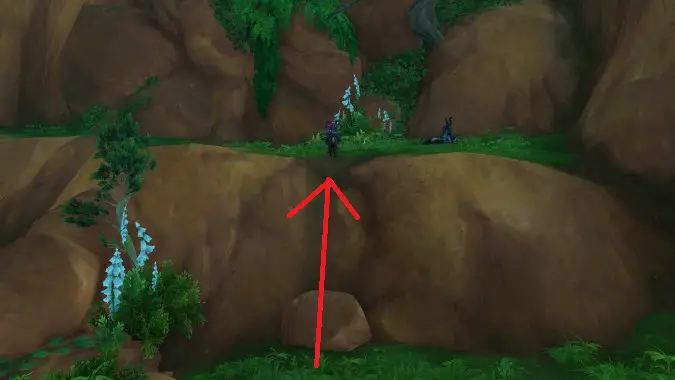 Make your way south towards the waterfall, making sure to jump over this gap: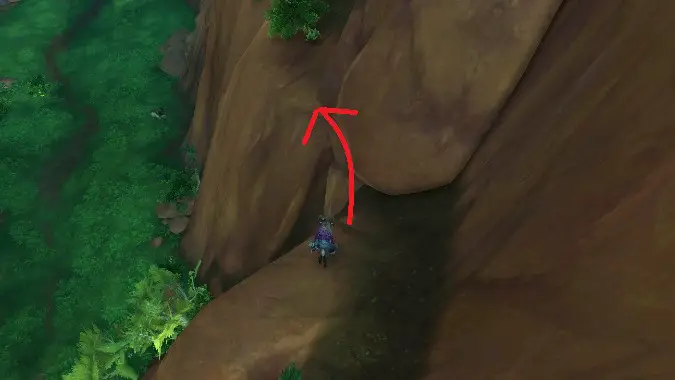 And voila! You'll be on top of the waterfall, and able to jump down and reach the hidden cave just like if you had flown there. Enjoy your newfound bag space, adventurer!