Diablo 2: Resurrected Brings 22 Jolly Nights of Terror To All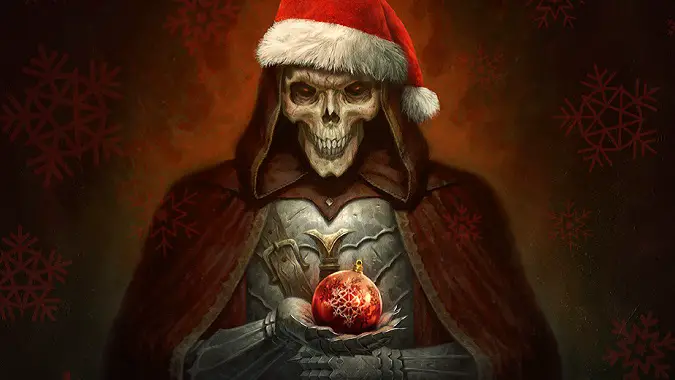 On the second day of Christmas, Diablo gave to me… 22 Nights of Terror. And a Wirt's Leg in a pear tree. If the holiday spirit hasn't grabbed you yet, then maybe a little holiday cheer in Sanctuary will get you ready for the season: Diablo 2 Resurrected's 22 Nights of Terror event is now live.
You can enjoy this new Diablo 2 holiday event from December 13, 2022 at 11 am PST to January 4, 2023 at 11 am PST!
Every day you'll find a new terror in Diablo 2
During 22 Nights of Terror, every 24 hours (at 11 am PST) a new gameplay modifier will be introduced that will alter the way you play the game. The modifier announcement will be visible on your character screen, and it will be messaged through chat. For instance, for December 14th there was the "Sanity Clause" modifier which causes Terror Zones to change every 15 minutes, and online heroes receive a festive buff. We don't know what will be available in advance, so expect a new surprise whenever you log on.
The modifiers only affect online game modes and will not be in the Classic Diablo 2 experience, so you can still enjoy the game as it was originally without these holiday extras.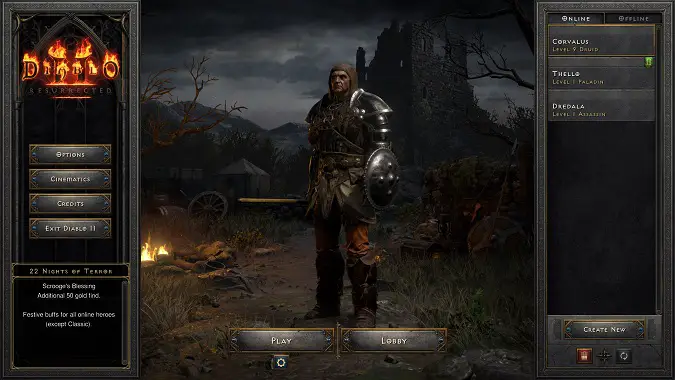 Who can participate in 22 Nights of Terror?
While the 22 Nights of Terror is a fun way to experience Diablo 2, it's worth noting that some of the modifiers can only be experienced by players who have completed the game and have defeated Baal. This is true of the "Home for the Holidays" and "Sanity Clause" modifiers that affect the Terror Zones. If you're paying solo or with friends and no one has completed the game, then the Terror Zones will not show for you, and the modifier will not affect you. Another modifier is "Scrooge's Blessing," which gives you an additional 50 gold find (with festive buffs for all online heroes).
What is the Festive Buff? No one knows at this time, and not much information was given about the buffs in the original Blizzard post.
What do you get from 22 Nights of Terror?
The 22 Nights of Terror is a great way to earn powerful loot, and the daily modifier adds some variety to the game. If you are lucky to have completed a playthrough of Diablo 2, then you'll definitely get more out of this event than others who have not started the game.
Enjoy the modifiers, and don't forget to leave out the milk and cookies for Diablo.