How to get Twitch drops for Overwatch 2, now featuring Mask Dancer Moira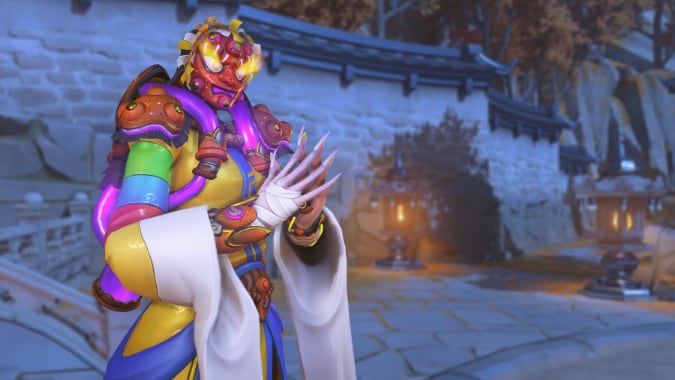 Lunar New Year is about to get started in Overwatch 2, and in addition to in-game celebrations there are a couple of rewards you can earn by watching your favorite Overwatch streamers on Twitch. Right now, Lunar New Year-themed drops are available from January 11 – 25, and you only have to watch a total of six hours of Overwatch 2 in order to get them.
If you'd like to earn Moira's Lion Roars Victory Pose and the Mask Dancer Moira legendary skin, here are all of the details on earning Overwatch 2 Twitch drops.
How to earn Overwatch 2 rewards with Twitch Drops
For those who are newer to the ins and outs of the popular livestreaming platform, game developers can offer people rewards for logging a certain amount of hours viewing their titles. In the case of Blizzard, there are frequently in-game cosmetics you can earn by watching streamers playing Overwatch 2. (If you also play a lot of Hearthstone, it works the same with that game and also with World of Warcraft.)
You don't need to stay on the same channel for the whole time to earn a drop. As long as you're watching a channel that's tagged with the Overwatch 2 category, time will accrue towards earning the goodies. The only caveat is that you can't double up the time by having more than one Overwatch 2 streamer open at a time.
You can earn drops on nearly any viewing platform, including web browsers (for PC and Mac), the Twitch app on Android and iOS, as well as game consoles, smart TVs, or streaming players that have an official Twitch app. However, you can only claim your drops via your web browser or the Twitch app for Android or iOS. You can check whether you're making progress towards rewards by clicking on your profile icon and selecting "Drops & Rewards." From here, you'll see how many hours you've watched and how close you are to earning rewards.
After you've watched the required number of hours, you need to actively claim your rewards. Again, you'll want to click your profile icon and select  "Drops & Rewards." From there, click the reward and it should show up in your Battle.net account within the next 24 hours.
How to link your Twitch and Battle.net accounts
To earn goodies while you watch, you'll need to be logged on to Twitch and have your Twitch and Battle.net accounts connected. This part is pretty straightforward:
Log in to your Battle.net account
Open the Connections page in the menu
Click Twitch and sign in to link the two services
Once that's done, you're ready to get Twitch Drops.
Which Twitch drops are available for Overwatch 2 now?
Right now, until January 25, your drops star Moira. You can get the Lion Roars Victory Pose by watching for two hours. After you claim that drop, watch for four more hours to receive the Mask Dancer Legendary skin.
Remember to tune in before January 25 to earn these Overwatch 2 Twitch drops! There's no telling when we might see this Moira skin again.
Updated January 12, 2023