5 great decks to use for Marvel SNAP's Featured Location, Plunder Castle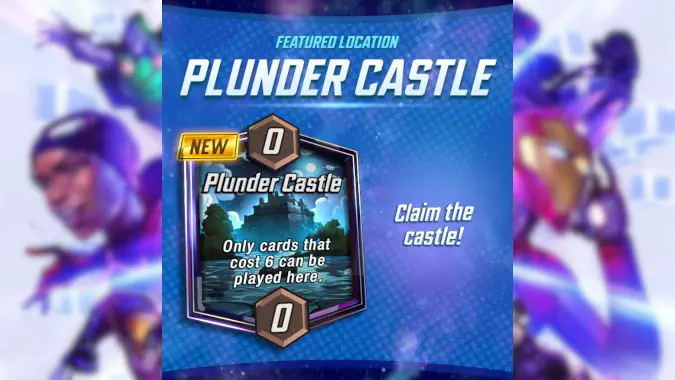 The final Featured Location in Marvel SNAP's The Savage Land season is Plunder Castle. Featured Locations, for those unaware, typically change over on Tuesdays and make a specific location more likely to appear. They are usually worth some deck adjustments if you're looking to win some matches.
Let's take a look at some great cards and deck lists to use while Plunder Castle is the Featured Location, though all of these cards and decks will work to your benefit whenever you encounter the Plunder Castle Location in the future.
What is the Plunder Castle in Marvel lore?
Plunder Castle was the home of Parnival Plunder, brother and major antagonist to Ka-Zar. In Daredevil #13, Plunder tricks Daredevil into fighting Ka-Zar to get half of the famed Anti-Metal Medallion. Daredevil tries to convince Ka-Zar they are allies, but Plunder's minion, Feepers, joins the fray. Both Daredevil and Ka-Zar survive and escape the castle.
Then in Daredevil #24, Daredevil learns that Ka-Zar had given into his savage nature and is terrorizing the countryside as The Midnight Stalker. Daredevil later discovers The Midnight Stalker is actually Plunder. He teams up with Ka-Zar to defeat him.
How do you win in the Plunder Castle location?
In Marvel SNAP, Plunder Castle joins a group of Locations that limit the cards you can play there. With Plunder Castle, the rule is you can only play cards that cost 6-Energy. When planning your deck, it's important to note that SNAP looks at the current cost of the card, not its base cost. A 6-Energy card that has had is cost reduced, for example by Sera or Elysium, cannot be played at Plunder Castle. Because Plunder Castle is worded as inclusives (only six cost cards) rather than exclusive like Crimson Cosmos (cards that cost 1,2, or 3 can't be played here), zero-Energy cards like Wasp that could be played at Crimson Cosmo can't be played at Plunder Castle.
Let's take a look at what cards work great while Plunder Castle is the Featured Location, and the decks they work best in, though all of these cards and decks will work to your benefit whenever you encounter the Plunder Castle Location in the future.
Note: Leader would have been a strong consideration for this list, however; with his recent nerf, its unclear how good the card will be.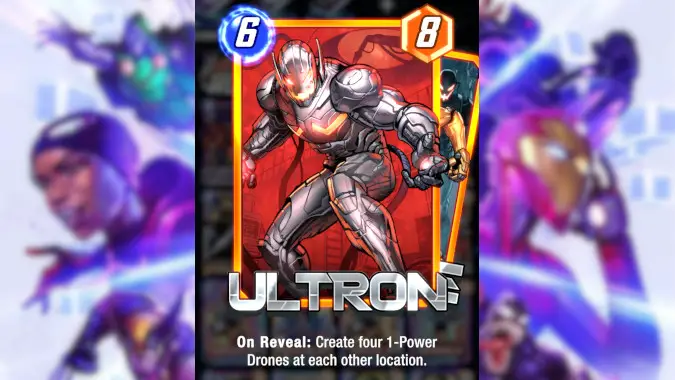 Great decks to use on Plunder Castle
Ultron
Going wide and spreading power across multiple Locations is a great strategy for Plunder Castle. Ultron is one of the best cards to do this, combined with buffers like Patriot, Blue Marvel, and Ka-Zar. Plunder Castle does limit your buffers to the other two Locations which may make it easier for your opponent to wipe them out with Enchantress.
Doctor Doom is another good option for spreading power. While Ultron gives you a card to play at Plunder Castle, Doctor Doom will put his Doombot there. Finally Arnim Zola can "cheat" a card into Plunder Castle similar to how he can subvert the restrictions on a Flooded Location from Storm or a Location like Kyln (You can't play cards here after turn 4)
Ultron deck code:
eyJDYXJkcyI6W3siQ2FyZERlZklkIjoiV2FzcCJ9LHsiQ2FyZERlZklkIjoiU3F1aXJyZWxHaXJsIn0seyJDYXJkRGVmSWQiOiJNaXN0eUtuaWdodCJ9LHsiQ2FyZERlZklkIjoiSW52aXNpYmxlV29tYW4ifSx7IkNhcmREZWZJZCI6IlNob2NrZXIifSx7IkNhcmREZWZJZCI6IlBhdHJpb3QifSx7IkNhcmREZWZJZCI6IkRlYnJpaSJ9LHsiQ2FyZERlZklkIjoiS2FaYXIifSx7IkNhcmREZWZJZCI6IlVsdHJvbiJ9LHsiQ2FyZERlZklkIjoiT25zbGF1Z2h0In0seyJDYXJkRGVmSWQiOiJCbHVlTWFydmVsIn0seyJDYXJkRGVmSWQiOiJNeXN0aXF1ZSJ9XX0=
This is your standard Ultron Patriot.
Zola / Doctor Doom deck code:
eyJOYW1lIjoiV2FrYW5kYSBGb3JldmVyIiwiQ2FyZHMiOlt7IkNhcmREZWZJZCI6IlN1bnNwb3QifSx7IkNhcmREZWZJZCI6IkljZW1hbiJ9LHsiQ2FyZERlZklkIjoiU2NvcnBpb24ifSx7IkNhcmREZWZJZCI6IlN0b3JtIn0seyJDYXJkRGVmSWQiOiJTaHVyaSJ9LHsiQ2FyZERlZklkIjoiV29uZyJ9LHsiQ2FyZERlZklkIjoiV2hpdGVUaWdlciJ9LHsiQ2FyZERlZklkIjoiQmxhY2tQYW50aGVyIn0seyJDYXJkRGVmSWQiOiJSZWRTa3VsbCJ9LHsiQ2FyZERlZklkIjoiQXJuaW1ab2xhIn0seyJDYXJkRGVmSWQiOiJEckRvb20ifSx7IkNhcmREZWZJZCI6Ik9kaW4ifV19
This is an On Reveal powered deck with several cards from the Wakanda Forever season.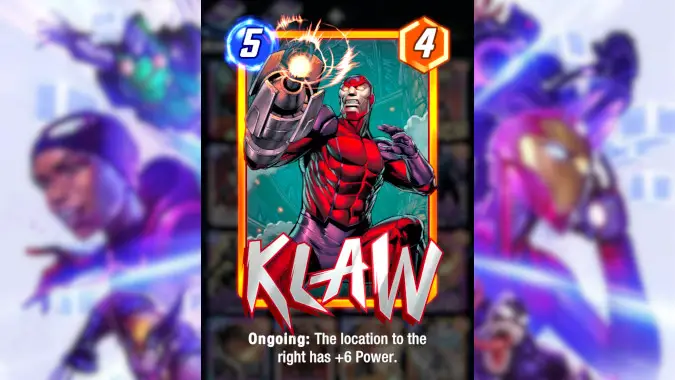 Klaw
As long as Plunder Castle isn't the far left Location, Klaw can help you. Place him to the Location to the left of Plunder Castle and he'll send 6 Power to help take the Plunder Castle lane. Note that 6-Power might not be enough to win the Location. You'd lose to an Ultron played there, but win against a Doombot. But the 2-Power from Mister Fantastic is highly unlikely to take it.
Klaw deck code:
eyJDYXJkcyI6W3siQ2FyZERlZklkIjoiU3BlY3RydW0ifSx7IkNhcmREZWZJZCI6IkFudE1hbiJ9LHsiQ2FyZERlZklkIjoiRGFyZWRldmlsIn0seyJDYXJkRGVmSWQiOiJDb2xvc3N1cyJ9LHsiQ2FyZERlZklkIjoiTXJGYW50YXN0aWMifSx7IkNhcmREZWZJZCI6IldhcnBhdGgifSx7IkNhcmREZWZJZCI6IlNhbmRtYW4ifSx7IkNhcmREZWZJZCI6IlByb2Zlc3NvclgifSx7IkNhcmREZWZJZCI6IkRlc3Ryb3llciJ9LHsiQ2FyZERlZklkIjoiQ29zbW8ifSx7IkNhcmREZWZJZCI6IkFybW9yIn0seyJDYXJkRGVmSWQiOiJLbGF3In1dfQ==
This is Destroyer deck which gives you the option of playing Destroyer in the Plunder Castle Location in addition to having the ability to play Klaw in another lane.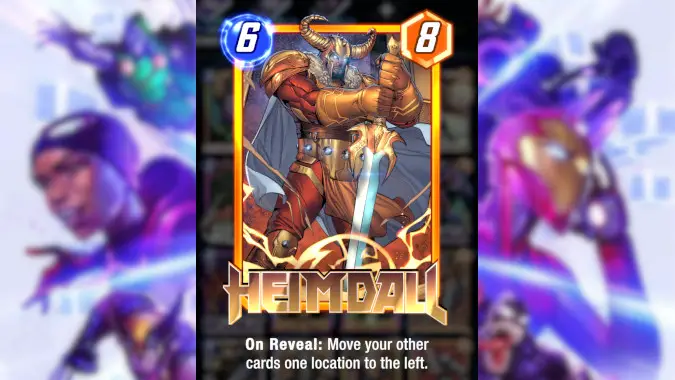 Heimdall 
While yes, Heimdall does give you the option of playing him at Plunder Castle, his true power comes from the movement. He could slide cards into Plunder Castle (as long as Plunder Castle isn't the far right Location.)
Heimdall deck code:
eyJOYW1lIjoiXHVkODNkXHVkYzBjREFHR0VSIE1PVkUgUE9PTCAzIEJVREdFVCIsIkNhcmRzIjpbeyJDYXJkRGVmSWQiOiJJcm9uRmlzdCJ9LHsiQ2FyZERlZklkIjoiRGFnZ2VyIn0seyJDYXJkRGVmSWQiOiJGb3JnZSJ9LHsiQ2FyZERlZklkIjoiS3JhdmVuIn0seyJDYXJkRGVmSWQiOiJNdWx0aXBsZU1hbiJ9LHsiQ2FyZERlZklkIjoiQ2xvYWsifSx7IkNhcmREZWZJZCI6IkRvY3RvclN0cmFuZ2UifSx7IkNhcmREZWZJZCI6IktpbGxtb25nZXIifSx7IkNhcmREZWZJZCI6IlZ1bHR1cmUifSx7IkNhcmREZWZJZCI6Ikh1bGtidXN0ZXIifSx7IkNhcmREZWZJZCI6IkhlaW1kYWxsIn0seyJDYXJkRGVmSWQiOiJBbWVyaWNhQ2hhdmV6In1dfQ==
This is your standard Heimdall/Dagger/Multiple Man variety move deck. Some people prefer the Human Torch but there's way too many Killmongers out there for me to risk it.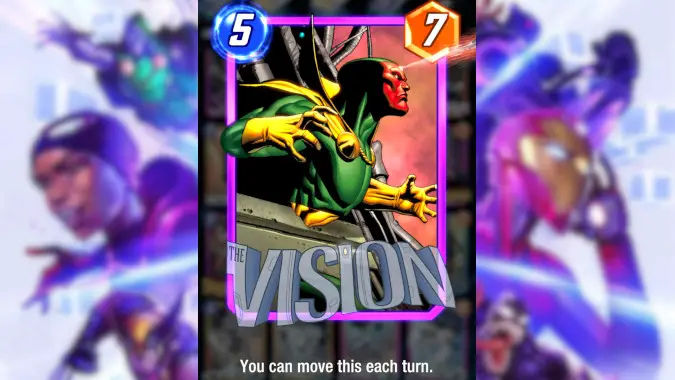 Vision
Plunder Castle only prevents you from playing cards there. It doesn't stop you from moving cards there after they've been played already. Vision, along with Captain Marvel and Nightcrawler, give you options for cards you can move to Plunder Castle.
Vision deck list:
eyJOYW1lIjoiSnVqdVdhdmUgXHUyNzI4XHVkODNjXHVkZjBhIFtSZWFkIERlc2NyaXB0aW9uXSIsIkNhcmRzIjpbeyJDYXJkRGVmSWQiOiJRdWlja3NpbHZlciJ9LHsiQ2FyZERlZklkIjoiRG9taW5vIn0seyJDYXJkRGVmSWQiOiJXYXZlIn0seyJDYXJkRGVmSWQiOiJKdWJpbGVlIn0seyJDYXJkRGVmSWQiOiJEZXZpbERpbm9zYXVyIn0seyJDYXJkRGVmSWQiOiJTcGlkZXJXb21hbiJ9LHsiQ2FyZERlZklkIjoiVmlzaW9uIn0seyJDYXJkRGVmSWQiOiJPZGluIn0seyJDYXJkRGVmSWQiOiJBbWVyaWNhQ2hhdmV6In0seyJDYXJkRGVmSWQiOiJIdWxrIn0seyJDYXJkRGVmSWQiOiJNYWduZXRvIn0seyJDYXJkRGVmSWQiOiJJbmZpbmF1dCJ9XX0=
This deck gives you plenty of 6-Energy stat sticks like Infinaut and Hulk, along with Wave, who, as we will discuss below is a fantastic tech option for this Location.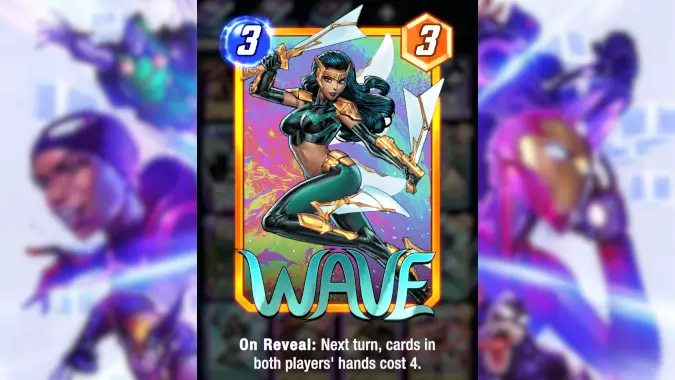 Wave
As we discussed in the intro, SNAP will look at the cost of the card as it sits in your hand, not its base cost. Wave makes all cards cost 4. If you play Wave on turn five, no one is playing a card on the Plunder Castle lane on turn six.
Aero is a other interesting tech option. You would play Aero on turn six and yank whatever card your opponent played on Plunder Castle away. Just be sure you have another way to securing the Plunder Castle lane like Klaw or Vision.
Wave deck list:
eyJOYW1lIjoiRGVhVGhXYXZlIExpZ2hUIiwiQ2FyZHMiOlt7IkNhcmREZWZJZCI6Ik5vdmEifSx7IkNhcmREZWZJZCI6IllvbmR1In0seyJDYXJkRGVmSWQiOiJCdWNreUJhcm5lcyJ9LHsiQ2FyZERlZklkIjoiQ2FybmFnZSJ9LHsiQ2FyZERlZklkIjoiTXlzdGVyaW8ifSx7IkNhcmREZWZJZCI6IktpbGxtb25nZXIifSx7IkNhcmREZWZJZCI6IldhdmUifSx7IkNhcmREZWZJZCI6IkRlYXRobG9rIn0seyJDYXJkRGVmSWQiOiJWaXNpb24ifSx7IkNhcmREZWZJZCI6IkFtZXJpY2FDaGF2ZXoifSx7IkNhcmREZWZJZCI6Ik1hZ25ldG8ifSx7IkNhcmREZWZJZCI6IkRlYXRoIn1dfQ==
This is a standard DeathWave list with Vision included. DeathWave seems to have gotten a power boost with the most recent balance changes.
Aero deck list:
eyJOYW1lIjoiRGFyZWRldmlsIENvbnRyb2wgQWx3YXlzIFNuYXAhIFJlYWQgRGVzY3JpcHRpb24hIiwiQ2FyZHMiOlt7IkNhcmREZWZJZCI6IkljZW1hbiJ9LHsiQ2FyZERlZklkIjoiS29yZyJ9LHsiQ2FyZERlZklkIjoiRGFyZWRldmlsIn0seyJDYXJkRGVmSWQiOiJTY29ycGlvbiJ9LHsiQ2FyZERlZklkIjoiQ29zbW8ifSx7IkNhcmREZWZJZCI6IlNoYW5nQ2hpIn0seyJDYXJkRGVmSWQiOiJXYXJwYXRoIn0seyJDYXJkRGVmSWQiOiJIb2Jnb2JsaW4ifSx7IkNhcmREZWZJZCI6IlByb2Zlc3NvclgifSx7IkNhcmREZWZJZCI6IkFlcm8ifSx7IkNhcmREZWZJZCI6IkdhbW9yYSJ9LHsiQ2FyZERlZklkIjoiQW1lcmljYUNoYXZleiJ9XX0=
This is a Daredevil control deck with Aero.
What are your ideas?
The meta is unsettled with the balance changes dropping hours before the new Featured Location, so we may see more adjustments than normal to these decks. Whether Plunder Castle is in your Location pool due to the event, or just one of the randomly chosen ones after the event, hopefully these cards and tips help you win!
Keep in mind that even as the Featured Location, there will still be matches that you don't see Plunder Castle. Make sure your deck is flexible enough that you don't have to retreat if you don't get Plunder Castle in your Location pool.
What other great cards have you used with Plunder Castle? Let us know in the comments.