Hearthstone's When Clones Attack Tavern Brawl lets you build your own (random) clone army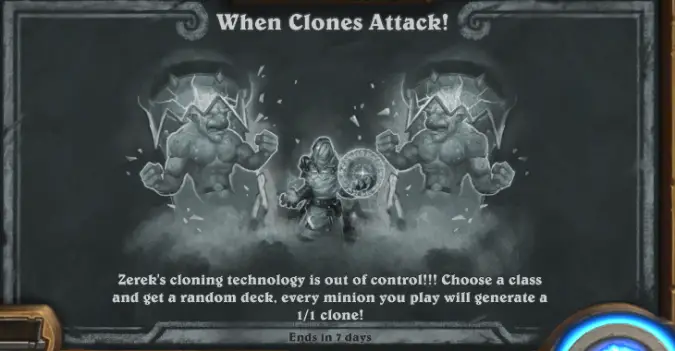 This week's Hearthstone Tavern Brawl, When Clones Attack, is handiwork of none other than Zerek, Master Cloner, and not the Kaminoans. Introduced in The Boomsday Project, Zerek is a character unique to Hearthstone. In addition to being a Legendary minion himself, Zerek inspired the Legendary spell, Zerek's Cloning Gallery as well as the Common spell, Cloning Device.
Now Zerek is expanding his repertoire to Tavern Brawls.

Tavern Brawl basics
Name: When Clones Attack
Description: Zerek's cloning technology is out of control!!! Choose a class and get a random deck, every minion you play will generate a 1/1 clone!
Fun level: 5/10
Difficulty: 5/10
Replayability: 9/10
Format: Wild
Type: PvP
Deck: Provided
Rewards: 1 Standard pack. This can contain any card from any set in the current Standard rotation.
In this Brawl, you're provided a deck so the size of your card collection doesn't matter. The deck is full of random cards, and you'll find everything from Legendary cards to Basic cards in your deck. You'll have some class cards and some neutrals, but there are no strict ratios — it's all random. All you have to do is choose a class — everything else is provided for you.
How to win the When Clones Attack Tavern Brawl
Try to think like you're playing a Zoo style deck: mulligan for low cost minions, and look for good Deathrattles and Battlecries. Rush and Charge minions are particularly good since the 1/1 that Zerek summons will also have Rush/Charge. Be aware of board space if the minion you're about to play summons a minion or has Recruit, which won't trigger if your board is full.
Playing this Brawl requires an Arena mindset where good trades are key. Don't hesitate to drop a minion for pure stats, even if their affect won't go off, like effects that trigger if you're holding a dragon or the like.
There are a few good class choices for this Tavern Brawl. Mage, Demon Hunter, and Death Knight all have a Hero Power that can deal with the clones by itself, but I didn't always find myself with extra mana to use it like I did in Brawl of Gaudiness. The clones mean Paladin, Druid, and Priest have plenty of targets for buffs. Hunter is another good choice as the class has access to some fantastic Rush minions and the Hero Power puts constant pressure on your opponent. Demon Hunter has an aggro playstyle that will let you close out games quickly.  Shaman has some great Battlecry minions and Priest has some of the best Deathrattles. I had thought classes like Druid and Warlock, which have a natural bent for Zoo style, would be strong as well, but so far, that hasn't been the case.
The Brawl's rules seem a little inconsistent with buffs. While Rush worked, when I played Nethersoul Burster the clone didn't get the attack buff, and I had taken damage since the main minion did get buffed. Later, when I played Carrion Drake, the clone did get the Poisonous buff.
There's still an RNG factor to which minions and spells you get, but this week, the decks felt closer in power level. I never felt like I lost on the shuffle. The games were enjoyable and strategic.
Originally published 2/20/20, updated 1/20/21, updated 7/28/2021, updated 2/15/2023