WoW
Mar 1, 2023 1:00 pm CT
Rewards offered at the WoW Trading Post in March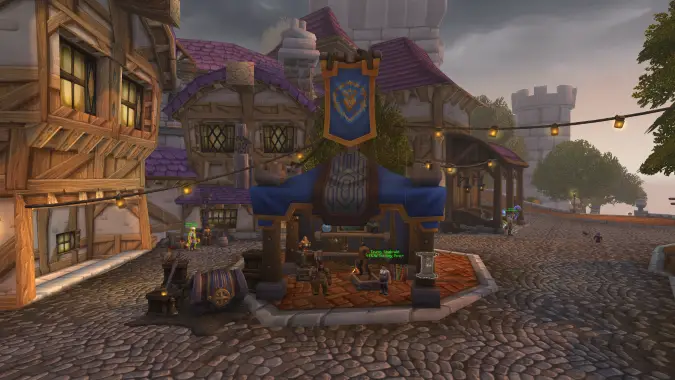 Ahead of weekly reset, Blizzard let us know what's coming to the Trading Post in March 2023. Here are all the rewards you'll find right now. The current selection will be available until March 31st, with a new set of awards to purchase in April.
Trading post transmog, armor sets, and cosmetics
Cosmetics and transmog for gear and weapons make up the bulk of options at the Trading Post each month. March's features four Ensemble sets– two cloak pieces, a plate set, and a mail set — available for purchase:
A pair of new two-handed weapons make their debut this month:
This month, all of you shield users are in for a treat with a new shield model, as well as a sword transmog to pair it with. If you'd rather go with an unconventional off-hand item, the Traders Post has you covered with a gnomish invention, if that strikes your fancy:
Curiously enough, the individual pieces on tap this month lean towards pirates with a Chest (technically a cloak!) and a pirate but with the pet offering not being a bird this seems like a missed opportunity. If that doesn't shiver your timbers, there's another cloak and a brand new shirt available: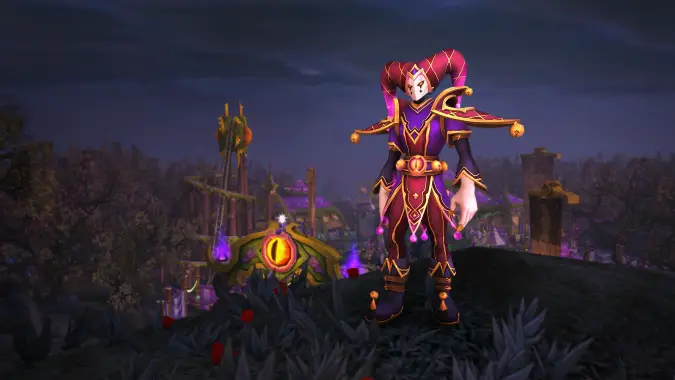 Last but most definitely not least, the bonus reward for completing this months Traveler's Log activities is the Ensemble: Darkmoon Faire Harlequin's Bells transmog.
Trading post pets
March's monthly pet reward is the Pandaren Monk for 650 Traders Tender. Based on February and March's previous reward structure, it seems we'll get at least one pet per month. Of the four datamined pets, Egbob, Pippin, and Lil Ragnaros remain as known rewards.
For you mount collectors out there, sadly it looks like mounts aren't part of the rotation this month. There have been quite a few new and re-colored models that were datamined, so hopefully we get to see more of them next month. We'll be making a larger list of all the datamined items that could be on sale in future months so keep an eye out for that!