What kind of character would the "real world you" be in World of Warcraft?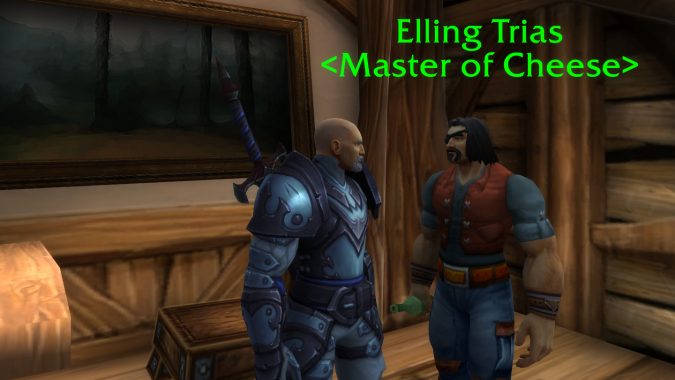 Here's a particular role-playing-game geek question that's fun to answer: What kind of character would you — the real world you — be in World of Warcraft? What would be your class, or occupation?
It's a type of question related to all sorts of RPGs and massively multiplayer online games (MMOs) that has been debated for decades. It persists much like the evergreen musings about Gandalf's actual class in The Lord of the Rings, or who would win a fight between Superman vs. X character (let's say, Matter-Eater Lad from the Legion of Super-Heroes — which would be no contest: Matter-Eater Lad eats gold kryptonite and then, um, chews out the Last Son of Krypton…)
Somewhere in my archives, I have a dog tag imprinted with the supposed equivalent of my real-world attributes in Traveler stats from Gen Con in 1996. The determination of my attribute scores involved answering trivia questions, running in place, and basically making direct eye contact with the proctor of the test. Even further back, a 1977 article in Dragon Magazine offered a rather unforgiving formula for determining personal Dungeons & Dragons stats that involved repetitions of military presses and TV appearances, the resulting scores of which my vanity would never tolerate.
When it comes to WoW, personally, I'd most probably be a retired Outlaw Rogue, given years spent recreating and teaching historical fencing with rapier and dagger. (Don't ask my opinion of Nadjia the Mistblade's fencing unless you're prepared for a lengthy lecture involving geometry, the Princess Bride, and the etymology of the word swashbuckler.)
But "retired" is the operative word. Age and the entropy wear away at one's physical attributes, meaning I'm practically an NPC at this point. I could only hope to qualify as a cheesemonger these days. That said, how about you? Are you a Fire Mage barbecue aficionado? A buffed-up librarian tasked to be a Fury Warrior in the current political climate? A Warlock process engineer using your infernal powers to destroy any-and-all barriers to productivity? Let us know in the comments!