WoW
Mar 8, 2023 10:00 am CT
Cross-faction guilds are coming with Dragonflight patch 10.1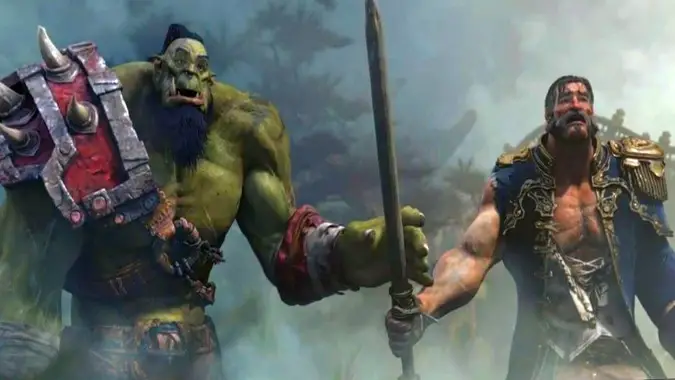 Ever since cross-faction instancing was added to World of Warcraft in Shadowlands patch 9.2.5, players have eagerly embraced it. Cross-faction tagging was added in Dragonflight, making it easier for us to play with the opposite faction in the open world as well as instance. I'm sure quite a few of us have been excited to get to play with our opposite-faction friends without having to ditch our guilds and level new alts — I know my raid group is very grateful for the presence of Horde players on our raid nights. These changes have made it much easier to play with our friends, but we still couldn't join guilds with them, which limited our cooperative gaming options.
But all that's about to change: Dragonflight patch 10.1 will add cross-faction guilds, so you can finally create guilds that simply don't fret about that pesky faction barrier. Instead, you'll be able recruit both Horde and Alliance players.
However, we're still don't have a lot of details on how the feature will work. Can we convert existing guilds to be cross-faction guilds? Will new guilds be this way by default? Will the guild interface get a much-needed refresh to help support these new, larger guilds?
Fortunately our questions will soon be answered because the patch 10.1 PTR is going to be up soon, and you can help Blizzard test this upcoming feature. But I'd hurry — with this year's rapid patch release schedule, it's likely that patch 10.1 will only be on the PTR for a month or so before it goes live. If you have feedback you want to share with Blizzard on this feature you've only got a month or two to really get on, test it, and submit it to the developers.
Regardless, this is amazing news — it's something people have wanted ever since cross-faction grouping was announced in Shadowlands, and it really does show that World of Warcraft is moving away from the old model of strict separation between the Alliance and the Horde. With this, one of the biggest barriers between players is eroding and I can only hope that it means we'll now be able to do more dungeons and raids in cross-faction groups. Remember, there are still a few older raids and dungeons you can't run cross-faction, and I hope that this will be the next hurdle to be removed.
Meanwhile, watch for the patch 10.1 PTR to go live shortly. We'll be adding more details here when we have them.