The Butcher is back in Diablo 4 and he's probably going to kill you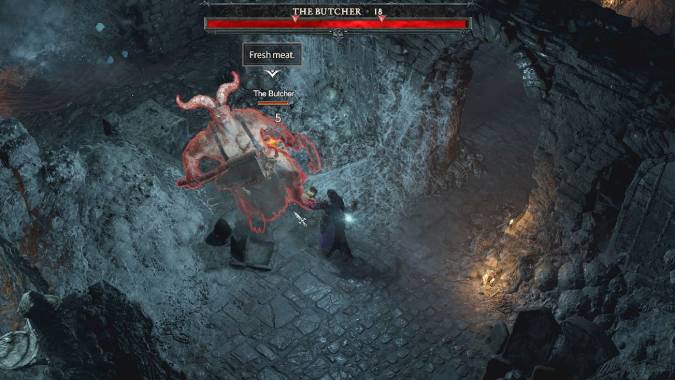 The Butcher has returned in Diablo 4, and he's much, much meaner than you might remember. Almost a staple of the Diablo franchise, the Diablo 4 version of the mean musclebound meat-cleaving machine is meant to emulate his introduction in the very first game of the series: He'll pop up out of nowhere when you least expect it, and he's most likely going to kill you.
That's right: Unlike his appearance in Diablo 3, where he was just a regular boss — a sort-of-slow-moving, not-that-hard-hitting boss with relatively easy mechanics to learn, so that all players could eventually overcome him and keep progressing on the game — this version of The Butcher is more like an easter egg. He has a random chance to show up in any dungeon, on any room (except for boss rooms), catching you completely off-guard — much like he did in Diablo 1, where you'd open a door to what looked like just another room in an early dungeon, only to be greeted by the terrifying cry of "fresh meat!" before being cleaved in twain.
The Butcher hits very hard, and will require you to kite him around if you have any hope of killing him. He moves fast, being able to catch up with you with ease, and he still has the ability to charge at you or to pull you to him with his meat hook — no need to stress that you should avoid those attacks at all costs. My experience meeting him in the beta worked exactly as the developers intended: I had no idea he was coming, I was completely unprepared for the onslaught, and he killed me in probably no more than three hits.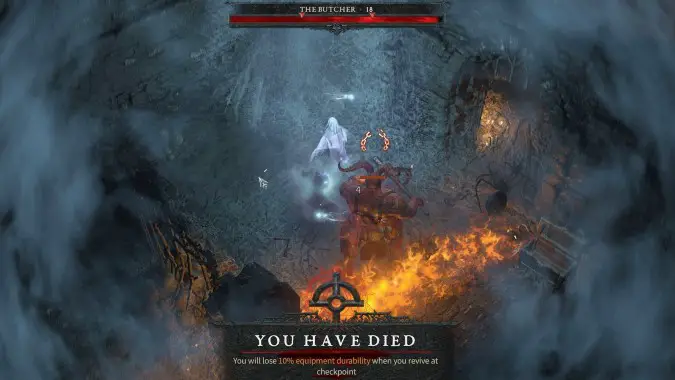 And I couldn't even get my revenge: after The Butcher gets the satisfaction of making fresh meat out of your corpse, he leaves. This accomplishes two things. First, it gives the player that nice feeling of revenge — "next time things will be different; just you wait, Butcher!!!" Second, it prevents the random surprise from becoming an annoying or even impossible determent to progress. The Butcher won't hang around to kill you repeatedly. He'll teach you a valuable lesson once, and he'll let you go back to your training montage, slaughtering hordes of lesser demons so that maybe one day you'll be strong enough to face him again. The Butcher also leaves if players take too long to kill him, to ensure that they can't engage in unintended, "scummy" tactics to beat him.
All in all, the Diablo 4 version of The Butcher is a very nice addition to the game. It makes for thrilling, unforgettable gameplay moments, and it definitely adds an element of danger to dungeon exploration. You never know if The Butcher might be laying in wait on the next room to give you a bad time.