Overwatch 2 Season 4 is now live with a cosmic-themed collection of rewards and the new Liveweaver hero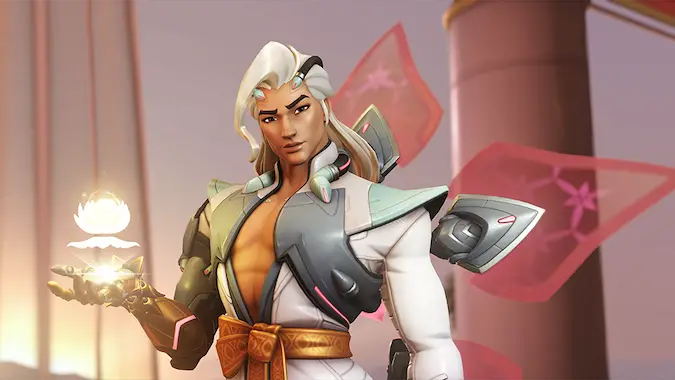 The sun is has set on the third season of Overwatch 2, and Blizzard has shared a bunch of information about the cosmic excitement planned for Season 4. Overwatch 2 Season 4 started on April 11 with a new theme, a new hero, a new Battle pass packed with rewards, and a bunch of limited-time events on the calendar.
New hero Lifeweaver will joining the Support lineup. While he has a charged-up healing main fire and a damage alt fire, many of his abilities seem most akin to Mei. He has a Petal Platform that can lift both friendly and enemy players into the air, as well as Life Grip, which yoinks teammates to your side. And as with Mei, I am confident that the community will only use these abilities wisely, with no possible trolling, either accidental or intentional. Lifeweaver's ultimate is Tree of Life, which gives sustained healing in a large circle, as well as physically blocking off chokepoints or providing a shield.
Season 4 is also bringing a lot of new mini-events to the battlefield:
Through April 25: B.O.B. and Weave 3v3 mode. the game is marking Thai New Year with an arcade mode called B.O.B. and Weave. It's a 3v3 mode where everyone plays as Lifeweaver, and each team uses their Life Grip ability to drag a B.O.B. around the map. Should be a good chance to start getting acclimated to Lifeweaver's kit.
April 25 – May 9: Talantis map in Arcade. After the B.O.B. bonanza, the community can play the completely non-canon map Talantis, which players created with Blizzard devs via Twitch stream last December. See why Blizzard has an entire team dedicated to designing and testing maps in this totally not nonsense creation in the Arcade from April 25 to May 1.
May 9 – 22: Starwatch: Galactic Rescue 4v4 mode. Next up is a Star Wars-inspired PVP event called Starwatch: Galactic Rescue. Inspired by the season's "space opera" theme, two teams of four will duke it out in a reworked version of the Horizon Lunar Colony map.
May 23 – 29: Battle for Olympus free-for-all mode returns!
May 30 – June 6: Symmetra Challenge rewarding Gardening Symmetra Legendary Skin
June 1: Overwatch's inaugural Pride kicks off, and Aaron Keller has explained why Pride is an important event for Overwatch 2:
This is an important subject for us. It's easy to get called out for talking about a fictional character's queerness without the proper setup, or to get accused of adding inclusivity for the wrong reasons. We've always thought of Overwatch as a game that portrays a bright, hopeful, and inspirational future. The world is a diverse place. We would not only like Overwatch to reflect that, but we want players to be able to see a part of themselves in our game. To have it showcase who they are. We'd like Pride to feel like it's being recognized and celebrated within our game world. Before June, we will share how we are celebrating Overwatch 2's first Pride, and we will also share the values that drive this team every day to bring our game's vision to life.
That's a packed calendar, plus there will be some balance changes, hero updates, and UI additions happening game-wide. We look forward to blasting off into another nine weeks of heroic battles!
Originally published March 6, 2023; updated April 11, 2023