WoW
May 9, 2023 11:00 am CT
How to find and earn rewards from Fyrakk Assaults in WoW patch 10.1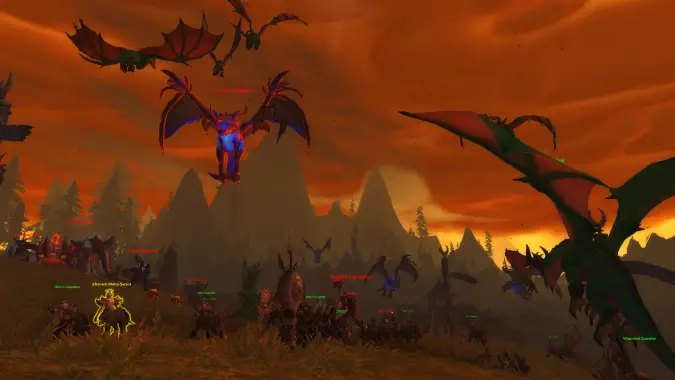 On May 9 when Season 2 of Dragonflight patch 10.1 launches — that's today! — Fyrakk and his followers will begin attacking different zones in the Dragon Isles and its up to the players to challenge and push them back. Similar to the Deathwing flyover events from Cataclysm, Fyrakk Assaults are zone-wide weekly events — complete with dragon flyovers — that players can participate in for various gear, currencies, and other rewards.
We've laid out when Fyrakk Assaults happen, how they work, and what they offer in reward so you can join the fight!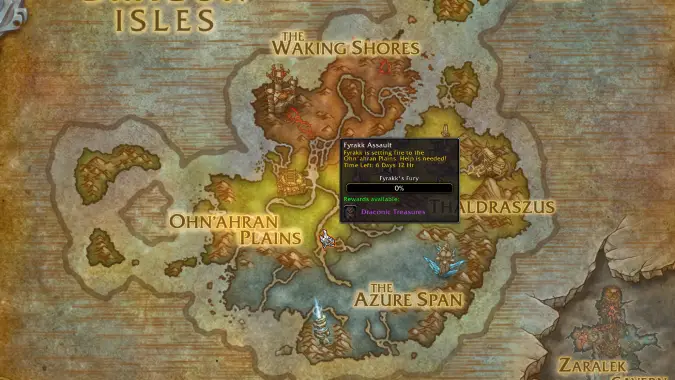 Fyrakk Assaults occur in a single zone and rotate weekly
In Loamm next to Flightmaster Avogadro will be a Mirror Image of Kalecgos who will give you the breadcrumb quest Fyrakk's Forces, prompting you to join the fight against Fyrakk and his followers in whichever zone they are attacking — the Ohn'ahran Plains or the Azure Span. To see which zone is currently under attack, open up the map and look for the dragon head marker (previously the Centaur Horn marker) which will be labeled "Fyrakk Assault" and name which one of Fyrakk's disciples is leading the assault on that zone. Assaults on each zone last for the week and rotate at the weekly refresh.

Fyrakk Assault objectives and rewards
When reaching the area under attack you'll notice the environment will change — the area will take on a reddish-orange fire tones, battle music will begin to play, and you'll see groups of enemies amassing and fighting against the denizens of the current zone. Entering the fray will prompt the World Quest Suffusion Camp to appear in your quest log — Suffusion Camp: Cinderwind for Ohn'ahran Plains or Suffusion Camp: Frostburn for the Azure Span — and a set of objectives underneath it that appear to be zone universal:
5 Ward of Igira Collected
Suffusion Crucible looted
Crucible guardian slain
5 Wards of Fyrakk collected
Suffusion Mold looted
Forgemaster slain
Wards of Igira are collected from defeating any enemies in the area. Once five are collected, they can be used on chests in the area called Suffusion Crucibles which then drop Wards of Fyrakk. Collecting five Wards of Fyrakk and using it on a Suffusion Mold will summon an elite enemy called a Forgemaster to arrive and attack. Defeating the Forgemaster will end the assault and reward players with a combination of commendations worth 250 reputation for the Iskaara Tuskarr or Maruuk Centaur based on the zone, Suffused gear, Everburning Keys to use on assault reward chests, and Drake's Shadowflame Crest Fragments which are needed for the item upgrading system coming in patch 10.1
Speaking to your allies will give you additional quests that reward reputation with the main faction that is currently under attack.
Filling Fyrakk's Fury
A meter labeled "Fyrakk's Fury" will appear at the top of your screen during zone assaults and show a percentage of progression. Interfering with Fyrakk's forces by completing Suffusion Camp objectives and killing elites in the area appears to fill the meter. When the meter reaches 100%, Fyrakk will enter and begin attacking the zone himself and drop off one of his disciples, Kretchenwrath or Shadeisthal, to attack you.
Defeating his disciple will reward you with another commendation worth 500 reputation for the Iskaara Tuskarr or Maruuk Centaur, another piece of gear, and more Drake's Shadowflame Crest Fragments. If you happen to die due to Fyrakk's aura, you'll earn the Still Standing in Fire achievement.
Initially posted March 14, 2023. Updated May 9, 2023.