Here are all the rewards on the new track for Battlegrounds Season 4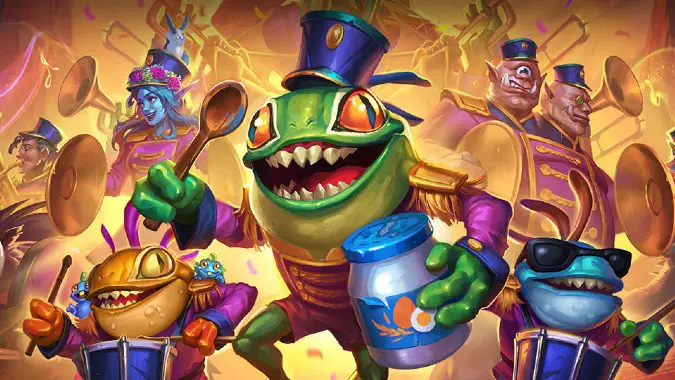 Hearthstone Battlegrounds Season 4 is almost here, bringing a brand-new rewards track with it. These rewards are themed after music, going along with the latest expansion, Festival of Legends.
As has always been the case, the track contains free rewards that all players can get, as well as paid rewards for players who purchase the Season Pass — which can be obtained for 1500 Runestones from the in-game client, or for $15 from the Battle.Net shop.
So let's find out what exactly you can get from the new track, whether you're playing with or without the pass.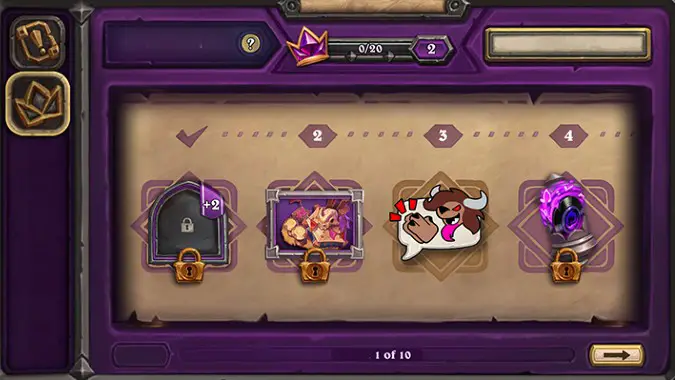 Which free rewards are on the Hearthstone Battlegrounds Track for Season 4?
Here are all the free rewards on the Season 4 Battlegrounds Track, available to all players:
5 Hero Skins:

1 Legendary:
2 Epic:

Country Kragg
Mixmaster N'zoth

2 Rare:

MC Scabbs
Tavernwave Tavish

1 Rare Strike, which upgrades to Epic later in the track:
3 Rare Emotes:

Applauding E.T.C
Nevermind, A.F.Kay
Radnar Horns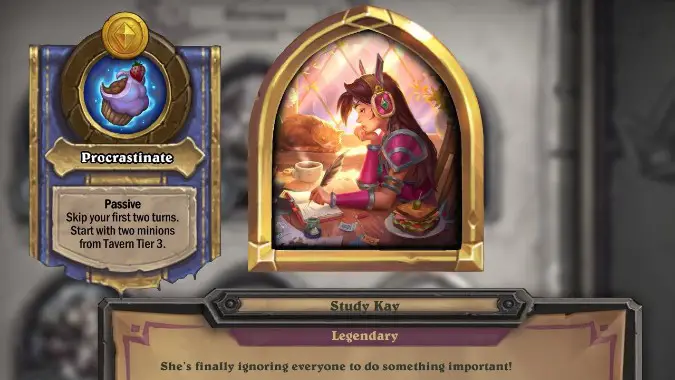 Which paid rewards are included on the Season 4 Hearthstone Battlegrounds Track?
And these are the paid rewards on the Season 4 Battlegrounds Track, available for the players who decide to purchase the Season Pass (including the fantastic Lofi Girl-inspired Study Kay, depicted above):
15 Hero Skins:

4 Legendary:

E.T.C., King of Rock
Mister Mukla
Sire Melodious
Study Kay

3 Epic:

Bru'kan, Rock God
One-Vashj Band
The Pyramp 3000 // Pyramplifier

8 Rare:

Enhance-o-musician
Entrancing Ysera
Glitch_CoilST0RM.ini // Glitchvibe Ini
Merch Manager Silas
Punk-Pop Vol'jin
Rocker Rokara
Showstopper Alexstrasza
Vanndar Stormpipes

1 Rare Strike, which upgrades to Epic and then again to Legendary later in the track:
9 Rare Emotes:

DJ Manastorm
Entrancing Ysera
Happy Blingtron
Kragg Love
MC Scabbs, No
MC Scabbs, Yes
One-Vashj Band
Sad Rocker Rokara
Whistling Mukla

A Rare Bartender:
A Rare Board:
Keep in mind that you won't get all of the cosmetics as soon as you purchase the Season Pass: you'll still need to play games, unlocking rewards on the track as you accrue XP. Each level on the track has a new reward up for players with the pass, while people without it get a reward every few levels.
Season 4 should last for about four months, which is plenty of time for most players to earn everything. Have fun!