Hearthstone ups the ante (literally) with the pricey Heroic Brawliseum Tavern Brawl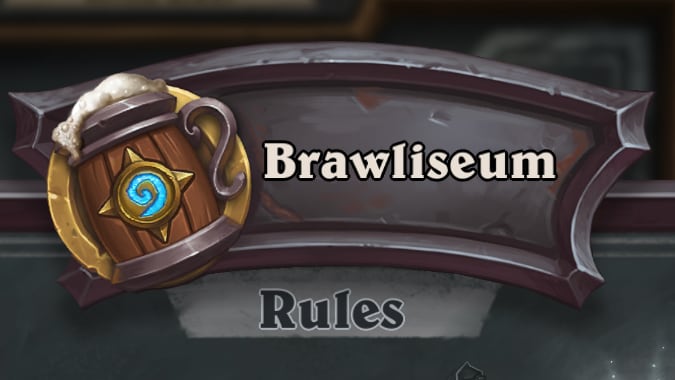 This week's Hearthstone Tavern Brawl, Heroic Brawliseum, is a strange amalgamation of the Arena and the Ladder. Like Arena, this Brawl has an entry fee and a "three strikes and you're out" mechanic that finishes your run as soon as you loose three matches. Unlike Arena, there's no draft, which means you're going to have to craft your own deck in order to play. That makes this week's Brawl both a challenging experience and an expensive way to play — because it costs either 1000 Rhinestones (about $10) or 1000 gold to enter the Brawliseum.
Fortunately, even if you don't play this, you can still get a free pack this week. You should see a Legendary Quest called "Call of the Brawl" which will provide a pack for playing 1 game of any mode.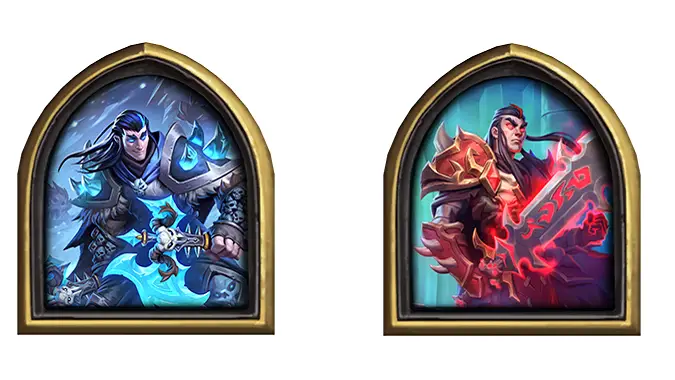 But if you're willing to pay for this Tavern Brawl, you can earn  two new Death Knight skins:
Frostmonger Sai Death Knight Hero Skin (the blue skin pictured above) for playing three Brawlesium games
Crimson Knight Sai Hero Skin (the red skin pictured above) for winning 12 games in a single Brawlesium run
So let's dig into how to win the Heroic Brawliseum Tavern Brawl.
Tavern Brawl basics
Name: Heroic Brawliseum
Description: Make a Standard deck to compete with the best! Stakes are high, the competition is intense. More wins means more rewards. Can you make it to 12 wins, or will 3 losses end your run?
Fun level: 3/10
Difficulty: 10/10
Replayability: 3/10
Format: Standard
Type: PVP
Deck: Constructed
Rewards: Varies based upon how much you win
Step one to playing this week's brawl to get your wallet. The entry fee is either 1000 Runestones ($10) or 1000 in-game gold — that's significantly pricier than an Arena run, but the rewards are potentially better as well. (if you win). Once you've paid your entry fee, you'll need to build a Standard deck before starting your first game. The game itself it plays out exactly like a normal match — use your awesome cards and bring your opponent's life total to zero.
You continue your run by playing additional games until you experience the thrill of 12 victories or the agony of three defeats, whichever comes first. (Fortunately you can stop between games and come back later to continue your run, so you don't need to have a marathon play session to win._ Every victory increases the difficulty of your next opponent, so if you have four wins, you're matched up against other players who also have four wins.
But each victory also upgrades the chest your get at the end of your run. Here's a handy dandy chart of the winnings: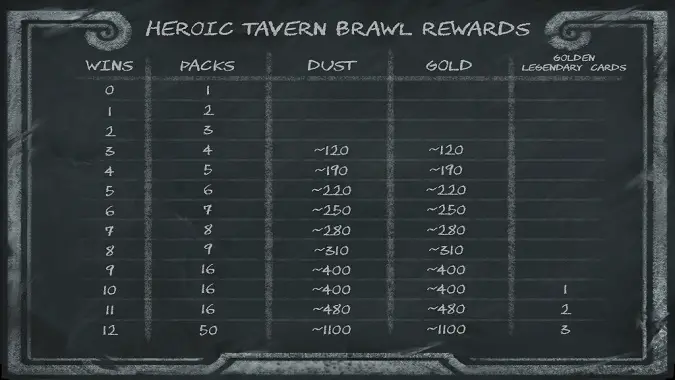 Can you win enough to make the entry fee worth it? If we assume 1 pack equals 100 gold, the the break even point is somewhere around 7 or 8 wins depending on how you want to value the Arcane Dust into your equation.
How to win the Heroic Brawliseum Tavern Brawl
Most Constructed Brawls fall into their own meta, but with this Brawl, the Brawl meta is the exact same as the Standard Ladder meta. You'll see the same decks that dominate on the Ladder — so if you play much Standard, this Brawl will be very familiar. Like most Constructed Brawls, the key to winning is building a good deck and piloting it well.
With the high $10 admission fee to this Brawl, if you're not familiar with the Hearthstone meta, or don't have a large card collection, I strongly recommend you skip this Brawl. And even if you are familiar with the Standard meta, stick to proven decks: this isn't the time to try something new or off meta. Stick to the tried and true decks, and think about consistency over big plays. Survive and advance should be your mindset.
Here are five decks that have high win rates on the Standard Ladder and should serve you well in the Heroic Brawliseum Tavern Brawl.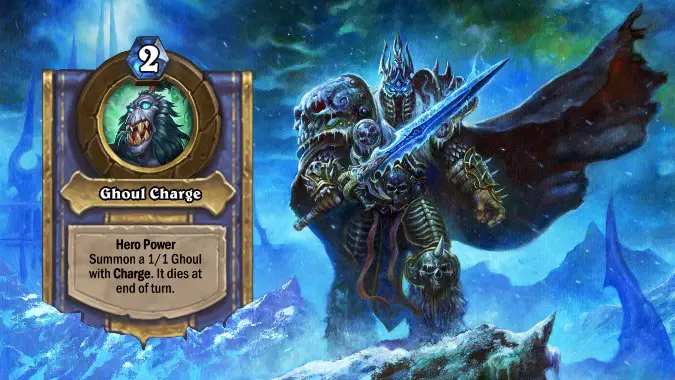 Top Standard Decks for Heroic Brawliseum
Frost Death Knight
Deck code: AAECAfHhBALLpQXMpQUOlrcE9eMEguQEk+QE2fEEsvcEtvcEtIAFk4EFkpMFoJkFopkFrqEFnqoFAA==
I'm going to be transparent here. I don't enjoy some classes in Hearthstone as much as I do others. Death Knights and Demon Hunters are two that I don't play much. But Death Knight feels like a powerful class when I'm facing it: this deck has good reach with Rush minions, AOE, card generation, and solid minions.
Face Hunter
Deck code: AAECAR8InbAElrcE57kE+ZIFsJMF4qQF9MgFr54GC4iyBMDTBLjjBMHjBMzkBNDkBKqkBejKBeT1BdL4BbCeBgA=

The classics never die! Face Hunter has been an archetype throughout Hearthstone's history and has seen a resurgence in the current meta. Sure you've got minions and buffs and weapons, but your aim most turns is to pour all the damage you can into your opponent's face and kill them before they can kill you.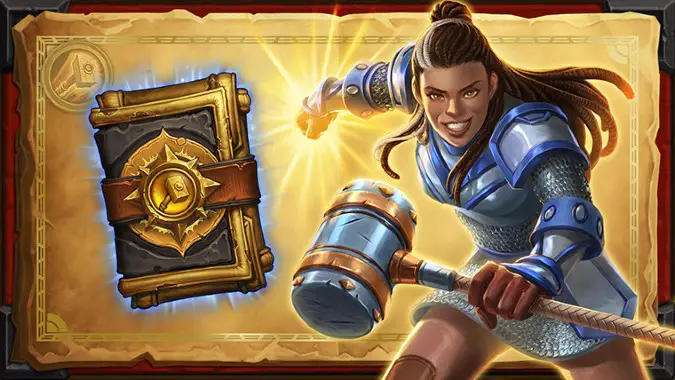 Mech Paladin
Deck code: AAECAZ8FBLCyBOy6BNj2BbmkBg3WoASStQThtQTeuQTUvQSywQTa0wTa2QSEpQXAxAXZ0AXKngbLngYA
Mechs and Paladins might not seem like an obvious pairing, but I, for one, welcome our new robotic overlords. ChatGPT has nothing on these Mechs. Like most decks that are thriving in the current meta, Mech Paladin has a solid early game before you bring out your literal big gun in The Leviathan. This deck received a major boost from the reworked Magnetize mechanic: You used to need an empty slot on the board to Magnetize, but now you don't.
Pure Paladin
Deck code: AAECAZ8FBIbiBKHiBISWBYWlBQ3rnwTJoATi0wS/4gTy7QSrkwWBlgWDlgXAxAXBxAXKxAW6xwW1ngYA
Pure Paladin continues to be a top tier deck, though you need to hope you get some good minions from The Countess to help secure a win. Class Action Lawyer serves as a soft removal. With nothing but Paladin cards, Lightray should hit the board early.
Undead Priest
Deck code: AAECAa0GAvmWBb6iBg6h6AO+nwSywQSGgwXukQWJkwWSkwXqlAWgmQWTnQXbpAXdpAWUxAWC7AUA
I still have trouble wrapping my mind around an aggressive Priest build, but that's what we have here. This deck has a great early game. Shadow Ascendant can quickly spiral. Darkbishop Benedictus lets you start out in Shadowform transforming your Hero Power from a reactive tool to a proactive one.
Totem Shaman
Deck code: AAECAaoIBLHZBPSgBcjQBcKeBg3VsgT6tATgtQSywQTFzgSG1ASq2QS23AS95QS27QSVqgXBngbXogYA

You get a Totem. You get a Totem, you get a Totem. Everybody gets a Totem. You've got Totem cards, cards that summon Totems, and, of course, your own Hero Power. All these Totems let you drop a low cost Thing from Below and Gigantotem. Go from empty board to scary board in one turn, just add Totem power!

Are you feeling lucky?
If your main use of Tavern Brawls is to enjoy a rollicking good time where the size of your card collection may not matter much, the only winning play this week might be to not play. If you're going to play, I'd suggest playing early in the week — Wednesday or Thursday — when you still have people trying out the Brawl. Later in the week, it will likely serious players only.
If you're just looking for your pack, remember the "Call of the Brawl" quest. You can play Casual, Ranked, or even Battlegrounds to earn your win — and your free pack.
If you're consistently hitting high ranks on the Standard Ladder and are confident in your abilities, there are some fantastic prizes to be had. Best of luck to you if you choose to venture in!
Originally published September 23, 2020; updated May 24, 2023