How to beat The Dark Wanderer Tavern Brawl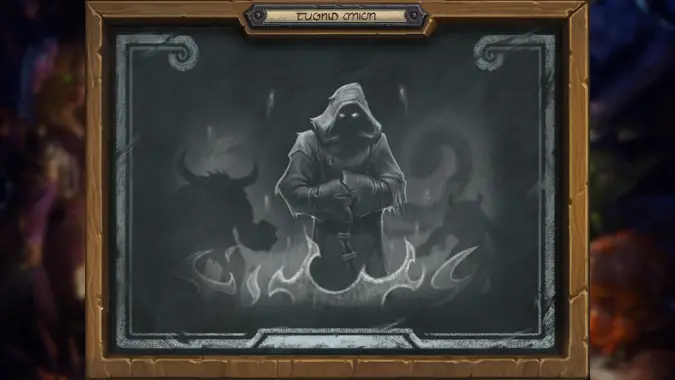 A staple trope of the TTRPG genre enters Hearthstone when a mysterious cloaked figure emerges from the shadows of the tavern to challenge in The Dark Wanderer Hearthstone Tavern Brawl. Veterans of the Diablo franchise know The Dark Wanderer and his extensive history well. But if you're not familiar with that lore, it's enough to understand, O player of Hearthstone, that The Dark Wanderer and the Lord of Terror he summons stand between you and a free pack, plus a sweet card back.
Tavern Brawl basics
Name: The Dark Wanderer
Description: A hooded stranger sits to play, holding a grim deck in his hands. Can you unravel the secrets surrounding this dark wanderer?
Fun level: 5/10
Difficulty: 2-9/10 (I'll explain below)
Replayability: 2/10
Format: Wild
Type: PVE
Deck: Constructed
Rewards: 1 Standard pack. This can contain cards from any set in the current Standard rotation. You can also earn a Lilith card back.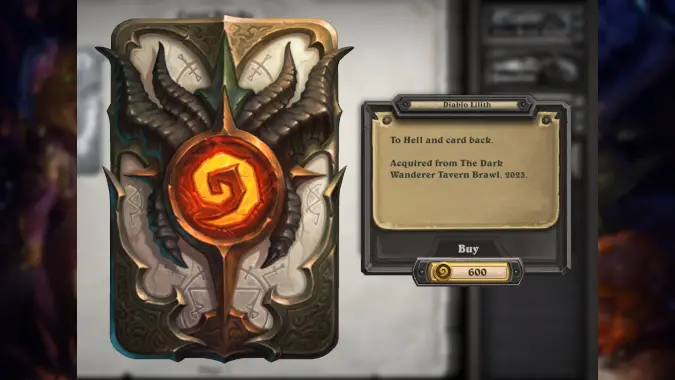 This is a PVE Brawl where you take on the computer controlled Dark Wanderer. Wild ruleset is in effect meaning your entire card collection is open to your deckbuilding creativity with a few notable exceptions. This will make the Brawl somewhat easier for players with a large collection. Players with smaller collections may not have a key card or two in the suggested decks. As you're deck building keep in mind you start the game with 3 mana.
Phase 1 of this boss battle is against the Dark Wanderer, but once you defeat him, he summons Diablo. This starts Phase 2 as you take on Diablo. If you defeat both The Dark Wanderer and Diablo, you win the Brawl.
The Dark Wanderer's deck consists of many Warlock themed cards, especially Imp cards. He also runs powerful Secrets, but don't get any funny ideas about stealing them or destroying them. Cards like Flare, Kezan Mystic, and Eater of Secrets are all banned for this Brawl.
When the match is over, you'll get a scorecard like we've seen in other Tavern Brawls of this type. It will show you have many minions and bosses you killed, as well as the number of secrets you revealed.
Can you unravel the secrets surrounding this Dark Wanderer?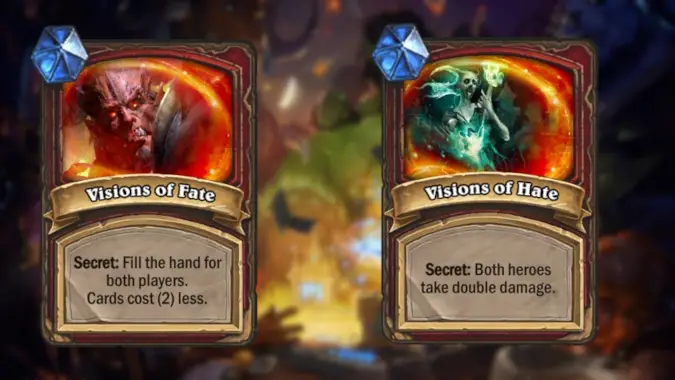 When the game begins, The Dark Wanderer will have three secrets in play. This makes each attempt play out a little different. The secrets in play can be any of these:
Vision of Fate

Secret: Fill the hand for both players. Cards cost (2) less.

Vision of Hate

Secret: Both heroes take double damage.

Vision of Knowledge

Secret: Both heroes have +3 Spell Damage.

Vision of the Amazon

Secret: When your opponent plays a minion with Battlecry, Summon a Mirror Image for both players.

Vision of the Crusader

Secret: When your opponent plays a minion with Taunt, change all minions' attacks to 1.

Vision of the Necromancer

Secret: When your opponent plays a card with Deathrattle, destroy it.

Vision of the Sorcerer

Secret: When your opponent plays a minion with Spell Damage, Summon 2 Guardians.

Visions of Valor

Secret: When your opponent plays a Legendary minion, give all minions Windfury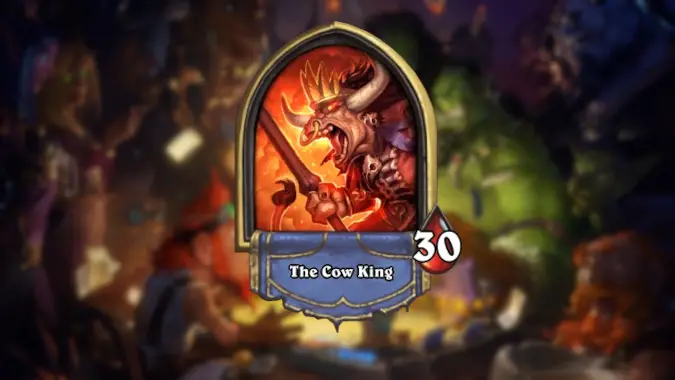 The Cow Level
As an homage to Diablo II, this Brawl also includes a Cow Level. You can consider it a secondary, hidden objective that you might want to try after you've defeated the Brawl the first time. If you can reveal all of The Dark Wanderer's Secrets, an Enigmatic Portal is summoned on The Dark Wanderer's side of the board. At the start of the next turn, as long as you don't kill the portal or The Dark Wanderer, the portal casts Twisting Nether and The Portal Opens. This transports you to the Cow Level.
On the Cow Level, you face off with the Cow King. He has a special 45-card deck, and starts with a Hell Bovine (3 mana 2/2 with Deathrattle : Place a copy of this card in your deck.) on the board. If you're specifically trying to get to the Cow Level, you may want ensure your deck has something that will activate every possible Secret.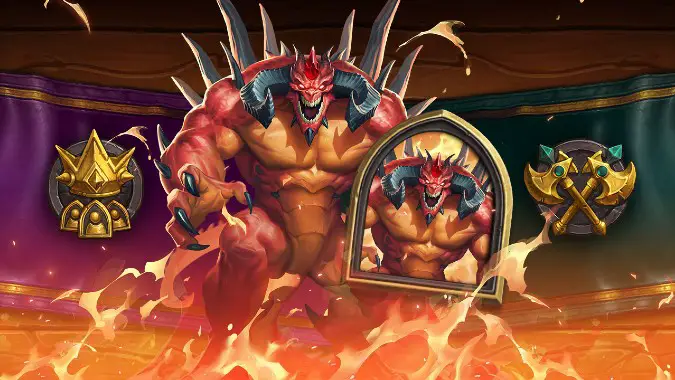 How to win the The Dark Wanderer Tavern Brawl
You need two things to beat the Dark Wanderer: a good deck and some mad piloting skills. Piloting refers to making the right turn-to-turn decisions, which is essential to winning even if you're using the best deck available. Regardless, RNG of which Secrets he has is still factor and a combo of Fate, Hate and Knowledge could be hard to come back from. Board clears seem important, though not every suggested deck runs them.
Some players have reported that if you play Steamcleaner in Phase 2 against Diablo, he will destroy Diablo's entire deck giving you an easy win. But before you can pull off that trick, you still have to get past The Dark Wanderer.
Let's look at some decks that will give you the win.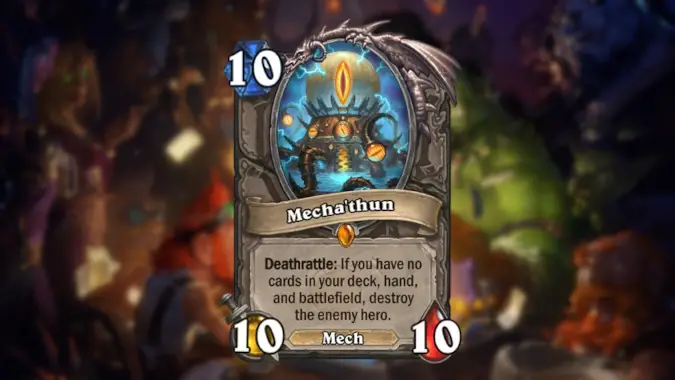 The decks you need to beat the Dark Wanderer
Deathrattle Hunter
Deck code:

AAEBAaPABALx+wLuugMO6QHTA5jSAp7SAr/yAuW6A6+ABK6fBKCgBLmgBLClBK7ABLuYBe6jBQAA

This is a good ole Mechathun deck. Your deathrattle Hunter takes care of the Dark Wanderer, and then you simply play your "I win" card of Mechathun against Diablo.
Secret Mage
Deck code:

AAEBAf0EAu72Ar3kBA7XtgLrugKHvQK+pAP0qwOR4QPnnwTGoASj5AT+7AS87QT/kgXboQXo6AUAAA==

Oh, the Dark Wanderer has Secrets. Hold my beer. Let me show you how Secrets are done!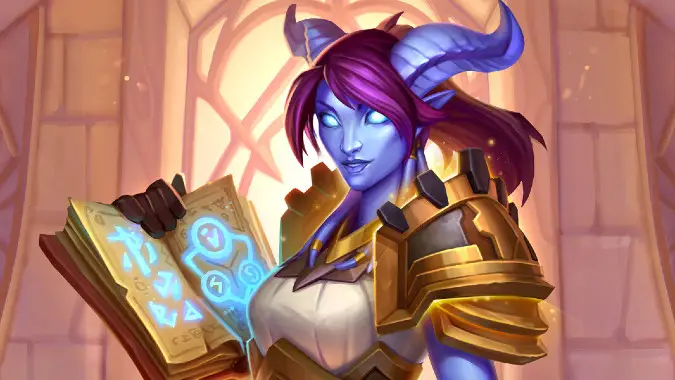 Pure Libram Paladin
Deck code:

AAEBAZ8FCPy4A4TBA57NA7/RA4XeA4jeA/3jA5HsAwvKuAP9uAPquQPruQPsuQPA0QPK0QPM6wPV6wOcnwS1ngYA

There's something poetic about taking a Pure Paladin to defeat Diablo and the Dark Wanderer.
Demon Seed Warlock
Deck code:

AAEBAf0GAoT7A6zpBQ7y0AL40AL6/gKdqQPXzgOT5APY7QPr7QPw7QPx7QOD+wOPnwTnoATXogYAAA==

This deck shows the Dark Wanderer how a real Warlock plays his cards.
Quest Warlock
Deck code:

AAEBAcn1AgLy7QOE+wMO8dAC8tAC+v4Cy7kD184DwdEDk+QDiO8Dg/sDxIAEhKAE56AEyOsFxJ4GAAA=

Do everything you can to finish your Quest.
To the victor goes the spoils
Hopefully one of these decks will get you the win. If you find another great list, let us know about it in the comments. We will have this Brawl for the next weeks, June 7 and June 14, 2023.
Do you like PVE Brawls? Would you like to see more of them?