How to beat the Battle of the Bands Hearthstone Tavern Brawl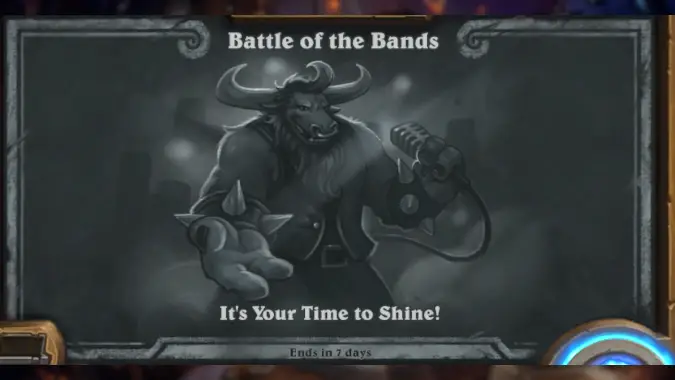 Come one, come all for the Battle of Bands Hearthstone Tavern Brawl. You might be just a small town girl, living in lonely world, or maybe you're a city boy, born and raised in south Dazar'alor. You're not taking a midnight train because you've got dreams of being of rock star. So get your show on and get paid. Only shooting stars break the mold, defeat E.T.C, and get sweet rewards!
Update for 6/28/2023: Encore performance! This week's Tavern Brawl is the same as last week. Same decks. Same bosses. Same rewards. You can earn another Standard pack for your first win and another Festival of Legends pack for beating E.T.C.
Tavern Brawl basics
Name: Battle of the Bands
Description: It's Your Time to Shine!
Fun level: 6/10
Difficulty: 2-9/10. It ramps up as you as defeat bosses.
Replayability: 6/10
Format: Wild
Type: PVE
Deck: Provided
Rewards: There are two rewards you can earn this week. If you beat the first boss, you get one Standard card pack. If you beat ETC, the final boss of the run, you'll receive a Festival of Legends card pack.
This Brawl plays out like an old Adventure run, but the deck is provided instead of you have to construct it. It isn't so much a "dungeon run" as it lacks the buckets to add cards to your deck and the treasures. You'll pick your class which gives you your character and a premade deck. Since the deck is provided, the size of your collection won't matter. You take that deck and face off against 8 computer controlled opponents. Each opponent is based off a class but has special cards and a unique hero power.
The match plays out like a standard Hearthstone match. The goal is to reduce the bosses HP to zero while keeping your HP above zero. There's a line or two of dialog between matches introducing the next boss. The voice acting is good and you should also emote at least once a match for a custom response from the boss.
During the match, you may see a lore book minion. These look like dormant minions. If you click on them, you'll even get a bit of (fully-voiced) lore about the boss. There's even an achievement for reading 34 lore books, though there aren't enough in this Brawl to complete it.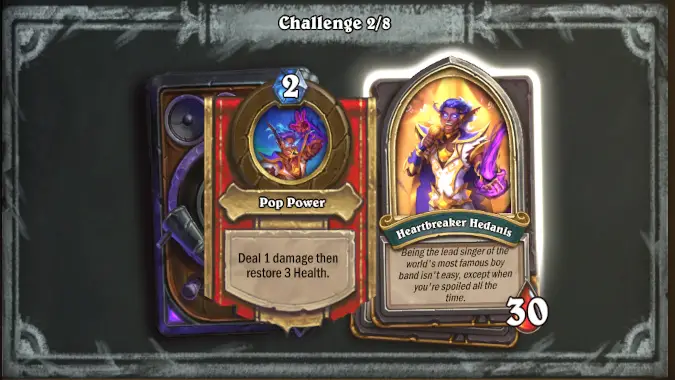 How to win the The Battle of the Bands Tavern Brawl
The first boss is always Mukla. He can be fairly easy, but some classes have more trouble with him than others. If you just want the Standard pack, take Warrior and you'll beat him. The next six bosses you face are random, and the final boss is always E.T.C.
Each boss is loosely based on a Hearthstone class. Mukla is a Hunter, Hedanis is a Priest, and E.T.C is a Warrior. It's fairly easy to deduce the class the boss is based off from their art and cards. Familiarize yourself with the game plan of your deck before the run and figure out how to counter what the opponent's deck wants to do. Try to stay ahead on the board and keep pressure on the boss. Almost every boss has outstanding card draw, and many of then can fill a board in a hurry. Your AoE is limited, use it wisely. Sometimes, you just have to outlast them. Like the old dungeon runs, some patience is needed. If things are looking bad, just concede and try again.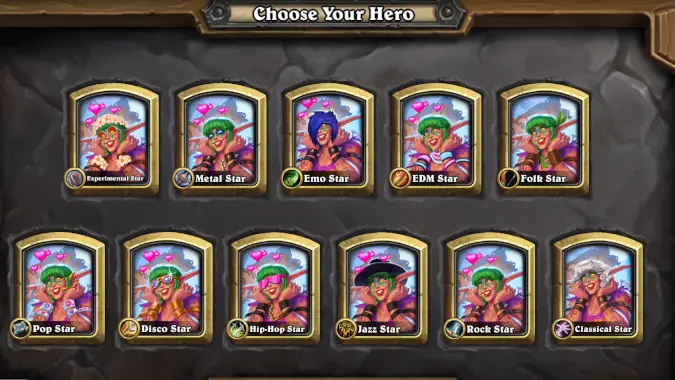 How to beat E.T.C in Hearthstone's Battle of the Bands Tavern Brawl
If you want that Festival of Legends pack, you gotta beat E.T.C. This is where the difficulty goes to 11. He starts with 50 health and has a strong menagerie deck of rush minions.
Picking a good class is key. While you can get through the earlier bosses with almost any class, taking some of them up against E.T.C. will be an exercise in frustration. I'm not saying it is impossible. You can always get a great opener while E.T.C. gets a poor one, but it will be more difficult.
There's some disagreement in the community on what the best decks are. I've categorized them based upon my play experience plus comments from around the Internet.
Update for 6/28/2023
Best pick
Hunter (Folk Star) – Beast hunter has some fairly good synergy. Banjosaurs are your MVP. After playing with several heroes, Hunter is in a tier by itself. It crushes the early bosses and goes toe to toe with E.T.C.
Good picks 
Warlock (Classical Star) – This is an Imp based deck with fatigue/immunity cards.
Druid (Experimental Star) – Beast and Hero Power based deck.
Shaman (Jazz Star) – Overload based deck. The focus on a single game plan helps. Some of the other decks try to do too many things and do none of them well.
Might work
Mage (EDM Star) – This deck is built around Lightshow, spell damage minions and elementals. You need to get a good start and be able to use Finale, but it can be powerful when it works. You might not want to play Costumed Singer as the deck has no Secrets.
Paladin (Disco Star) – This is a Divine Shield / Silver Hand Recruit deck. It feels slow and if you don't get your Divine Shield minions it can struggle.
Demon Hunter (Emo Star) – This is an outcast based deck. Demon Hunter naturally leans into aggressive play can end most matches quickly. Some players say he is good, others not so much.
Avoid
Warrior (Rock Star) – This is a rush menagerie deck, but they only gave you 3 different minion types and no amalgams at all. You only get two Rifts in your deck, and one is card draw but you don't have a good variety of minions to really make it work.  Warrior can get you to E.T.C, but E.T.C. does everything you do, only better.
Priest (Pop Star) –  Most of the bosses decks have outstanding card draw and exacerbate Priest's poor card draw. Priest struggles to come back from a board wipe.
Death Knight (Metal Star) – A deathrattle based deck with only deathrattle card. It also has no removal.
Rogue (Hip-Hop Star) – This is a combo based deck that just feels a little slow.
E.T.C is quite difficult, but he can run out of steam pretty quickly. One-Amalgam Band is the most dangerous minion, especially if he managed to copy it. I wish you the best of luck getting the Festival of Legends pack.