WoW
Jul 4, 2023 10:00 am CT
How to complete and earn rewards from Time Rifts, a new event in WoW patch 10.1.5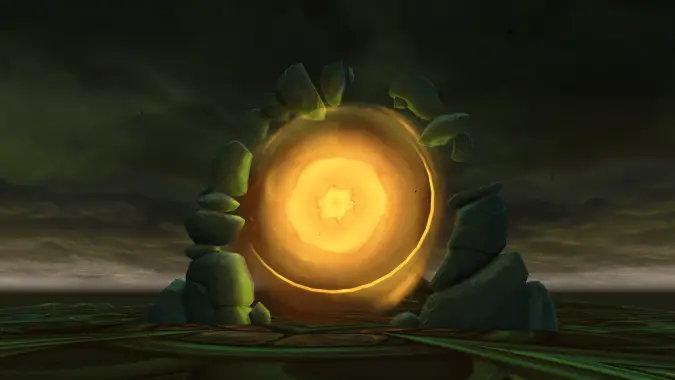 Dragonflight patch 10.1.5 Fractures in Time has arrived! While the story will focus on the Bronze Dragonflight, patch 10.1.5 brings a new mega-dungeon, a new Evoker specialization, and the new Time Rift public event. When a Time Rift appears, you'll team up with the Bronze Dragonflight and fight invading enemies from other Azerothian timelines where our enemies like the Burning Legion, the Scourge, and even the absurd Murlocs are the dominating force. We'll also see different, corresponding versions of allies and hallmark characters across these timelines.
Here's what to expect from Time Rift events, how to complete them, and the rewards you can earn.

Time Rifts take place in Tyrhold Reservoir
Time Rifts will happen every hour on the hour in the Tyrhold Reservoir located in Thaldraszus. Like the other public events in the Dragon Isles, it has a marker on the world map showing where it takes place that looks like the horn from the Maruuk Assaults. Once in Tyrhold Reservoir, Soridormi will be your main point of contact for the event.

Complete objectives within the time limit
Time Rift public events are straightforward — you will have a time limit to complete several  random objectives before you enter a Time gate and face a final boss. The objectives are clearly marked on the mini-map and self-contained within Tyrhold Reservoir so you wont have to travel too far out of the way to complete them. The objectives themselves are random but include:
Completing the weekly quest When Time Needs Mending will reward you with a Contained Paracausality that contains:
1 Dilated Time Capsule — A new currency added in patch 10.1.5, earned by completing a Time Rift event and used to purchase specific gear from Time Rift vendors
1000 Paracausal Flakes — A new currency in patch 10.1.5, earned by defeating enemies and completing objectives in Time Rifts and used to purchase gear from Time Rift vendors
1 Encapsulated Destiny — Guarantees a reward from your next Time Rift Completion
1500 Soridormi reputation
Throughout the event, you'll also earn 1-2 Paracausal Flakes and 1-2 Soridormi reputation for each enemy you kill, 30 Paracausal Flakes and 30 Soridormi reputation for completing objectives, and 150 Paracausal Flakes and 375 Soridormi reputation for beating the Fractured Causality. While doing all of this, you'll passively earn Temporal Essence which is tracked by a bar at the top of your screen. Completely filling the bar will give you additional rewards:
There are a variety of enemy types to fight when a Time Rift appears but right now we don't know if the different timelines rotate on a timer or are randomized every time the event appears.

Head to the vendors for more rewards
The Time Rift event has its own set of vendors that are found near Soridormi in Tyrhold Reservoir. Each vendor is tied to a specific timeline's theme and sells ilevel 402 gear, cosmetic items, mounts, and pets in exchange for Paracausal Flakes, Dilated Time Capsules, or both. While each vendor has a timeline's theme attached to them, you can interact and buy their items at any time if you have enough currency.
Originally published July 4, 2023. Updated July 11, 2023.