What are you hiding? How to win Hearthstone's Just a Hallucination Tavern Brawl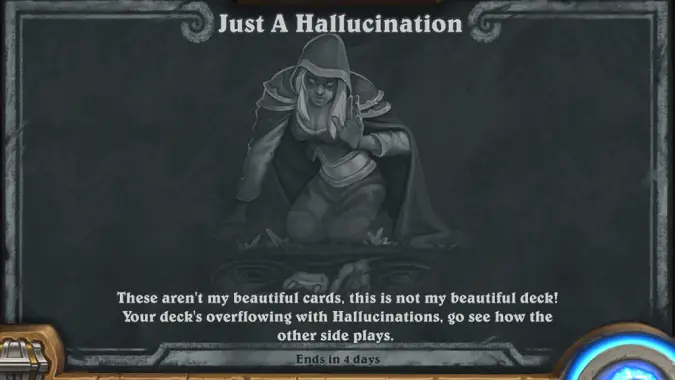 Magic has gone wild in Hearthstone's Just a Hallucination Tavern Brawl. This Brawl brings the randomness in a big way, so be prepared to think on your feet because you never know what card you'll discover next. It might be just the one you need to turn the game around… or the most completely useless thing you could have found.
Tavern Brawl basics
Name: Just a Hallucination
Description: These aren't my beautiful cards, this is not my beautiful deck! Your deck's overflowing with Hallucinations, go see how the other side plays.
Fun level: 4/10
Difficulty: 5/10
Replayability: 9/10
Format: Wild
Type: PVP
Deck: Provided
Rewards: 1 Standard pack which can contain cards from any set in the current Standard rotation.
You'll only need to select a class and jump into the Brawl. Your deck is full of mostly Hallucination cards, which is a 1 mana Rogue spell that lets you discover a card from your opponent's class. Essentially, you're picking the class for your opponent. If you pick Demon Hunter, you'll be playing against an opponent discovering Demon Hunter cards to play against you.
This will not end well for you.
Each player starts with 3 mana allowing the game to get going faster. In addition to the Hallucination cards, your deck will have several spells from the class you picked. This is a Wild Brawl so you'll have a wide range of spells. Buffs and removals are quite helpful.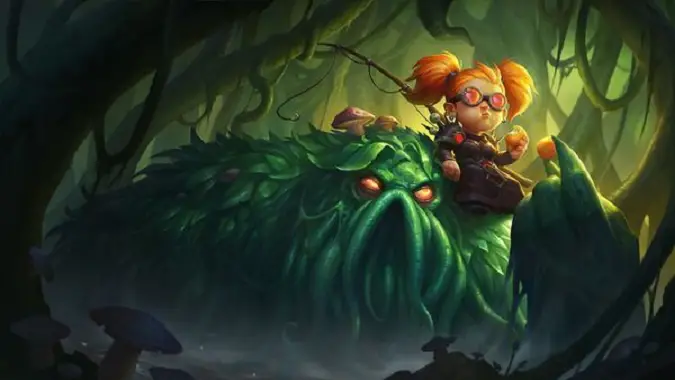 How to win Just a Hallucination Tavern Brawl
The main strategic decision in this Brawl is class choice. You want a combination of unexciting class cards and a powerful Hero Power. Two classes do this well: Warlock and Druid.
Warlock has many cards which hurt the player or cause cards to be discarded. Druid, much like its World of Warcraft counterpart, can go in so many different directions at once that often it will give your opponent cards with negative synergy like expensive minions and token buffs. Druid also has a versatile Hero Power.
Do not pick Demon Hunter. There are fewer cards for the Discover mechanic to pick from, and every one of them is good, so you'll be in for a quick defeat.
Update 8/23/2023: For much the same reasons, Death Knight is a poor choice. In addition to having many of the same aspects that make Demon Hunter a poor choice, Death Knight can also spawn minions to take on buffs.
Some other classes you'll want to steer clear of are Priest, Paladin, and Mage. Priest gives your opponent a chance at some powerful minions and spells as well the possible inclusion of Radiant Elemental which would allow them to cast Hallucination for free.  Mage has a bevy of cards to synergize with spells. With Paladin, your main concern is your opponent discovering a Spirit of the Tiger which can quickly spiral in wide board of minions to deal with.
Keep on queuing
If you want the card pack, just keep queuing up. Eventually, you'll get the right cards and overwhelm your opponent. It's a Brawl, so don't be afraid to make a couple of YOLO plays. Maybe it'll pay off.
May the RNG dice be in your favor and just roll with it, baby.
Originally published 7/22/2020, updated on 11/10/2021, updated 11/30/2022, updated 8/23/2023