5 great decks to use for Marvel SNAP's new Featured Location, Hotel Inferno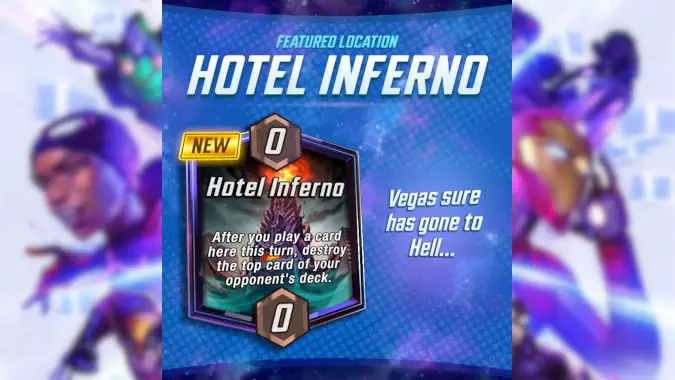 Marvel SNAP rolled out the last Featured Location of its Bloodstone season, Hotel Inferno, and we're hell bent on finding you some awesome decks to try out in this new Location. Featured Location mini-events are the way SNAP adds new Locations to the game, and are usually worth some deck adjustments if you're looking to win some matches.
Let's take a look at some great deck lists to help you burn away the competition while Hotel Inferno is the Featured Location, though all of these decks will work to your benefit whenever you encounter the Hotel Inferno Location in the future.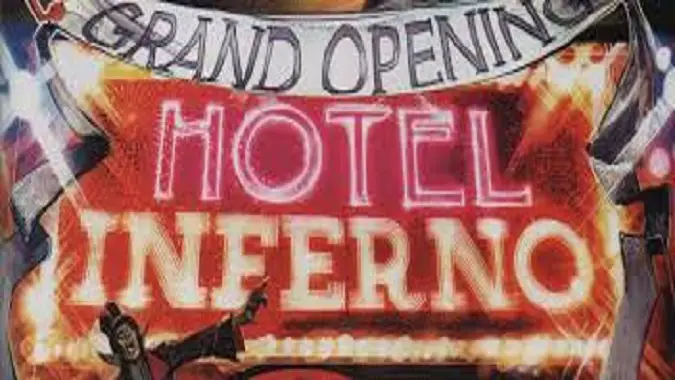 What is the significance of the Hotel Inferno in Marvel lore?
Las Vegas, Nevada had the nickname of Sin City. This became literal in Marvel Comics when Hydra attacked and ravaged the city, allegedly causing it to manifest in Hell. Never one to turn down free real estate, Mephisto took over and built Hotel Inferno as his base of operations. But the heroes weren't going to let a major tourist attraction go so easily, so Doctor Strange used his magic to restore the city.
Hotel Inferno came back with it. This had the unfortunate side effect of trapping Mephisto in our realm. "Johnny" Blaze a.k.a Ghost Rider took advantage of this by usurping Mephisto's throne and proclaiming himself as the new King of Hell. Mephisto attempted to return to his native dimension, taking Hotel Inferno with him. Doctor Strange again intervened, stopping Mephisto's plan and trapping him inside Hotel Inferno. His home had become his prison.
Johnny struggled in his new position, and after getting rebuffed by his own brother, Danny Ketch, Ghost Rider turned to the one person he knew could run the fiery dimension, Mephisto. This time Wong stood in his way, but Ghost Rider defeated him, and freed Mephisto.
What's the key to winning when Hotel Inferno is up?
Hotel Inferno acts like Yondu, but one that could potentially activate several times. When you play a card on the Location the turn it flips up, you will burn off the top card in your opponent's deck. This could ruin the day for your opponent should you remove one of their key cards like the current queen of the meta, Elsa Bloodstone. You will need a play a card there the turn it reveals. Since this will either be turn 1, turn 2, or turn 3, you'll need some low costs cards in your deck to give you the best chance chance of activating Hotel Inferno's affect.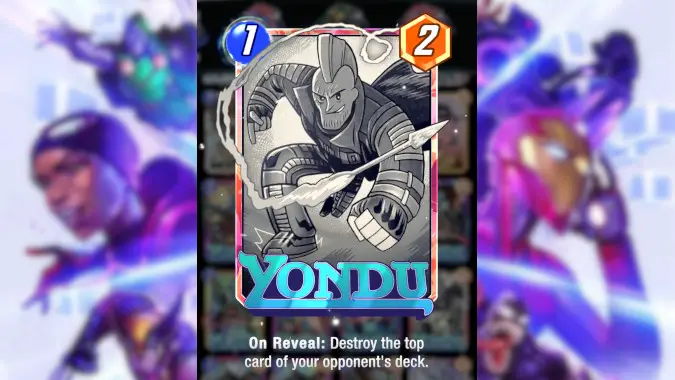 Great decks to use on Hotel Inferno
Mill
Deck code:
eyJOYW1lIjoiWW91IGRvblxcJ3QgZGVzZXJ2ZSBubyBjYXJkcywgeWEgYnVtLiIsIkNhcmRzIjpbeyJDYXJkRGVmSWQiOiJTcGlkZXJIYW0ifSx7IkNhcmREZWZJZCI6IllvbmR1In0seyJDYXJkRGVmSWQiOiJHYW1iaXQifSx7IkNhcmREZWZJZCI6Ik1vb25LbmlnaHQifSx7IkNhcmREZWZJZCI6IkNhYmxlIn0seyJDYXJkRGVmSWQiOiJHaG9zdFJpZGVyIn0seyJDYXJkRGVmSWQiOiJTaWx2ZXJTYW11cmFpIn0seyJDYXJkRGVmSWQiOiJCbGFja0NhdCJ9LHsiQ2FyZERlZklkIjoiSXJvbk1hbiJ9LHsiQ2FyZERlZklkIjoiU3RhdHVyZSJ9LHsiQ2FyZERlZklkIjoiQmxhY2tCb2x0In0seyJDYXJkRGVmSWQiOiJIZWxhIn1dfQ==
This is probably as close to a mill deck as you'll ever see in SNAP. Five of the twelve cards should be available to play on Hotel Inferno the turn it reveals. In addition to Hotel Inferno and Yondu burning a card from your opponent's deck, Moon Knight, Silver Samurai and Black Bolt all force them to Discard from their hand. This activates the cost reduction on Stature, plus you've got Johnny Blaze himself to bring back one of your discarded cards.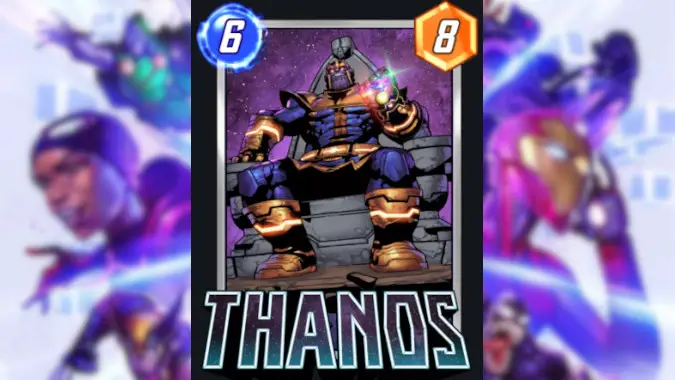 Thanos Control
Deck code:
eyJOYW1lIjoiTmlrbyBUaGFub3MiLCJDYXJkcyI6W3siQ2FyZERlZklkIjoiTmljb01pbm9ydSJ9LHsiQ2FyZERlZklkIjoiRWxzYUJsb29kc3RvbmUifSx7IkNhcmREZWZJZCI6IlBzeWxvY2tlIn0seyJDYXJkRGVmSWQiOiJNb2JpdXNNTW9iaXVzIn0seyJDYXJkRGVmSWQiOiJTaGFkb3dLaW5nIn0seyJDYXJkRGVmSWQiOiJJcm9uTGFkIn0seyJDYXJkRGVmSWQiOiJCbHVlTWFydmVsIn0seyJDYXJkRGVmSWQiOiJEZXZpbERpbm9zYXVyIn0seyJDYXJkRGVmSWQiOiJQcm9mZXNzb3JYIn0seyJDYXJkRGVmSWQiOiJWaXNpb24ifSx7IkNhcmREZWZJZCI6IkRyRG9vbSJ9LHsiQ2FyZERlZklkIjoiVGhhbm9zIn1dfQ==
Deck code without Nico:
eyJOYW1lIjoiQ29udHJvbCBUaGFub3MiLCJDYXJkcyI6W3siQ2FyZERlZklkIjoiRWNobyJ9LHsiQ2FyZERlZklkIjoiUHN5bG9ja2UifSx7IkNhcmREZWZJZCI6IkplZmZUaGVCYWJ5TGFuZFNoYXJrIn0seyJDYXJkRGVmSWQiOiJTaGFkb3dLaW5nIn0seyJDYXJkRGVmSWQiOiJTaGFuZ0NoaSJ9LHsiQ2FyZERlZklkIjoiQmx1ZU1hcnZlbCJ9LHsiQ2FyZERlZklkIjoiRGV2aWxEaW5vc2F1ciJ9LHsiQ2FyZERlZklkIjoiUHJvZmVzc29yWCJ9LHsiQ2FyZERlZklkIjoiVmlzaW9uIn0seyJDYXJkRGVmSWQiOiJBbGlvdGgifSx7IkNhcmREZWZJZCI6IkFtZXJpY2FDaGF2ZXoifSx7IkNhcmREZWZJZCI6IlRoYW5vcyJ9XX0=
Thanos gives you access to the Infinity Stones which should give you a card to play on Hotel Inferno as soon as it pops. Theory crafters have postulated the Thanos deck will be a great home for the newly released Nico Minoru card. Even if you aren't planning on getting Nico right away, Thanos gives you great options to counter popular decks with Shadow King, Shang Chi and Alioth.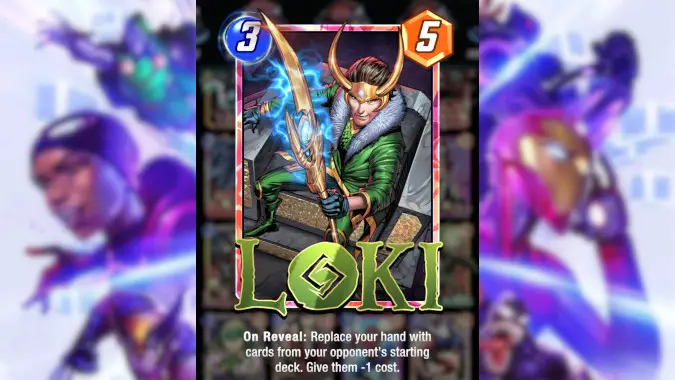 Loki
Deck code:
eyJOYW1lIjoiTE9LSSIsIkNhcmRzIjpbeyJDYXJkRGVmSWQiOiJLaXR0eVByeWRlIn0seyJDYXJkRGVmSWQiOiJBZ2VudDEzIn0seyJDYXJkRGVmSWQiOiJNYXJpYUhpbGwifSx7IkNhcmREZWZJZCI6IlNub3dndWFyZCJ9LHsiQ2FyZERlZklkIjoiQW5nZWxhIn0seyJDYXJkRGVmSWQiOiJUaGVDb2xsZWN0b3IifSx7IkNhcmREZWZJZCI6IkVsc2FCbG9vZHN0b25lIn0seyJDYXJkRGVmSWQiOiJKZWZmVGhlQmFieUxhbmRTaGFyayJ9LHsiQ2FyZERlZklkIjoiUm9ndWUifSx7IkNhcmREZWZJZCI6IkNvc21vIn0seyJDYXJkRGVmSWQiOiJMb2tpIn0seyJDYXJkRGVmSWQiOiJBbWVyaWNhQ2hhdmV6In1dfQ==
This is a lower curve Loki deck that runs Snowguard, Agent 13, and Maria Hill. All of these allow multiple activations of Hotel Inferno while adding cards to our hand to either replace what Hotel Inferno destroyed. This deck also runs two great counter cards with Rogue and Cosmo.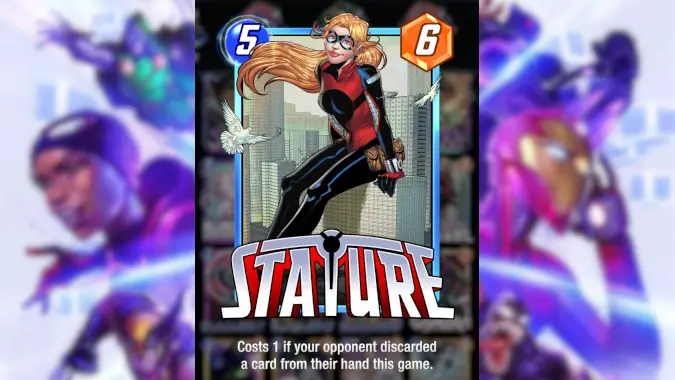 Good Cards Stature
Deck code:
eyJOYW1lIjoiR29vZCBDYXJkcyIsIkNhcmRzIjpbeyJDYXJkRGVmSWQiOiJTcGlkZXJIYW0ifSx7IkNhcmREZWZJZCI6IktvcmcifSx7IkNhcmREZWZJZCI6IlphYnUifSx7IkNhcmREZWZJZCI6IkplZmZUaGVCYWJ5TGFuZFNoYXJrIn0seyJDYXJkRGVmSWQiOiJSb2Nrc2xpZGUifSx7IkNhcmREZWZJZCI6IkRhcmtoYXdrIn0seyJDYXJkRGVmSWQiOiJTaGFuZ0NoaSJ9LHsiQ2FyZERlZklkIjoiQ2FwdGFpbk1hcnZlbCJ9LHsiQ2FyZERlZklkIjoiRW5jaGFudHJlc3MifSx7IkNhcmREZWZJZCI6Iklyb25MYWQifSx7IkNhcmREZWZJZCI6IlN0YXR1cmUifSx7IkNhcmREZWZJZCI6IkJsYWNrQm9sdCJ9XX0=
This deck tries to mitigate the effects of Hotel Inferno by running all generally strong cards. This list isn't a meta powerhouse, and whatever Hotel Inferno hits will be a good card, but the cards don't rely on each other too much outside of our Black Bolt and Stature combo.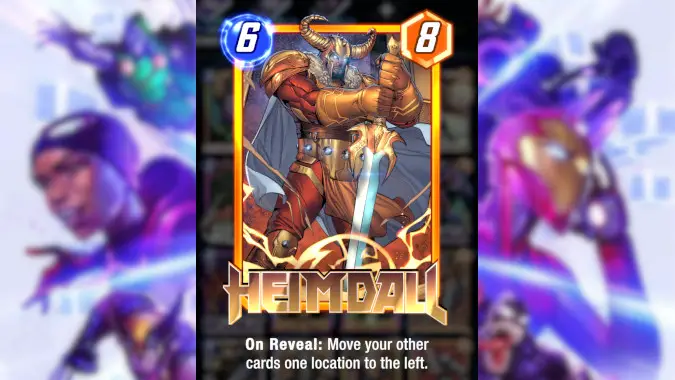 Budget Move
Deck code:
eyJOYW1lIjoiTW92ZSIsIkNhcmRzIjpbeyJDYXJkRGVmSWQiOiJGb3JnZSJ9LHsiQ2FyZERlZklkIjoiSHVtYW5Ub3JjaCJ9LHsiQ2FyZERlZklkIjoiSXJvbkZpc3QifSx7IkNhcmREZWZJZCI6Ik5pZ2h0Y3Jhd2xlciJ9LHsiQ2FyZERlZklkIjoiS3JhdmVuIn0seyJDYXJkRGVmSWQiOiJNdWx0aXBsZU1hbiJ9LHsiQ2FyZERlZklkIjoiQ2xvYWsifSx7IkNhcmREZWZJZCI6IkRvY3RvclN0cmFuZ2UifSx7IkNhcmREZWZJZCI6IlZ1bHR1cmUifSx7IkNhcmREZWZJZCI6Ikh1bGtidXN0ZXIifSx7IkNhcmREZWZJZCI6IlZpc2lvbiJ9LHsiQ2FyZERlZklkIjoiSGVpbWRhbGwifV19
This deck provides three cards you can play on Hotel Inferno as soon as it flips: Iron Fist, Nightcrawler, and Human Torch. As a bonus, you can use the anniversary Human Torch variant. This is a budget movement based deck. All of the cards should be available to you before you reach Collection Level 174.
What are your ideas?
Even as the Featured Location, there will still be matches that you don't see Hotel Inferno. You have to make sure your deck is flexible enough that you don't have to retreat if you don't get The Hotel Inferno in your Location pool. Elsa continues her reign in the aptly named Bloodstone season. She's powering a variety of strategies including Move and Loki. Thanos is a bit more prevalent as a great home for Nico, and Sera Control seems to be making a bit of a comeback as the reactive deck. Given this environment, what will you be playing?