Midwinter Blight holiday will bring cheer and so, so many skulls to Diablo 4 this December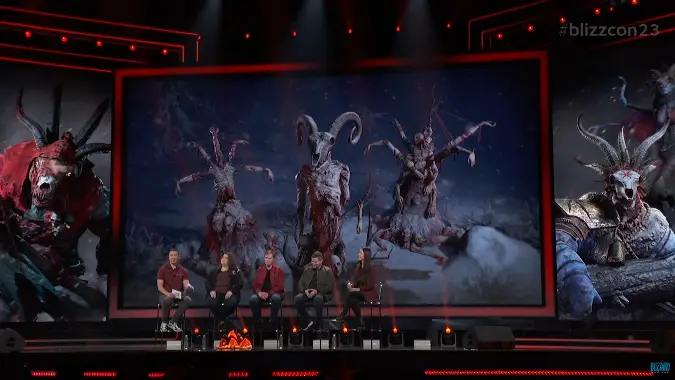 Diablo 4 is getting its first seasonal holiday with Midwinter Blight, and I think we can all agree that the game has been lacking a festive winter holiday, and also that any such holiday would have to be very heavily bedazzled with skulls. I mean, we put skulls in our armor and weapons, why not just drape an entire holiday in them? That's the vibe the Diablo 4 team is going for with the upcoming Midwinter Blight holiday.
Here are the basics on this new event:
When is Midwinter Blight? December 12
Where is Midwinter Blight? The Fractured Peaks
Who is the Midwinter Blight boss? The Red Cloaked Horror
What is Midwinter Blight? A cheerful holiday event thoroughly bedazzled with skulls
The Fractured Peaks is lethally cold pretty much in all seasons, but a big winter storm is coming through. And because this is Sanctuary things can always get worse, because as the storms in the mountains build up, a dread figure like Krampus on steroids awaits us: the Red Cloaked Horror. The Red Cloaked Horror's minions are a sinister threat to all life, but they're also at least fun about it, making snow sculptures out of the corpses of their victims.
Players will be introduced to the Midwinter Blight madness by a bard named Gillean, who's trying to rally the people of Kyovashad to push back against these horrors. Gillean meets with limited success, however, as the people of the Fractured Peaks are largely content to dance around a skull obelisk — otherwise known as the Totem of Midwinter — because let's face it, at this point they probably expect the world to just up and kill them any second.
So Gillean recruits you, adventurers, to destroy the newest evil on Sanctuary in order to bring holiday cheer back to the Fractured Peaks. [Ed's note: or, as Matt put it, "go forth and stomp on evil until it stops moving and then probably stomp on it some more just to  be sure."]
As you fight the Red Cloaked Horror's minions and engage in holiday events, you'll collect trophies, which you can take back to Koyvashad to get new cosmetic rewards. There's also a new Elixir available which gives you an extra 10% XP anywhere in Sanctuary: these holiday Elixirs will work in and out of the holiday, but you can only collect them during the Midwinter Blight.
It's a thoroughly Diablo holiday experience, in which the festivity is the thrill of smashing demons but this time frozen, festive demons.
And you don't even have to wait that long to fight off these holiday demons, because Midwinter Blight starts on December 12. Get out there and interfere with the various demonic festivities, upset the Blightfiends, and get that Red Cloaked Horror mad enough to try and kill you so you can kill him first and steal some skulls to wear.
Does the presence of Gillean mean that Bards are confirmed for Diablo 4? No, probably not, but I can dream. Happy Holidays?
Originally published November 4, 2023; updated November 30, 2023
Please support us on Patreon by subscribing or increasing your Patreon tier. Donate by November 30 so we can keep creating the quality content you enjoy.