Breakfast Topic: Is Love is in the Air being lovely to you?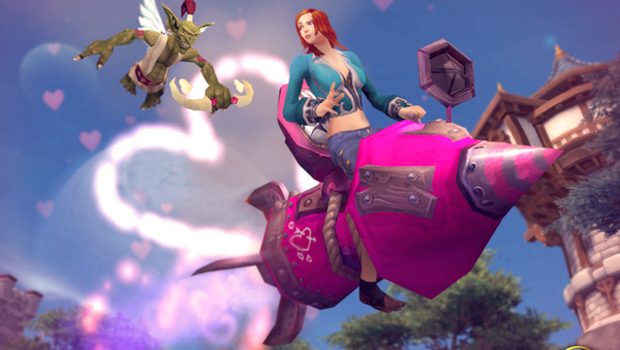 I seem to remember a time when Love is in the Air was an event that I really enjoyed doing. I remember doing the quests involved, chasing down the dastardly villain who crafted a cauldron of love sickness — or was it plague? After confronting him, you got to pick one of the items from his cauldron, a selection of Lovely Dresses or Dinner Suits. There was no world boss in the original iteration, nor was there any kind of mount reward. I remember vaguely that gathering all the necessary items for Gift Collections was irritating and took up a lot of bag space. But all in all, I was pretty happy with the event.
I'm not really a fan of the daily world boss trio. I don't need the necklaces they drop. But I do want the new toy this year, so it's back to a once a day boss kill. I have given up on ever seeing the mount, although I know it exists — the drop rate is excruciatingly low, particularly for something you only get 14 chances to obtain. I think that might be why I'm so frustrated, actually — the fact that no matter how much time I have on my hands in the next two weeks, I only get 14 chances at the item I really want. And if it doesn't drop … oh well, wait another twelve months to get it. Maybe. But I really, really want that toy for my Toy Box. I have to collect them all! Or as many as I can.
So far, all I've seen from the boss has been tokens, which got me a delightful little baby pink birdie Battle Pet, but no toy. What about you guys? Have you had any luck getting what you're after? Are you trying to get anything for your collections, or are you mostly ignoring the holiday? And have any of you ever seen the elusive Big Love Rocket drop? We need some kind of photographic evidence for that last one!