Pepe the Pop Icon: A Garrison bird gone viral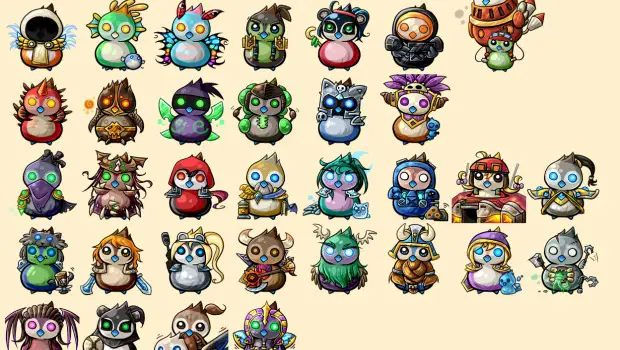 You all remember Pepe? He's that adorable bird in your Garrison that will sit on your head for an hour (or until you die) if you click on him. Players love to take Pepe to guild events, Garrison fishing, even raiding. But what started as a student project for Blizzard 3d prop artist Jordan Powers has now taken on a life of his own.
There have been Pepe necklaces you can buy, Pepe etched-glass coffee mugs and even a concept for a Pepe hat via Wowhead website artist Sarah Schnau aka Noxychu:
So, how much interest would you all have in a Pepe hat?! :3
Please Retweet!
cc @Tisket_Wolf pic.twitter.com/qPA3IO6A4r

— Noxychu ~⭐️ 💚 #VinesauceisHope (@Noxychu) December 10, 2014
Which got turned into (semi)reality:
So how about them Pepe hats, HMMM!?!
Look at what @Tisket_Wolf made! pic.twitter.com/9FwHl4V5QD

— Noxychu ~⭐️ 💚 #VinesauceisHope (@Noxychu) December 11, 2014
And if you like your Warlords of Draenor loading screens a la Pepe, well there's that, too:
@Warcraft @StarCraft @PlayHearthstone @BlizzHeroes saw this a while back, the iron pepes pic.twitter.com/xDLqgXkapZ

— Richard (@SirLanik) February 6, 2015
Recently, Korean Heroes of the Storm fan ZHArDoom translated Pepe into incarnations of all the currently available heroes in beta. This crossover of Pepe from the world of Azeroth into the Nexus not only brought together fans of each game franchise, but the official Twitter accounts for those games as well. When the official Heroes Twitter account tweeted the news, the official accounts for WoW, Hearthstone, Diablo and StarCraft got involved by replying as well. Check it out by clicking on the tweet below.
From your @Warcraft garrison to the Nexus, which Pepe is your favorite? Fan Art by ZHArDoom http://t.co/hpfjvF7b55 pic.twitter.com/uYYoVJTwUe

— Heroes of the Storm (@BlizzHeroes) February 5, 2015
What's next for our little friend? Forum avatars? Plushies? Award-winning BlizzCon cosplay? We shall see. In the meantime, you can bet on seeing a deluge of Twitter-selfies with Pepe the moment patch 6.1 drops.