PAX East 2015: Overwatch announces beta in fall 2015, Watchpoint: Gibraltar, McCree, and Zarya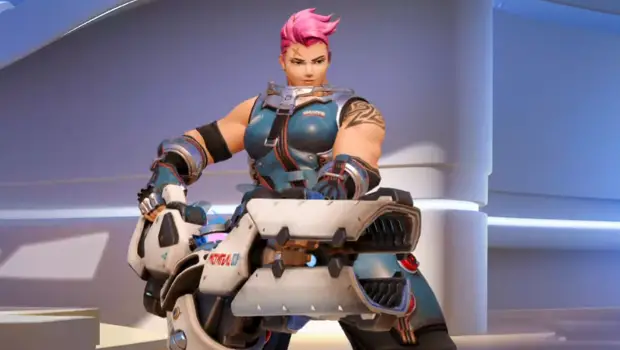 At PAX East 2015, Overwatch Game Director Jeff Kaplan announced a new map, two new heroes, and a beta estimate of Fall 2015.
The new map is another Payload-style map called Watchpoint: Gibraltar. Gibraltar is at the mouth of the Mediterranean. In his efforts to relaunch the Overwatch organization, brainy-gorilla Winston must relaunch its communications system — based in Gibraltar.
The first newly announced hero is the cowboy McCree, who has already appeared on the official Overwatch website. McCree swaggers into combat with his trusty six-shooter Peacekeeper. His movement ability is a combat roll. He also wields flashbangs and his ultimate ability is Deadeye, an ability where he focuses for a few seconds, then unloads every round in his Peacekeeper into all targets in view. It appears the rounds are spread evenly across all targets in range. If there are six targets, that's one round each. If it's one target, it's six rounds into one opponent — massive damage. (Sidenote: Is McCree a nod to Lonesome Dove's Augustus McCrae?)
The second hero is Overwatch's first female tank character: Zarya. Jeff Kaplan specifically noted the Overwatch team is working hard to achieve diverse representation — not only across genders, but body types within genders. Zarya's page on the official Overwatch website cites her as one of the world's strongest women and a member of the Russian Defense Forces. Her weapon is a particle cannon and she can place a protective shield either on herself or an ally. Any damage absorbed by her shield — whether it be placed on her or an ally — boosts the damage of her weapon. Her ultimate ability is a Gravity Well which pulls enemies towards its center, trapping them and dealing damage over time — and setting them up for big combos from her allies. Jeff Kaplan specifically mentioned McCree's Deadeye, Zarya locking enemies down so he can focus his ultimate.
And once again, the Overwatch beta will be coming in Fall 2015.