Breakfast Topic: Do you have a treasure hunter?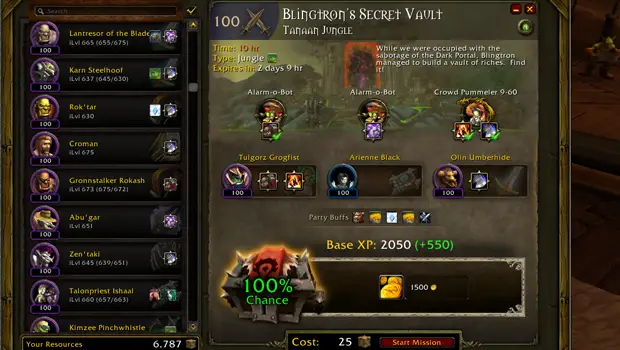 Patch 6.1 introduced a new trait for garrison followers — the Treasure Hunter. Having a treasure hunter in your party means that you'll bring back twice as much from missions that have a gold reward. You can stack treasure hunters, which means that you're able to rake in a substantial amount of gold running missions with higher payouts. I only have two treasure hunters currently, but that still netted me 1500g from Blingtron's Secret Vault, if I'd had a third one at level, my followers would have dragged home 2000g. Needless to say, I am rolling in gold right now, and recruited a third treasure hunter from the inn because I would like to continue raking in the rewards while I can.
This isn't what I expected my garrison to turn into, but I can't say I'm unhappy with the result. Since I'm no longer raiding, I don't really have to worry about crazy repair bills any more, nor do I have to worry about purchasing substantial quantities of flasks, or the best of the best enchants available. Instead, I can quietly run LFR at my leisure, explore story elements as they come along, and purchase whatever mounts I feel like picking up. It's a weird and very different WoW for me right now, but I'm enjoying it immensely … and wondering if we can eventually get some kind of gold vault building with a money pit to swim around in a-la Scrooge McDuck.
Because this is a new trait, you pretty much have two options to get it — either recruit a treasure hunter from your inn as I did, or purchase a trait re-roll token from your garrison quartermaster and hope you luck out. I managed to do this, too, which is why I've got two of these lucrative little monsters on my team. How many of you have gone after treasure hunters since the patch came out? Did you immediately start recruiting at the inn once the patch went live? Or do you have other, better ways of making gold that you're happier with?