Breakfast Topic: Are you still hunting down music and pets?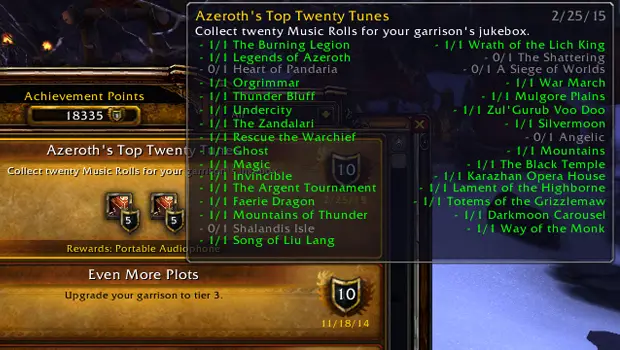 Tonight I finally got my hands on the one music roll I've been adamant about hunting down — Legends of Azeroth, the music from the original login screen. This leaves me with only a few scrolls left to get, but I'm not really too concerned with the others, although I need to head to Darnassus at some point for the track located there, because it's a good one too. Patch 6.1 might not have had a ton of story added to it — although if you're paying attention, the quests Harrison Jones asks you to complete are pretty interesting — but I'm a sucker for collections.
But 6.1 didn't just add the music rolls, it added more battle pets, too. Oddly enough, I haven't really been out gathering pets in the wild. I'd rather get the ones from achievements than wander the world collecting. I go back and forth with pet battles — I'll go on a leveling spree, and then I just sort of forget that it's there. The Menagerie has done a pretty good job of reminding me and keeping me interested in leveling, however. And with the new pets in old world raids, suddenly I'm interested in collecting again, too. Who knows how long my interest will last this time around?
What about you guys? Do you jump at the chance to collect something new? Are you still hunting down battle pets from Burning Crusade raids, and music rolls from all over Azeroth? Does the thought of getting new things to collect sound fun to you, or is it an interest that wanes after the first week of farming? Or are you just not that interested in collecting stuff?