Heroes Developer Insight: Sylvanas, Abathur, Murky, Stitches, and healers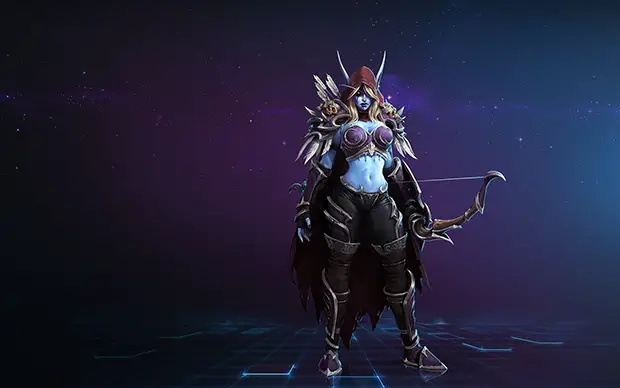 Heroes of the Storm Game Designer Matthew Cooper outlined a few of his thoughts on certain heroes that will be seeing upcoming changes in a future patch. Most of the insight is aimed at hero balance as opposed to map changes. More updates on Sylvanas can be found at the bottom of the post.
Abathur will be seeing some… evolutionary upgrades to Monstrosity. Ultimate Evolution and Toxic Nest will be seeing slight improvements. Unfortunately, Ultimate Evolution won't be going back to the original ability.
Originally Posted by Matthew Cooper
Matt: Our January 13 patch introduced a significant talent update to Abathur. As a result, we've seen his win percentage drop more than intended. With our next update, we plan to buff Abathur's Heroic abilities as follows:
Ultimate Evolution is a Heroic ability that we'd like to tweak, in order to provide an epic and powerful experience for the Abathur player. While we have no plans to bring back the ability to copy your teammate's Heroic, as that causes balance concerns for us with duplicated heroics, we do believe we've found a happy medium by increasing the power level of the Ultimate Evolution and decreasing the overall time you'll control the clone.
For Monstrosity, we've made the duration permanent. We feel like this offers Abathur more opportunities to build up stacks and possibly even bring it to team fights. The cooldown of the ability will not start until after the Monstrosity is killed, so the opposing team can create a window in which they won't need to deal with the split pushing capabilities of the Heroic.
Aside from his Heroics, we're also altering a few of his Toxic Nest talents. We think they are much more appealing now and hope you'll agree.
In some of the matches I've participated in throughout solo queue, I've come across team compositions that involved two healers. One would think that a team with two healers would be able to survive a little longer but wouldn't have the damage output to challenge their opponents. A two support composition is extremely resilient in team battles and the developers are looking at slightly changing that up so that there are more pronounced drawbacks when doing that. Uther's ultimate will be seeing a nerf due to how strong it it can be.
Originally Posted by Matthew Cooper
In the next patch we're introducing a talent rework to Uther which includes functionality changes to his trait. Uther's ghost will lose all of his base abilities, and now showcase a different heal on a lower cooldown. The role of that ghost will be to continue supporting your team with heals, after dying, rather than being the powerhouse it currently is. 
Personally, I found it humorous when I was told to go die as Uther. Not because I was absolutely useless or anything, but because I was more effective since I couldn't be crowd controlled and could be a pest at certain capture points to prevent the opposition from securing it.
Lastly, it looks like Stitches is going to be on deck for another set of nerfs. The developers have already targeted the Hook and Gorge combo but now they want to reduce the damage and tankiness level of the big abomination.
Originally Posted by Matthew Cooper
As we continue to evaluate Stitches and his role in Heroes of the Storm, we find that it's incredibly important for us to identify what makes picking Stitches a different experience from choosing other Warriors. We feel the answer lies in his Hook. When thinking about additional changes, we'll aim to make sure his Hook remains a strong and useful tool. Currently, we're looking to reduce Stitches' overall damage and tankiness.
The rest of the interview is rounded out with thoughts on Lost Vikings and Murky. There won't be significant changes, but smaller tweaks are in the works.
In other news, with Sylvanas being announced at PAX East, we've all been wondering when she'd be playable:
We're aiming to release Sylvanas next week! pic.twitter.com/aHFRBbRfhZ

— Heroes of the Storm (@BlizzHeroes) March 18, 2015
Anyone else getting the feeling that next week is the new Soon(tm)?