Blackwing Lair wing revealed for Hearthstone's Blackrock Mountain
Another week, another Blackrock Mountain reveal for the masses! We get a look at another class card and another neutral minion with a dragon theme. The next wing we get to check out is Blackwing Lair — Nefarian himself could very well be the final encounter in this wing.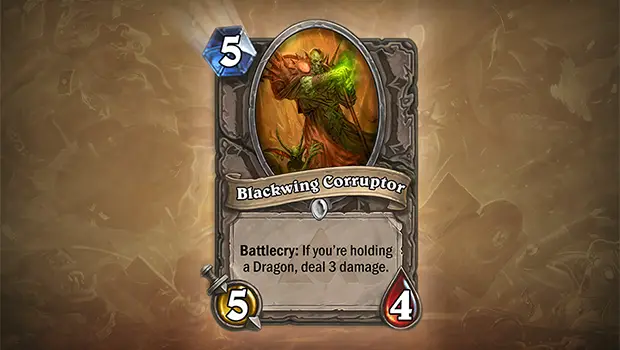 Blackwing Corruptor: Battlecry: If you're holding a Dragon, deal 3 damage [presumable to a target of your choice].
The Blackwing Corruptor is a decent-sized minion coming in at the 5 mana cost slot. If you're holding a dragon, the Corruptor increases in size and becomes a little more dangerous. If the Battlecry does activate, you convey to your opponent that you're holding a dragon in your hand and that they should expect one later on. Of course, if there is no buff, it means they can rest easy since they don't have to worry about one for the short term.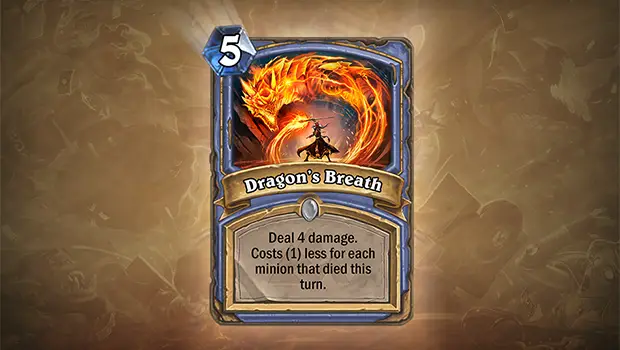 Dragon's Breath: Deal 4 damage. Costs (1) less for each minion that died this turn.
This is the common mage class card (with the rare being Flamewaker). Seems a little weak at first glance but the strength of the spell lies in the scalability of the cost. The more minions you kill, the cheaper it becomes. Note that the card says each minion and not your or opponent's minions. A well-timed Flamestrike would make this card free to cast. A triggered Explosive Trap from the opposing hunter means you can still salvage some use out of a terrible situation and allow you to regain some momentum.
I'll talk more about these two cards later in the week during the Hearthstone show on Friday night (8 PM Central).
Previously revealed cards