Two new Blackrock Mountain cards revealed for Hearthstone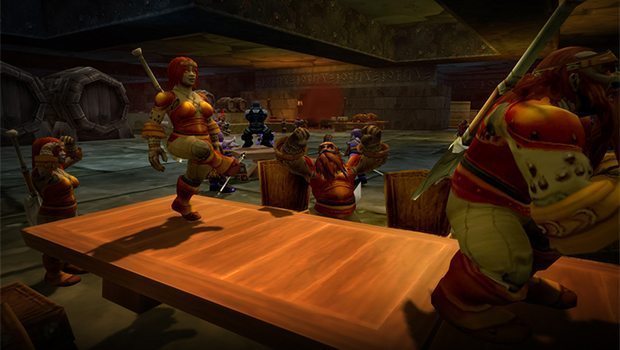 As we ramp up towards the April release of Hearthstone's upcoming Blackrock Mountain expansion pack, the official Hearthstone blog has unveiled two new cards! It looks as if these cards will be unlocked throughout the Blackrock Depths wing.
Axe Flinger: Whenever this minion takes damage, deal 2 damage to the enemy hero.
We've found what apparently is going to be the warrior card for this set. For warrior decks, this card can take the place of other 4 cost minions. At first glance, it seems like an arena stud! Whenever it takes damage, the opponent takes 2 directly. Assuming it took 1 damage every time, that's up to 10 damage your opponent will be taking. Combine it with cards like Whirlwind or Cruel Taskmaster, and you can start seeing the neat card combinations coming into play here.
Lava Shock: Deal 2 damage. Unlock your Overloaded Mana Crystals.
Unlike the other damage spells in the shaman arsenal (Lightning Bolt, Lightning Storm, etc), Lava Shock actually frees up Overloaded Mana Crystals. Lava Shock can essentially function as a free spell for itself if you're under the effects of Overloaded. Note that you have to have the 2 mana available first to begin with. If you're completely locked out due to the Overload, you won't be able to cast Lava Shock. I'll admit, I was surprised that they didn't name the spell Flame Shock instead.
Check back here Friday night (6 p.m. Central) as I'll be devoting the first part of the Hearthstone stream to discussing these two new cards before I resume the legend climb again!