WoW
Apr 1, 2015 2:00 pm CT
4 Pet battle addons you need to download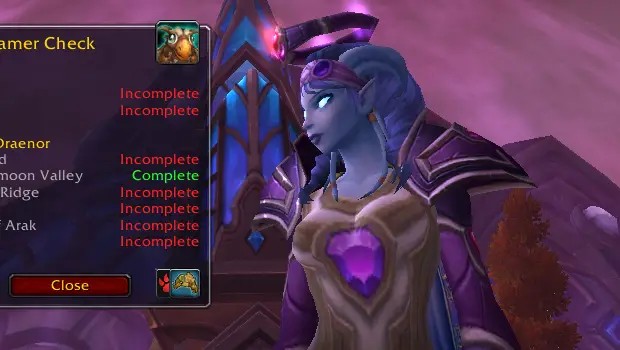 There are dozens of pet battle addons out there, from the ones that improve your battling to those that just add a little bit of whimsy to your day. Here are four I love so much I suggest you download all of them right now.
Daily Tamer Check
We'll start with the most lightweight one, which is shockingly invaluable. Daily Tamer Check only consists of a little icon you can mouse over, with more information on click — a list of tamers and completion indicators. The text next to each listed tamer changes from a red "Incomplete" to a green "Complete" when you defeat a tamer and claim their daily prize. On daily reset, they all revert back to the red Incomplete, except for the Celestial Tournament, which resets weekly. That's it. That's all this addon does. I can't deal with tamers without it. It tracks cross character, server and faction as well, making it an ideal solution if you're one of those people who parks alts at different tamers for leveling efficiency, or if you've got multiple Menageries to juggle.
Daily Global Check
Speaking of Menagerie juggling, if you're thinking to yourself that this addon sounds awesome, but you wish there were an addon like this for the myriad of other nonsense you've got to keep track of on a daily basis, the makers of Daily Tamer Check have created an addon for that too. Daily Global Check, which has the same function for additional difficult-to-track daily tasks, also has its own plug in for tamers (Daily Global Check_Pet Tamers) in addition to a few other specialty plug ins, so you may want to just grab the whole thing while you're at it.
PetJournal Enhanced
PetJournal Enhanced is one of my main tools for team building, which I'll talk about in-depth in another post. The extra filters it affords for both taming and battling are all but essential. You can sort pets by continent and groups of zones. Previously this was just a nice perk, but with this expansion adding several dual location names, this addon can tell you immediately whether that Fel Flame is from Draenor's Shadowmoon Valley or if you've got to hike it to Outland's Shadowmoon Valley. PetJournal Enhanced also lets you filter your pets with multiple criteria at once, so if you'd like to find the Dragonkin pets with Magic abilities you've got in your own roster to make quick work of Vesharr's team, you can just click a couple boxes and comb through your group easily. You can filter by multiple criteria at once too, so if you're trying to build a carry team, you can cross-reference pets that defend or attack well against multiple family types.
PetJournal Enhanced displays breed information, but I also use Battle Pet BreedID. Battle Pet BreedID tends to be updated for breed information more quickly than PetJournal Enhanced. This addon's functionality isn't exceptionally necessary for everyone. Breeds are rather esoteric for beginners as opposed to knowledge of family interactions, but it can be nice to know. The speed of updates is going to matter to even fewer tamers, but for my purposes getting that information ASAP is crucial. Even though it's a bit silly to double dip it may be worth a look for you.
Rematch
The last addon we'll talk about here is Rematch, for a few reasons.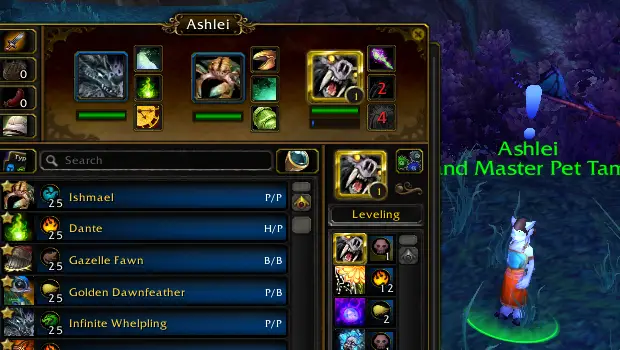 I've been using it for about a month now, and it's probably the biggest time saver for me. You can save teams under a number of different headings. I have one list for Draenor Tamers, one for the Menagerie, one for Pandaria Tamers, etc, and the addon automatically arranges things alphabetically. Organization is usually not my strong suit but this addon makes it easy to pretend it is. You can also set up 2-pet carry teams with a leveling slot if you choose, which draws from a separately established "to-be-leveled" queue. The slickest part is, you can choose to save a team based on the NPC ID of your current target while you're in game. It requires a bit of messing around with the settings, but if you build a team to defeat Ashlei you can make it so the next time you roll up to Ashlei and merely mouse over her, it'll automatically load the team you associated with her NPC ID.
Rematch is a time saver, in addition to a great organization tool. There's no accidentally forgetting to pick the correct moves or pulling out the incorrect breed of rabbit for the job as you quickly peck through your list, or scrolling through trying to remember whether you used a crab or a snail or what. There are a lot of other bells and whistles, with easy access Safari Hat, heal and bandage buttons for the lazy. The team selection bit and swapping between my roster and the team list while building teams is a bit clunky, and the sorting capability isn't quite as nice as PetJournal Enhanced but once you go through the work of establishing your lists and teams it's almost magical.
However, I'm reserving a note of caution for addons like this. I used a similar addon which bit me hard in the end. I built long lists of teams I could easily browse and click through. The trouble came because I have a few ongoing tech issues unrelated to the addon that results in semi-frequent hard client crashes. As a result of these crashes my LUA files would occasionally get irretrievably corrupted. When that happened it lost all the data I'd set up, rendering the addon essentially useless, and me up a creek with no team list. I've had several people ask me frantically since how to get their teams back and all I can do is say, tough luck bud.
That said, I've used Rematch to no ill effect through several crashes. Also, Rematch is in ongoing development where many other addons of this nature seem to be abandoned. However, losing all that data (then rebuilding all my lists just to lose it all again) was such a terrible experience that it's important to put out the reminder to make sure you're backing up your strategies and team lists in some way. No WTF folder rules forever, my son.