WoW
Apr 3, 2015 3:00 pm CT
Erris and Kura pet battle XP nerfed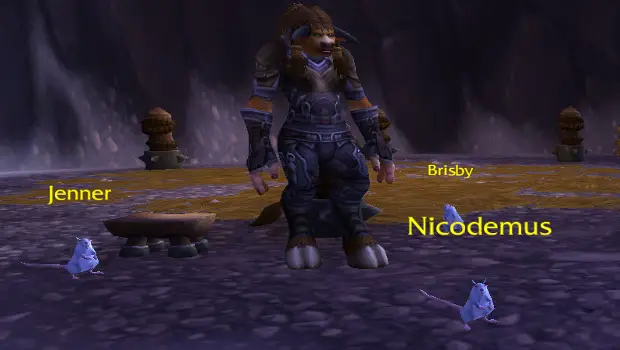 When the Menagerie's pet XP yield was nerfed in patch 6.1, new traveling NPCs Erris and Kura began visiting our garrisons as a consolation pet battle XP boost. Now even that cold comfort has been taken away, due to an exploit. As explained by Bashiok on the General Forums,
There was an exploit where you could leave the fight at the last possible moment, receive the quest XP, but not complete the quest, and it was being used to great effect by those that were aware of the bug. As it's technically an exploit it's not something we generally add to our hotfix notes. Fixing the core issue isn't possible until a client patch, and so in the meantime we lowered the reward substantially. With the fix in an upcoming patch we'll raise the XP reward back up again too.
This is why we can't have nice things.
Currently, Erris and Kura are giving roughly the same XP for completion as the nerfed Menagerie: from 5K XP per match now down to 40. For those who were playing by the rules, there are still reasons to battle Erris and Kura. They still give their daily quest, which awards 3 Battle-Training stones and Traveler's Pet Supplies so if you still need that baby Talbuk, you can keep at it. But until that upcoming patch fixes things, maybe forego the hassle of 2-petting them.