WoW
Apr 24, 2015 10:00 pm CT
Apocrypha, new Warlords of Draenor short story now available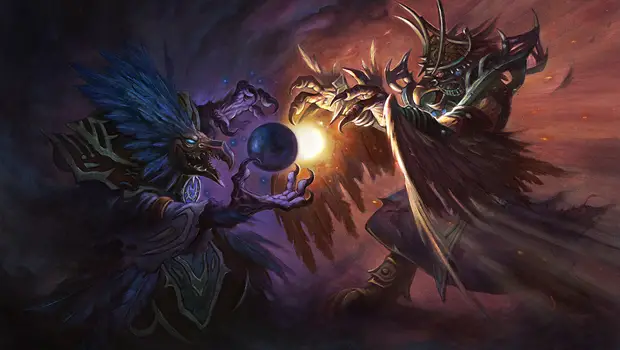 A new Warlords of Draenor short story was released earlier this evening, and its a good one. Apocrypha was written by Matt Burns, whose other works include Bleeding Sun and The Jade Hunters from the Destination: Pandaria faction series. This tale however, involves the arakkoa, which automatically puts it near the top of the list for favorite short stories as far as I'm concerned. The Spires of Arak and the story of the arakkoa were one of my favorite parts of the leveling experience, and I was a little disappointed that we didn't see that story continue later on.
Apocrypha is that continuation in a way, and yet the majority of the tale takes place in a flashback to long before we ever arrived on Draenor, when High Sage Viryx was no more than an Adherent who was paired in her studies with another familiar name, Adherent Iskar. Yes, that Iskar, current leader of the Arakkoa Outcasts. Together, the two discovered vital information about Terokk's past and his shadowy curse, and each finds themselves having to make a choice that will change their lives … or the lives of all in Skyreach.
First off, I'm a big fan of the arakkoa in general, so this additional look into the history of the species was a welcome change of pace from the other short stories we've gotten so far. Second and far more importantly, this short story is flanked by an introduction and epilogue that ties it directly into what we will be seeing in the upcoming patch 6.2. If you're interested in the lore surrounding the new raid, you'll want to read this. If you're as much of a fan of the arakkoa as I am, you'll definitely want to read this. Either way, Apocrypha is free to read — and if you like the Alex Horley illustration for the story, it's also available as a free download as well. Read the story in full on the official site, and be sure to check out the rest of the Savage World section for more short stories from Draenor.