Heroes of the Storm free rotation and new skins for May 19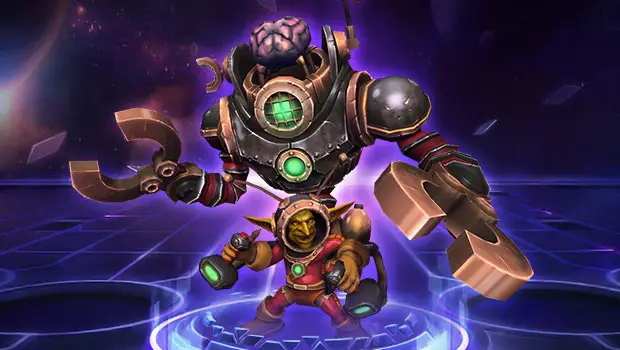 It's been a busy day for Heroes of the Storm. First, the title went into open beta for two weeks before launching on June 2. Then, two new skins that were previewed earlier this month went live today. The Melee Warrior Sonya gets a Super Sonya custom skin for $10 USD and love-him-or-hate-him Melee Specialist Gazlowe gets a retro 50s sci-fi skin called Mad Martian Gazlowe, also for $10 USD. Both can be scooped up from the in-game store in a bundle deal for $15 USD or you can buy both heroes and their new skins altogether for $25 USD. These bundle deals may not last long.
And since it's Tuesday, that means 7 new heroes are in the free weekly rotation. All players can now select the following heroes for matches during the week whether or not they own them:
Additionally, if your Heroes account is at least level 12, you can play the Ranged Specialist Nazeebo and at level 15 or higher, Melee Specialist The Lost Vikings. All of the experience you gain on free heroes stays with them after their free week is over, so don't worry about losing all your progression on them should you choose to buy them later.
In addition, new weekly sales have rolled out and include Ranged Assassin Jaina for $4.24, Ranged Support Tassadar's Crypt King custom skin for $5 and Melee Warrior ETC's Pure Country Skin for $3.74 USD. The weekly sale ends on Mondays at 2pm PT.