WoW
Aug 8, 2015 6:00 pm CT
PVP mercenary mode explored on 6.2.1 PTR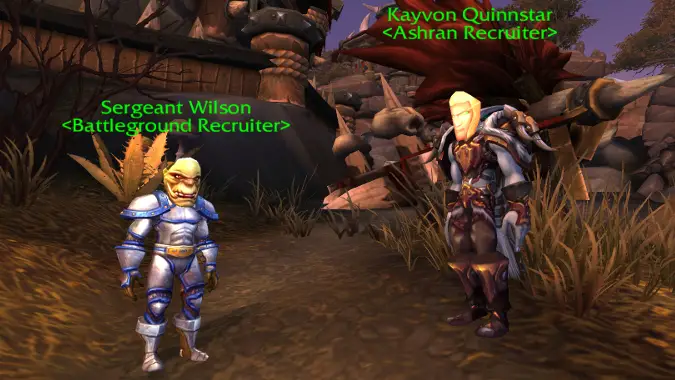 A couple of new complementary PVP mechanics are coming in patch 6.2.1 to hopefully alleviate some wait time issues with PVP in non-ranked battlegrounds and Ashran. Mercenary mode, the much more anticipated of the two, allows players to choose to swap their faction for a short time. I got a chance to play around with it on the current iteration of the 6.2.1 PTR. Here's a bit of what you can expect if you'd like to leave your faction behind for a while.
Your first stop if you'd like to swap is just along the road that leads from your faction's city to the Ashran battling hub. Along the way are two NPCs from the opposite faction wearing Hallow's End masks, each available to recruit your character to the other side. There's one designated for non-ranked battlegrounds and one for Ashran on each faction. All four are named after real-life recruiters for Blizzard Careers, like Valmaun, named after Recruiter Val Maun.
If you elect to swap factions after discussing it with these NPCs, it places you in the queue like always. When your queue pops, you'll go to the unranked battleground or Ashran, only you'll find yourself in the opposition's base, which can be a bit disorienting if you're very used to playing one side or the other. You'll also get a little buff that states that you're playing for the opposite faction now, plus a brand new appearance which is altered based on your race and class. For example, each time I queued up with my Blood Elf Hunter, I became a Human Hunter.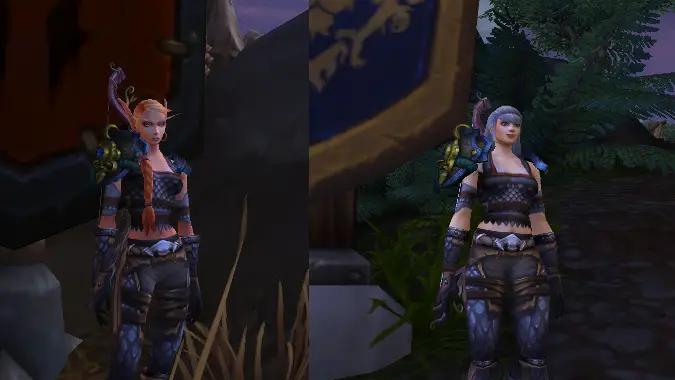 The gear I had here didn't change, but when I swapped on my Draenei Shaman, the pieces of transmog I was using from the Dwarven Bunker changed to the War Mill version on the Tauren she turned into. I didn't just get a snazzy new look though. Each time I made the swap with my Blood Elf I became a Human in full, trading Arcane Torrent for Every Man For Himself and all the other racial perks, so it was a pretty sweet deal on my end. I'd imagine that people playing other Horde races or classes, or people who played Humans to begin with may not think quite so highly of their racial swaps.
Even if you don't like your trade-off, there's a new buff in Ashran called Tour of Duty which forces you to hang in the fight for at least ten minutes, or you'll get a new Ashran-specific fifteen minute Deserter-style debuff called Recreant. The new ten minute buff and subsequent deserter-style debuff applies whether you use mercenary mode function or if you jump in like normal (like oh, say, if you missed the recruiter NPCs you planned to test out on your first pass and rode straight on into Ashran).
One thing I found a bit annoying was that the opposite faction's vendors were a bit screwy, though as always that could be a quirk of the PTR. As Blood-Elf-gone-Human, I couldn't buy the lower-level honor or conquest gear from Karsh Stormforge or Marshal Gabriel, though Tremblade, the elite conquest Warmaster, still gave out the goods. Most of the other NPC vendors were fully functional, including the ones you can give artifact fragments for a tactical advantage with NPCs on the playing field, but not the ones you trade other stuff to for a personal advantage, like Gimlet Ginfizz and her potions. I also hated the hairstyle they gave me as a Human, which was linked to my Blood Elf's appearance. Every time I queued up I got that same hair combo. The only way I was able to change it was by going to a barber shop and choosing a new look for my Blood Elf for the next round after that ten minutes had elapsed. It's minor, but all of the above together just emphasizes that you need to plan ahead just a bit before you jump with both feet into mercenary mode.