WoW
Aug 13, 2015 3:00 pm CT
Join the Legion with these Hellfire Citadel-themed transmogs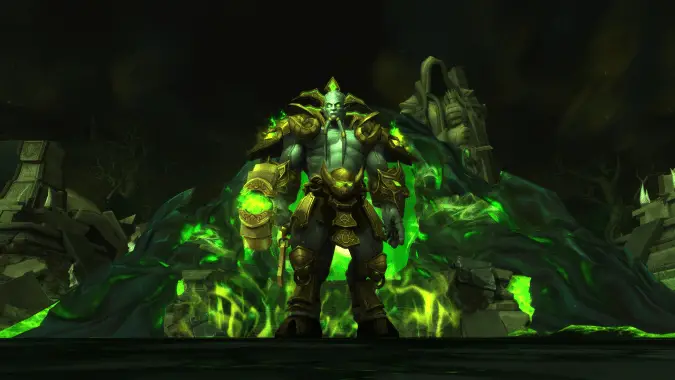 Nothing is more important in the World of Warcraft than looking good. It not only improves your performance* across the board, it also helps to define yourself and your character. And with the upcoming Legion expansion announced, what better way to define yourself than by dressing as the enemy? This transmogrification guide will help you get started on your way to becoming a full-fledged member of the Legion with sets inspired by the Hellfire Citadel baddies themselves.
So what are we waiting for? Let's check out the transmogs.
One thing to keep in mind when reading this: Mists of Pandaria raids at Raid Finder difficulty can be solo queued for by talking to Lorewalker Han at the Seat of Knowledge at the Vale of Eternal Blossoms. You don't actually join a group to do them; it's more like queueing for a solo scenario. The loot, however, is all still there (and can be bonus rolled with the appropriate tokens).

Making-Fel-Happen cloth set
Reminiscent of The Defiler himself, this cloth set will signify cloth players' true al-LEGION-ce (sorry). While the headpiece may be difficult to obtain for non-Warlock Alliance players, there are a few other pieces that will do just fine. I have an engineering piece listed here for the sake of easy collecting. The best way to dress yourself as Archimonde, though? Killing him and stealing his loot. The head, shoulder, and belt pieces that belonged to Archimonde before he was thrust back into the Twisting Nether can be yours with a little bit of luck. And because these can be obtained Normal, Heroic, or Mythic with no color variation between difficulties, once you've got one version, you're set for life. The staff, unfortunately, only comes in green on Mythic.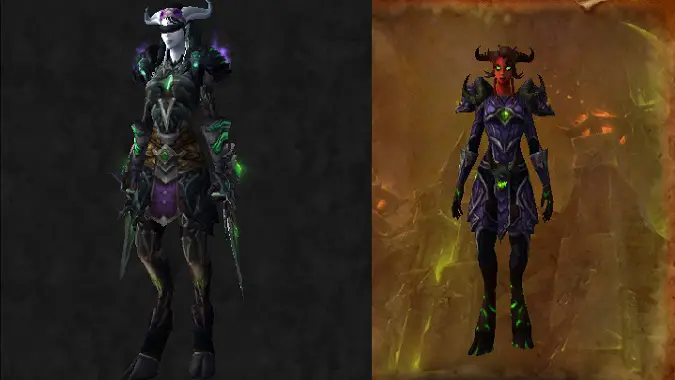 Lululegion leather set
Taking fashion advice from Tyrant Velhari, leather wearers will certainly look good in this purple-and-green set. To (literally) top it all off? The iconic headpiece from Illidan himself — say, does anyone know if we'll be seeing him anytime soon? The belts offered here as alternatives match in color more than style — plate wearers, unfortunately, took Velhari's exact belt replica.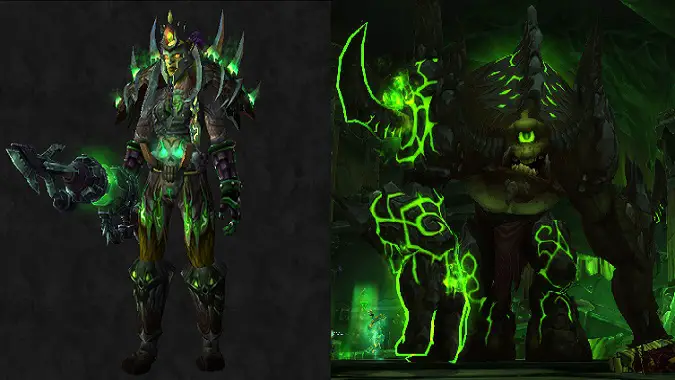 Nether-Looked-Better mail set
My personal favorite, this mail set is a mix between earth and fel to make any mail wearer feel at home in Kormrok's domain. While there were no alternative pieces I found needed to improve the set, you're welcome to include your own suggestions in the comments! And if you prefer bows to guns, there are additional options listed below.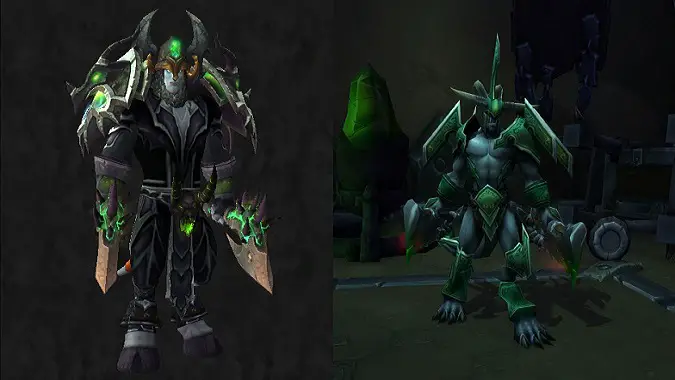 Eredarn-I-Look-Good plate set
What is the Legion without its agents? The plate set takes on the look of a pesky Eredar that normally stands in the way of groups heading to Xhul'horac or Fel Lord Zakuun. Despite being BOE, the belt can still be a bit difficult to obtain. If you don't have the resources to grab the main belt, the alternative pieces will both fit very well!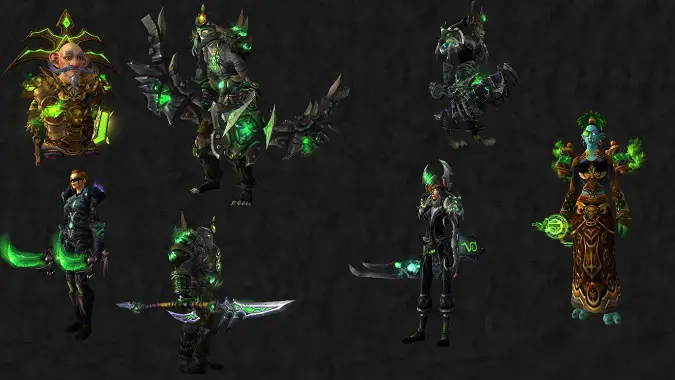 I-Am-Always-Prepared weapon alternatives
And, of course, where would we be without a few extra options? If you can't use any of the weapons in the main sets, or just prefer a different weapon's look, these should give you a good head start on making your Legion set your own. Additionally, if you were curious about some of the alternative options listed above, many are pictured here. Personally, while I'll never complain about being a cloth-wearer, the options available to hunters and shaman make me pretty jealous this time around, especially if you consider their weapon options. Still though, it's hard to be upset when you can wear the armor of the Big Bad himself.
That's all for now! If you have your own Legion-inspired set or any substitutions you think work better, feel free to share them in the comments.
*Looking good may not actually increase performance.