Patch 6.2.2 includes a new weekly Pet Battle quest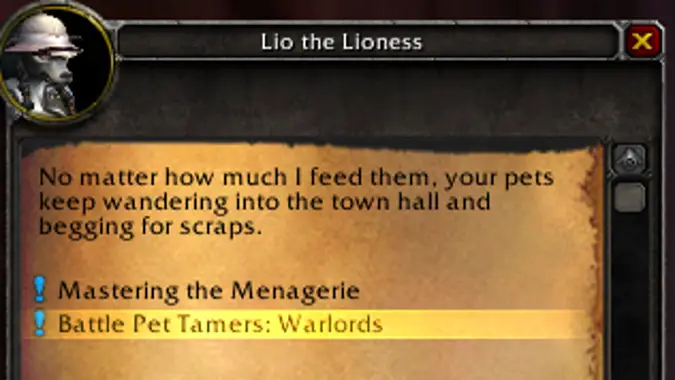 If you're into pet battles, this may be up your alley. It seems there's a new Battle Pet Tamers quest for Warlords allowing you to acquire ten Flawless Battle-Training Stones.
This definitely seems like something you'll want to have gotten Draenor Flight for, as the tamers in question are spread out all across the land: Vesharr in Spires of Arak, Tarr the Terrible in Nagrand, Cymre Brightblade in Gorgrond, Gargra in Frostfire Ridge, Taralune in Talador, or Ashlei in Shadowmoon Valley. Or you can fight Erris the Collector or Kura Thunderhoof in your garrison instead of one of those six (you need to beat five of them, so four out in the world as a minimum).
And if you're looking for a guide to beating those Draenor trainers, we have one of those available. You can be around the world and back collecting your Flawless Battle-Training Stones within a half hour if you do it right, and you can level a pet while you're getting more stones to level more pets. Also keep in mind, if Erris or Kura aren't currently in your garrison, you can use the in-game group finder to track them down. There's usually a handful of people who have thrown their garrisons open to visitors for that purpose.
If you're a pet battler, the new pet battle quest seems like a decent way to get a guaranteed supply of Flawless Battle-Training Stones.