See how Gamescom's Overwatch statues were created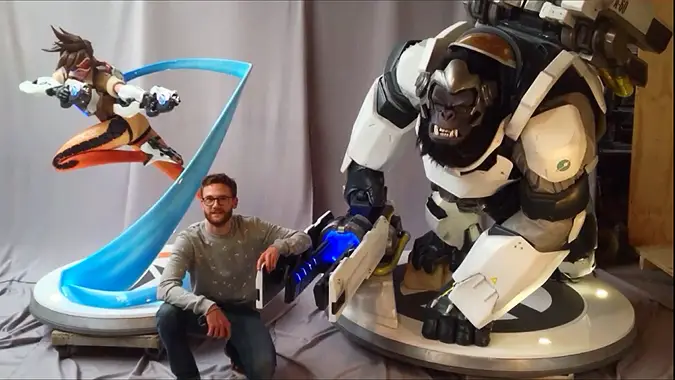 Gamescom crowds last month had a chance to see two full-size Overwatch statues on the convention floor, where larger-than-life versions of Tracer and Winston made their debut. And now we have a video, courtesy of CGSociety, showing how they were made and the process of putting them together. Check out the video after the cut.
The excruciating detail that went into these statues is evident from the video. Starting from modeling clay, each piece is sculpted and molded individually to reach their perfect form. You can see the artists painting on tiny changes to the clay molds to make it just right. Tracer's body is similar to a mannequin and the clothing they put on her looks practically wearable as is. The shirt is separate from the jacket and just goes to show how much detail went into making it as life-like as possible.
The massive size of Winston's statue apparently posed no challenge to the modelers either. We can see them lugging around the massive models, all created with the same care and detail as Tracer. Some of the parts may have been sourced out at separate locations, and we can see them unwrapping the weapon models to attach. Glass eyeballs were used for both statues.
FX Deco is responsible for these life-like statues, and also created a full-size Grommash statue for last year's Gamescom. While I would have loved more specific information about these creations, à la the making-of video about the Grommash statue from BlizzCon, it was a fascinating look at the work that goes into them. Blizzard's addition of Grommash at BlizzCon was a big hit, so perhaps we will start to see similar Overwatch statues here in the states at future BlizzCons.