Breakfast Topic: What's your favorite way to level?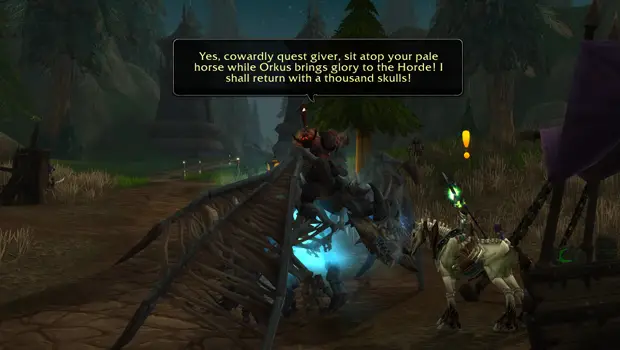 It's no secret that I love quests and questing — after all, I write about the game's story on a regular basis, and quests tend to be where the majority of WoW's story is located. Honestly, it doesn't even have to be WoW; I tend to really get into story and lore based quests with any RPG I play. This also means I usually throw the game on easy difficulty for pretty much any RPG I happen to pick up — it's not about how hard it is to kill that thing over there that's important, for me, it's about why I'm killing it in the first place, and what happens after I kill it. That's ideally how I want to level in any MMO or RPG I play — but that's just me.
And there is a certain threshold at which even I get tired of questing — usually after multiple rounds of doing the same quests. So this time around, on my alt, I'm trying something a little different. Since I have flying on my main, I'm seeing how far flying around and picking up rare items will get me. I've been told it's a viable option, and it seems to be working for the most part. It feels a little strange not to be doing quests, but it isn't exactly unpleasant.
There are a lot of different ways to take care of leveling in WoW — quests take up a giant portion of the leveling experience, but there's nothing stopping a player from leveling simply by running dungeons, or even participating in PVP. So I'm wondering — what's your favorite way to level? Do you like doing quests, or would you rather earn your XP in a battleground or a dungeon? Do you like to take your time and read everything you come across, or do you prefer getting that whole leveling experience out of the way as soon as possible?