What we learned from today's Overwatch preview stream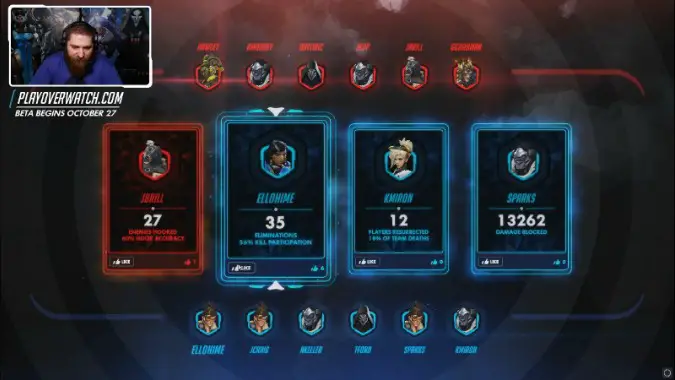 Today Blizzard streamed two hours of Overwatch gameplay on Twitch through the channels of two popular streamers HayliNic and Ellohime. We got an eyeful of not only the new map Dorado and the new heroes Roadhog and Junkrat, but also many UI screens that show the polish and depth the game already has baked in.
The new UI screens include a character select screen that gives you tips on your team composition. Too many assassins? The game will suggest adding more tanks to your team. These are only suggestions and if you find you want to change your mind, you can always swap out which character you are playing in the middle of the match.
Devs answered questions in the Twitch stream as well.  For example, there is a new "on fire" meter below your health bar. They explained that as you go on a kill streak (or score streak), this bar fills up. When you or your opponents look at current standings during a match, the person on each team with the highest "on fire" bar will have a flame animation around their portrait indicating who is doing the best.
Another interesting UI screen came after the match. This screen shows the four best achievements of your team as a series of cards: most kills, most damage blocked, and other stats tailored to their character like how often Mercy resurrected fallen team mates. Then you and your group can click on which achievement you think was most worthy. There was also talk of a progression system by one of the devs playing during the stream. As of right now, it is strictly for cosmetic rewards. Think hero portrait borders and the like. The dev also stressed this feature set is just starting to be explored.
Sound also plays a big part in game. You can hear the footsteps of enemies approaching as well as the roaring motor sound of Junkrat's Riptire ultimate as it bears down on you to explode in massive AE damage. What we didn't learn in this stream is pricing model, new heroes or beta launch date for the EU region.
Overwatch launches its closed beta on October 27th with sporadic open beta weekends planned after that. All characters and maps shown in these streams will be available in beta. Check out the streams below for the VOD replay. [Edit: Replaced Twitch streams with new VODs. No more autoplay!]
Haylinic:
Ellohime: