Gnome Hunters bring Mechanical pets to Warcraft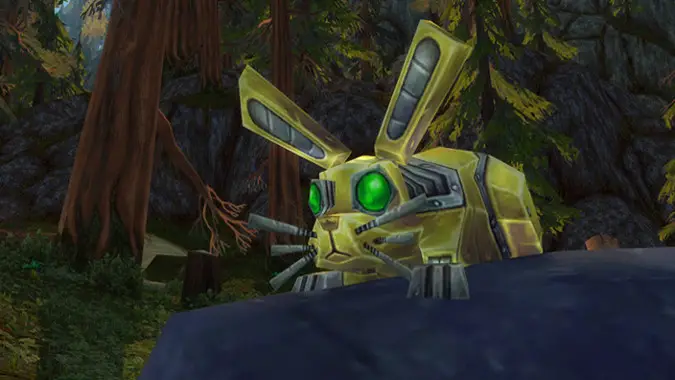 If you've been awaiting Gnome Hunters (and really, who hasn't?) then we have some good news for you — the official announcement is here, and it comes with some news as to what kinds of pets our Gnome friends will be taming. All along, players have argued that Gnomes should be more attuned with engineering and construction than the wold, and Blizzard does seem to have kept that in mind.
Yes, my new Gnome Hunter friends (and you Goblins of the Horde as well), be introduced to your new Mechanical pets.
Yes, there's a new pet family, and while Gnomes and Goblins will be able to tame it immediately, the rest of Azeroth's races (being less mechanically inclined) will need this Mecha-Mind Synchronization Fluid in order to catch and tame this hard to master pet family. But it's not going to be as simple as injecting yourself with an untested concoction created by crazy Gnomes or, perhaps, explosive Goblins. There's work involved too.
Gnome and Goblin players will be able to tame this new kind of hard-to-find pet right from the start. Other races will also be able to learn how to control these artificial animals via a device Engineers will be able to make.
Most Mechanical pets will be challenging to tame, requiring you to first locate them and then use your Hunter abilities in unusual ways. (You didn't think we'd make it easy, did you?)
It's essentially mechanical-themed versions of the pet challenges from Cataclysm and Mists of Pandaria, and it'll make these pets something more than just squirting tiny robots into yourself to catch. Fitting for the new Gnome Hunters to add a whole new wrinkle to pet taming.
For more details head over to the official site for details. Me, I'm definitely getting a Gnome Hunter. Look at that giant robot bunny they get. That thing's dynamite.