You should get A Field Guide to Mesozoic Birds and other Winged Dinosaurs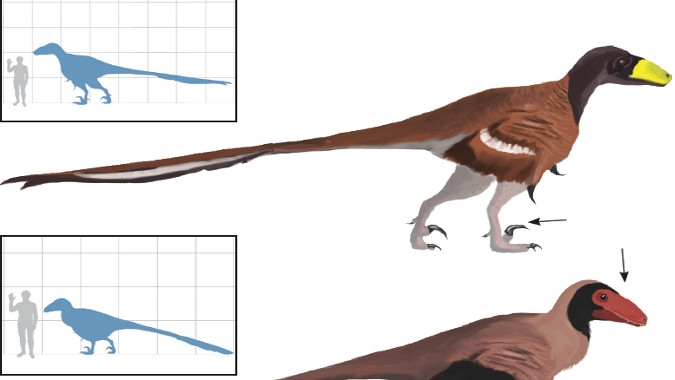 Because don't we all need more Satanic Nightjar references in our lives?
Sometimes it's best to get straight to the point. If you like dinosaurs, birds, or both (since birds are essentially dinosaurs) then you should pick up Matthew P. Martyniuk's A Field Guide to Mesozoic Birds and other Winged Dinosaurs. Don't consider this a full review. I literally just got this book for my birthday, and while I'm climbing all over it right now oohing and aahing, I haven't sat down and completed it yet. This is just me getting crazy excited and wanting to share said crazy excitement with you.
So why should you get this book?
Did you read the title?
If that wasn't reason enough then by Jove I'm going to have to get all sorts of borderline disturbingly excited on you now. You've been warned.
First off, the book slams our recent (past twenty years) habit of restoring 'raptors' (the Dromaeosauridae) as big lizards. Make no mistake — raptors had feathers and were extremely birdlike. But the book does so much more. It is lavishly illustrated, with details on the evolution of the beak, the wing and how the process of feather acquisition worked. The actual guide itself, the illustrated portion with identification and an image will be familiar to anyone who has ever held a field guide for animal identification, especially birds, but what's awesome about it is that it translates the scientific name of each bird and dinosaur species into a more common usage. My personal favorite is translating Achillobator giganticus as 'Giant Achilles Tendon Hero'. It feels very much like what we see in modern birds such as the Satanic Nightjar.
The introductory material is top notch. It's a very exciting read if you're into paleontology as an amateur as I am. It's probably nothing the professionals haven't known for years, but that's okay. It's informative and well organized. It doesn't mention Dakotaraptor because the book came out in 2012 and Dakotaraptor was just discovered this year, but that's okay. Science ever marches onward. This is still an excellent book.
If you ever end up time traveling to the Mesozoic, you'll likely die from the ancient pathogens you've never been exposed to in your life. But you'll want to have this book to hand before you die so you can identify some cool ancient birds and those dinosaurs that are the most birdlike. Like Ostrom and Mays' Utah Predator, or Marshall's Savage Robber.