Diablo 3 previews Patch 2.4's Greyhollow Island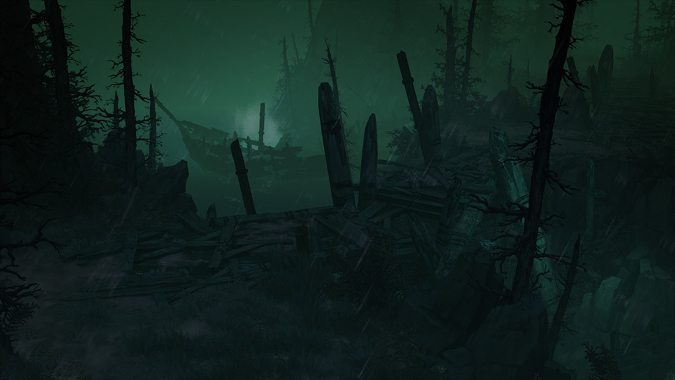 Diablo 3's patch 2.4 has been on the PTR for roughly a month now, but today we received an official preview of the new zone Greyhollow Island. Greyhollow Island is described as a zone where story is delivered via exploration rather than exposition — a story is told through journals and landmarks, where each player may have their own interpretation of the events which transpired on the island. That method of storytelling is more viable in Adventure Mode than a cast of characters delivering monologues — the player can decide whether or not they care to delve into the mystery of Greyhollow.
The sting of sea salt burns your eyes, adding insult to injury as an endless storm rages on. The memory of countless ships dashed upon jagged shores is fresh in your mind as a streak of lighting cracks across the sky, briefly illuminating the dense forest that surrounds you. The heavy scent of pine and sodden earth is interrupted by the sickly sweet note of decay, and a thousand flickering eyes in the distance serve as warning—if the madness of Greyhollow Island does not take you first, the beasts surely will.
Greyhollow Island takes its inspiration from the Pacific Northwest. Formerly home to a highly advanced empire, it has collapsed for reasons unknown — leaving behind the evils we'll explore in patch 2.4. Check out the Greyhollow Island blog post for the full details and the patch notes for more information on patch 2.4.