Lunara spotlight video showcases an Assassin with mobility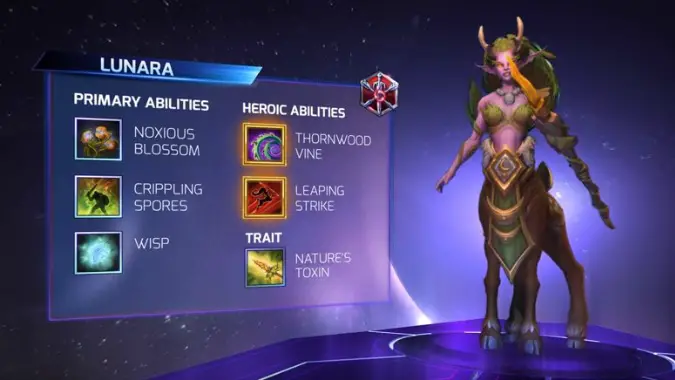 Heroes of the Storm is about ready to debut its last champion for 2015, the ranged Assassin Lunara. She was announced at BlizzCon last month and playable there at the Heroes demo stations. And now she has an official spotlight video showing off her abilities and playstyle.
Lunara is a dryad, which in World of Warcraft lore makes her half-fawn. She doesn't use other mounts, but she gets a permanent 20% run speed boost which allows her to keep up with fleeing opponents. Unfortunately, it makes her a bit slow to get across the map compared to the greater run speed boost a normal mount provides other players.
Her other abilities are based around her trait which puts a small poison DOT on hit that stacks up to three times and a wisp that provides map vision for a short time. Between her two heroic abilities, Leaping Strike will likely be the most popular not only for its Azmodunk-like showiness, but for its insane mobility.
I was able to play Lunara at BlizzCon and found her generally frustrating. She has low health, her damage didn't seem that strong, and I couldn't get the hang of timing her Leaping Strike. Admittedly, this is based on a few rushed games where I had no time to practice, but it leads me to believe that she is a hero that is going to require a lot of skill to play well, like an Illidan.