Collect cute cats and cheer with Neko Atsume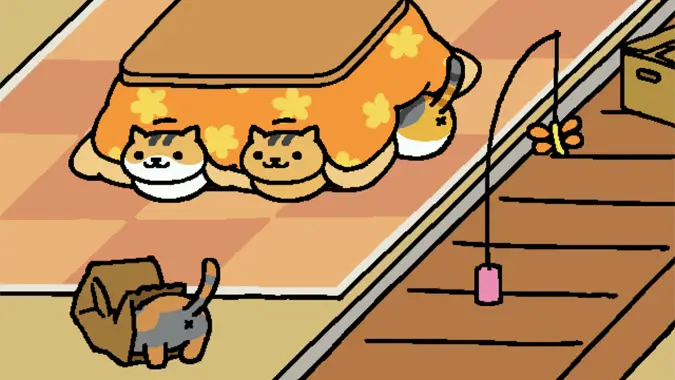 Neko Atsume may be the best game I've ever downloaded for my phone — and honestly, I don't even know if I can call it a game.
For the uninitiated: Neko Atsume is a free game you can download for your phone or your tablet, and the premise behind it is ridiculously simple. You're collecting cats. Not for keeps, just for the occasional visit. To do so, you need to purchase food and toys with fish, and place the food and toys in your yard. And then…you close the app, and you wait. Cats show up and leave fish behind for you to collect when they're done playing.
That's it.
No, really. There's no plot, no story, no real gameplay involved other than opening the app every now and again to refill the food dish and see if there's anyone interesting in your yard. And despite this lack of obvious gameplay, or maybe because of it, Neko Atsume has to be one of the most relaxing "game" experiences I've had in a long time. The cats are ridiculously adorable and there's no stress involved in trying to complete objectives or achievements.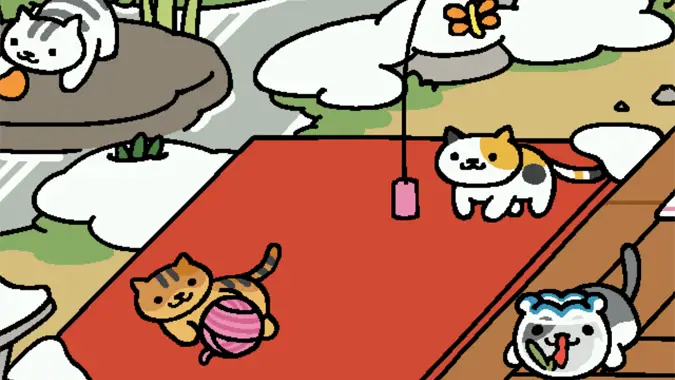 Of course, as a mobile game, there is currency involved. Some items can be purchased with normal fish, and others require gold fish to obtain. The cats won't always give you normal fish — some toys and objects will be so well-received that the cats will give you gold fish in exchange for the excellent play space. So while there is a pay shop in which you can purchase gold fish by the bundle, you don't really need to do so. And even if you decide to do so, the highest priced item in the shop, 300 gold fish, is only $3.36.
So what's the point of all this cat collecting? Well…it's fun! There are rare cats that will only visit your yard if certain items are present, and you can take photos of the various cats at play — the mobile app allows you to easily post photos of your charming visitors to Twitter. You can remodel your yard and choose from a variety of styles if you like, and there are always more toys and different types of food to collect. But really, there's no need to rush to get everything completed. The cats will come and go as they please, as long as you've got things for them to do, and food for them to eat.
Neko Atsume might not be the most complicated game in the world, but the graphics are utterly charming, and there's very little in the way of any time investment required at all. You don't have to keep a close eye on what's going on, just check in on the cats when you want to see them — their cute antics are a nice bolster of cheerful fun to brighten a stressful day. Neko Atsume is free to download in app stores for both Android and iOS phones and tablets.