Legendary ring upgrades now available to purchase with Valor Points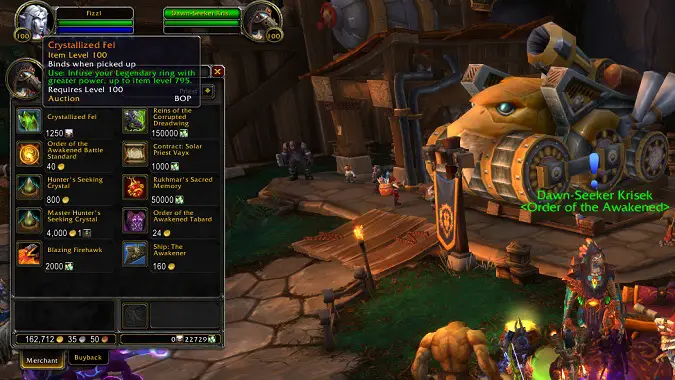 It looks like Blizzard had a leftover present they forgot to give players during Winter Veil. Previously only available as a drop from Normal or higher-difficulty Archimonde kills, Crystallized Fel can now be purchased for 1,250 Valor. This item can be used to upgrade players' legendary rings by 3 item levels per use. Originally, this meant players had to have 20 weeks' worth of Archimonde kills before having a fully upgraded 795 ring. Thanks to the current pseudo cap on Valor, dedicated players will now be able to upgrade rings between 12 and 15 item levels per week, with Valor to spare.
These upgrades can be purchased in Talador or Tanaan Jungle, and require players to have at least acquired the highest-level ring from the legendary chain. This is excellent news for players working on rings for alternate specs, players with numerous alts struggling to keep up, or players who are just overflowing with Valor.
Players who have acquired the most powerful rewards from Khadgar's Legendary questline may now purchase Crystallized Fel from (1/2)

— WarcraftDevs (@WarcraftDevs) January 5, 2016
Zooti Fizzlefury in Talador or Dawn-Seeker Krisek in Tanaan Jungle for 1250 Valor. (2/2)

— WarcraftDevs (@WarcraftDevs) January 5, 2016
Happy Valor farming, everyone!