WoW
Jan 21, 2016 6:30 pm CT
Dust Bunny in Legion's Dalaran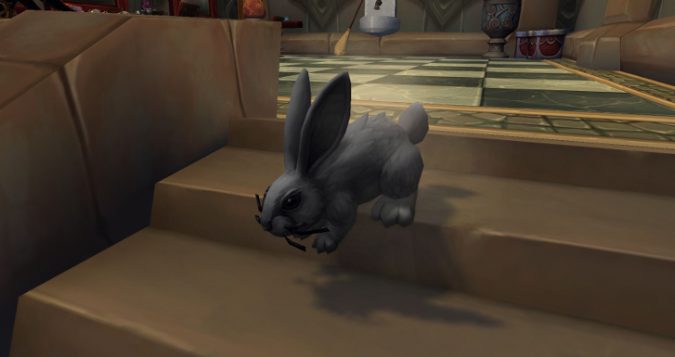 The Warcraft team usually adds small hints and cute little touches to find here and there throughout the world. As a pet battler, I get to see many of these, but the mystery of the new Dust Bunny is one I haven't seen just yet. The pet journal reported its location as Dalaran, but the telltale green pawprint was nowhere to be found. Luckily, our own Anne Stickney literally stumbled across it on the Legion alpha servers.
In Dalaran's Barber Shop, there's an enchanted broom sweeping up the shop. While an efficient helper, it appears that it's swept one too many things under the rug in the center of the shop. Now labeled the 'Dusty Rug,' when right clicked, out pops a little Dust Bunny for you to tame. The bunny is solo, but level 25, making it a tough battle with no existing pet stable on alpha. If you lose the battle, the rug pops back out for another tamer to click. If you win, the rug despawns for a while.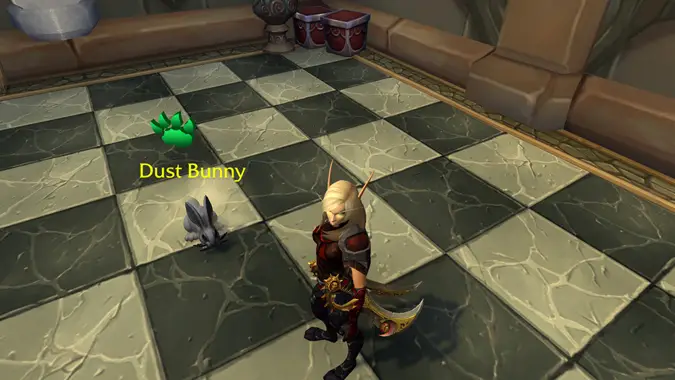 The Dust Bunny has the same moves as all the other rabbits out there, so if you can't get to that rug right away don't despair. It's a unique, all gray version of the new rabbit model and little poofs of dust follow it around with every bound, so it is worth capturing. Maybe you should get a trim while you're waiting out the ten to fifteen minute respawn timer.