WoW
Jan 27, 2016 7:00 pm CT
New Legion tomes teach minor glyph abilities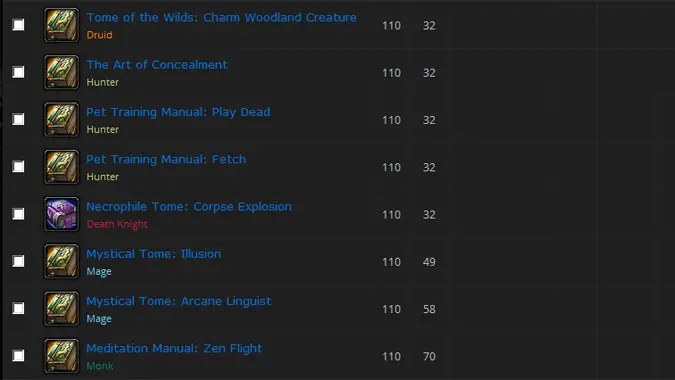 While we knew that glyphs were going to be on the receiving end of some fairly substantial changes in Legion, we still had no idea what those changes were going to ultimately look like. The latest build of the Legion alpha appears to have uncovered at least a partial answer to that question in the form of several new tomes added to the database over on Wowhead. The class-specific tomes teach abilities previously learned via Minor Glyphs.
However, unlike the usual method of applying a glyph in a glyph socket to learn an ability, the tomes appear to simply teach the player the ability, which can then be found in the spell book. In other words, it's looking like once you use a tome and learn a spell, it's yours — you don't have to sacrifice one minor spell for another, like the current system where you have to chose between Minor Glyphs. This falls in line with what little we heard about glyphs during the Systems panel at BlizzCon last year.
It reminds me in a way of the old spell tomes we had throughout vanilla and all the way up to Wrath — tomes that taught new ranks of spells (back when spells had ranks), or tomes that taught cosmetic abilities, like the Polymorph tomes that appear to have simply gone absent. At the moment, there's no indicator of exactly how these tomes are acquired. As books, they may just be new Inscription items that have yet to be categorized as such, rather than drop items. If this is the case, scribes still have a market to look forward to in Legion — it won't be a glyph market, but hey, commerce is commerce, right?
You can take a look at all the new tomes, as well as other new items, spells, abilities and more from the latest alpha build over on Wowhead.