The Queue: Approved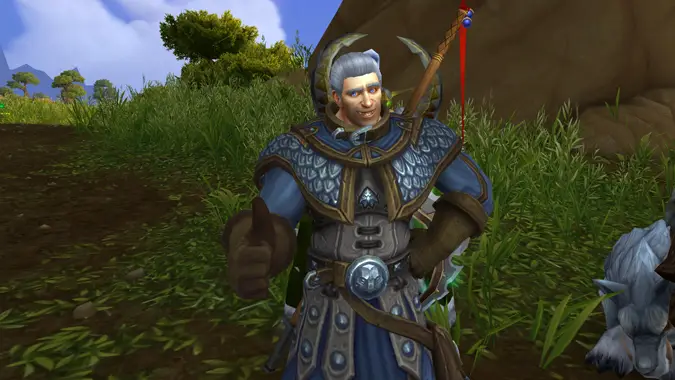 Welcome back to The Queue, our daily Q&A feature for all of Blizzard's games! Have a question for the Blizzard Watch staff? Leave it in the comments!
Khadgar approves of this Queue. He approves of your questions. But most of all, he approves of you. Way to go, you — you just keep doing whatever it is you're doing today.
---
N TO THE H COMMENTED:
I was thinking today, as I was water walking around the Isle of Giants, how much underwater land there is that we never really see… I'd love it if there was a snorkel and flippers toy, or a scuba gear toy.
One of my favorite trinkets in game currently is the Hook of the Master Angler — it turns you into a fish, allowing you to breathe underwater and increasing your swim speed as well. It's one of the prizes you can get from the Booty Bay fishing contest. I use it pretty much any time I want to go exploring underwater — and I wish it was a toy, rather than a trinket, so I could use it on all my characters. Of course if I run into anything nasty down there it'll still aggro on me, but there's something really soothing about exploring the oceans in fish-form. I know this wasn't really a question or anything, but I felt like chiming in just because hey — I agree!
---
EZRIANN ASKED:
Uh, what time do dailies reset?  There aren't any quests for me at the Argent Tournament (I have hidden quests checked and I talked to each of the quest givers, but no quests.  I've had to wait on heroic dungeons before (15 more minutes for TotC according to Altoholic) but I've never had to wait for dailies to reset before.
Daily reset times have been adjusted for Legion — NA/Latin American/Oceanic realms all reset at a single unified lockout time now, 15:00:00 UTC (8am Pacific/1am AEST). It's a little different than what we're used to!
---
JENJABENJA ASKED:
What class should I level to 20 for the Liandrin hero now that Legion is out? I've only really played shaman and paladin.
Gnome Hunters appear to be the new hotness right now — you can tame mechanical pets, which is pretty cool! Plus Hunters in general aren't really difficult to play, and it's a fun class.
---
LOTHARFOX ASKED:
Pre Warlords, when we got the Lords of War videos, I thought they did a very good job making the warlord characters relatable. Making us understand how they got to power, and giving them personality, so you sort of liked them and had empathy for them, and wanted them to succeed.
I watched the first episode of Harbingers. Are they trying to do that with Gul'dan? Give him an empathetic background?
I think there's a difference between having some kind of sympathetic background, and simply fleshing out a character's motives and motivation. There's a moment where maybe you wonder if hey, could his destiny have been different if he had been born under different circumstances, if he hadn't been treated the way he was treated.
But Gul'dan is and has always been a selfish, power-hungry jerk. The elements saw it in him — when they revealed themselves to him, he tried to snatch that power for his own use. That's why they turned away from him. They saw what was inside him, and he was rotten to the core. If anything, Harbingers just pointed out that there is no "redeeming" Gul'dan — he's not going to suddenly turn over a new leaf and become a good guy, not in any universe.
---
THE PUMPKINKING ASKED:
QftQ….I haven't played since about half way through Cata, I was wondering if there was any way to check the amount of gold I have on my account to see if I can buy a token…
Log in, and you'll see a button with an option to purchase game time — if you have enough gold, it'll say Reactivate Now with Gold, and allow you to add 30 days. It counts all the gold between all your characters on a single realm — you don't need the full amount on one character. For more info on the Token and how it works, check out Blizzard's WoW Token overview.
---
DTAIL ASKED:
Been watching videos. Not nasty ones. About Transmogrifiers. I don't see see "Hide Cloak" or hide anything thing popping up as I see in videos. Please, tell my why, you fountain of knowledge. Also, I changed ALL of my addons to 7.03, still I can't see anything in my ToyBox. Why, dear contributors, why? Thx in advance.
The option for hiding your cloak, along with the option for hiding your helm, has been rolled into the transmog interface — meaning you have to visit a transmogrification vendor to do so. It doesn't cost anything to do, but the fact that Blizzard has decided to change a default UI option into something where you have to visit a specific in-game location to do the same thing is…mildly irritating to me. Mostly because it's pretty rare that I show my helm, and I never show cloaks. Ever.
As for your Toy Box — click on Filter in the upper right hand corner, and make sure you've got "Collected" checked. I've had this problem before, and it was just that the filter was set to show me my non-collected toys, rather than the ones I already had!
That's it for today's Queue — if you have any questions you'd like to see answered, be sure to leave them in the comments below!